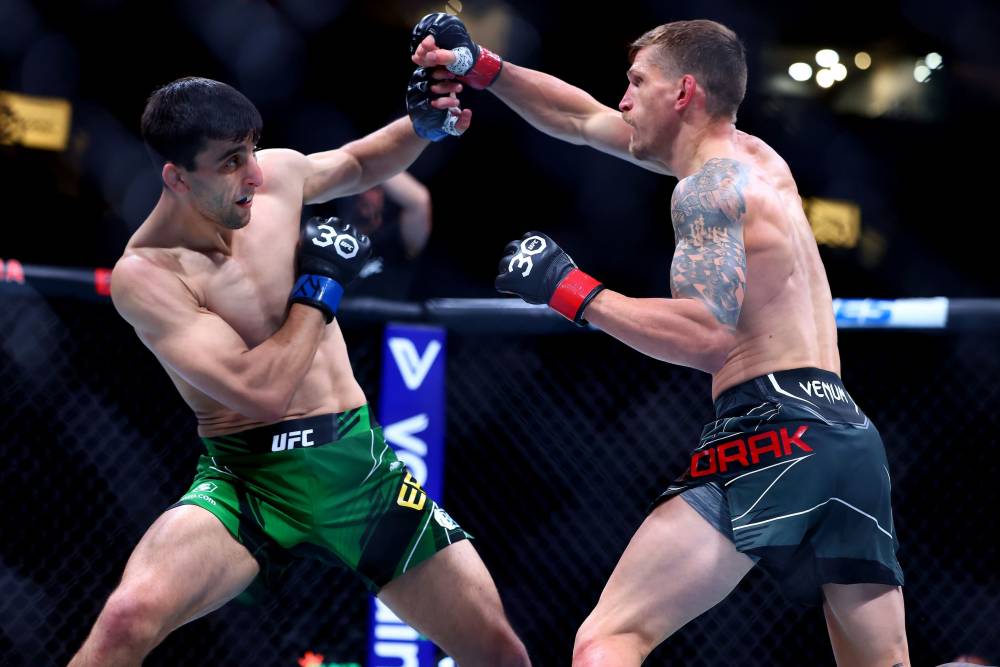 Steve Erceg vs Alessandro Costa Prediction UFC 295 11/11
Nov 9, 2023, 7:52:40 PM
© Sergei Belski-USA TODAY Sports
UFC 295: Procházka vs. Pereira - Steve Erceg vs. Alessandro Costa
Prepare for an electrifying showdown at UFC 295: Procházka vs. Pereira on November 11, 2023, at the iconic Madison Square Garden in New York, NY. In the flyweight division, Steve "Astroboy" Erceg from Wilkes Martial Arts in Australia is set to clash with Brazil's Alessandro "Nono" Costa from Lobo Gym MMA.
Steve Erceg - Astroboy
Hailing from Australia, Steve Erceg is a formidable flyweight with a record of 10 wins and 1 loss. Standing at 5'8" and weighing 125 lbs, Erceg is a dynamic fighter representing Wilkes Martial Arts. His impressive stats include 1 (T)KO victory and an impressive 6 wins via submission, showcasing his proficiency in both striking and grappling.
Recent Fight History:
Erceg's most recent outing at UFC 289 on June 10, 2023, saw him secure a unanimous decision victory over David Dvorak, a testament to his well-rounded skills. His ability to go the distance while maintaining control underscores his strategic approach to fights.
Why Steve Erceg Is the Favorite:
Several factors contribute to Erceg being the favored fighter in this matchup. His recent victory over David Dvorak, a fighter known for his striking prowess, demonstrates Erceg's ability to navigate challenges in the stand-up game.
What sets Erceg apart is his versatility. With wins via (T)KO and submission, he poses a threat in all areas of the fight. His proficiency in securing submissions, as evident in his rear-naked choke victory over Soichiro Hirai, adds a layer of unpredictability to his game.
Erceg's journey includes overcoming setbacks, as seen in his lone loss to Sean Gauci in 2017. Since then, he has displayed marked improvement, solidifying his status as a top flyweight contender.
Alessandro Costa - Nono
Coming from Brazil, Alessandro Costa is a skilled flyweight with a record of 13 wins and 3 losses. Standing at 5'4" and weighing 125 lbs, Costa represents Lobo Gym MMA and goes by the nickname "Nono." His record includes 4 (T)KO victories and an impressive 6 wins via submission, showcasing his well-rounded skill set.
Recent Fight History:
Costa's recent fight on June 17, 2023, at UFC Fight Night: Vettori vs. Cannonier, resulted in a stunning KO/TKO victory over Jimmy Flick in the second round. While he showcased his striking abilities, it's essential to note the challenges faced in his previous bout against Amir Albazi, where he suffered a KO/TKO loss.
Prediction:
As we look ahead to UFC 295, Steve Erceg enters the octagon as the favorite in this flyweight clash against Alessandro Costa. Erceg's well-rounded skill set, as demonstrated in his recent victories, positions him to capitalize on Costa's vulnerabilities.
Erceg's ability to adapt to different styles, whether through striking or grappling, gives him a strategic advantage. His recent decision win against David Dvorak showcases his resilience and ability to control the pace of the fight.
While Costa possesses striking power, Erceg's proficiency in submissions adds an additional layer of danger for his opponent. Expect "Astroboy" Erceg to navigate the fight intelligently, securing a victory at UFC 295: Procházka vs. Pereira.
Pick: Steve Erceg ML -195
Upgrade to View Prediction
#1

#2

last 30 days winnings
$4,740
#5