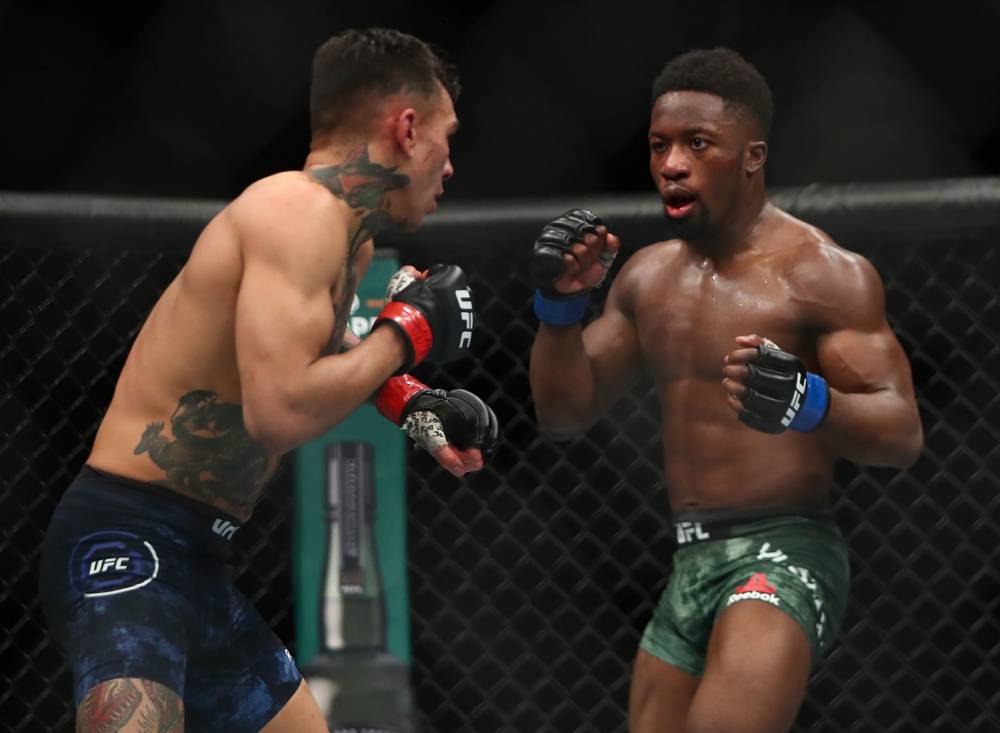 Sodiq Yusuff vs Edson Barboza Prediction UFC Picks 10/14
Oct 13, 2023, 7:19:15 AM
© Mark J. Rebilas-USA TODAY Sports
UFC Fight Night: Yusuff vs. Barboza - Sodiq Yusuff vs. Edson Barboza
Get ready for a thrilling Featherweight showdown at the UFC APEX in Las Vegas, Nevada, on October 14, 2023, during UFC Fight Night: Yusuff vs. Barboza. This fight features Nigeria's Sodiq "Super" Yusuff, representing Team Lloyd Irvin, taking on Brazil's striking sensation, Edson "Junior" Barboza, from American Top Team.
Sodiq Yusuff: The Rising Star
Hailing from Nigeria, Sodiq Yusuff stands at 5'9" and weighs 145 lbs. At 30 years old, he boasts a strong professional record of 13 wins and 2 losses, with 6 (T)KO victories and 1 submission win. In his most recent bout, Yusuff submitted Don Shainis in a quick 30-second victory at UFC Fight Night: Dern vs. Yan.
Yusuff is known for his well-rounded skills and has shown remarkable striking abilities and ground game.
Why Edson Barboza Could Secure a Victory:
Edson Barboza, a veteran of the sport, has the experience and striking prowess to pose a significant threat to Sodiq Yusuff. Despite a recent loss to Bryce Mitchell at UFC 272, Barboza rebounded impressively with a first-round KO/TKO victory over Billy Quarantillo at UFC Fight Night: Holloway vs. Allen.
Barboza's key to victory lies in his striking arsenal. His crisp Muay Thai and devastating leg kicks have troubled many opponents in the past. If he can effectively control the distance and engage in striking exchanges, he may be able to exploit Yusuff's striking defense.
Edson Barboza: The Striking Sensation
Edson Barboza, representing Brazil, stands at 5'11" and weighs 146 lbs. At 37 years old, he brings an extensive professional record of 23 wins and 11 losses, with 14 (T)KO victories and 1 submission win. His most recent victory was a spectacular KO/TKO finish of Billy Quarantillo at UFC Fight Night: Holloway vs. Allen.
Barboza is renowned for his striking skills, especially his lethal leg kicks and knockout power.
Why Edson Barboza Could Emerge Victorious:
Edson Barboza's path to victory in this fight primarily hinges on his striking game plan. If he can utilize his leg kicks and striking combinations effectively while avoiding grappling exchanges with Yusuff, he has a good chance of winning. Barboza's experience and striking precision could be the difference-maker.
His striking accuracy and ability to read his opponents' movements could lead to a decisive (T)KO victory, potentially in the early rounds of the fight.
Prediction:
The matchup between Sodiq Yusuff and Edson Barboza promises fireworks, with both fighters showcasing impressive skills. While Yusuff is a rising star in the Featherweight division, Edson Barboza's experience and striking prowess make him a formidable opponent.
Considering Barboza's striking ability and recent momentum, the prediction leans toward Edson Barboza securing a victory, possibly via (T)KO. Barboza's leg kicks and striking precision could be the key to his success, as he aims to control the distance and land devastating blows.
Pick: Edson Barboza ML +140
Upgrade to View Prediction
#1

#2

last 30 days winnings
$4,740
#5