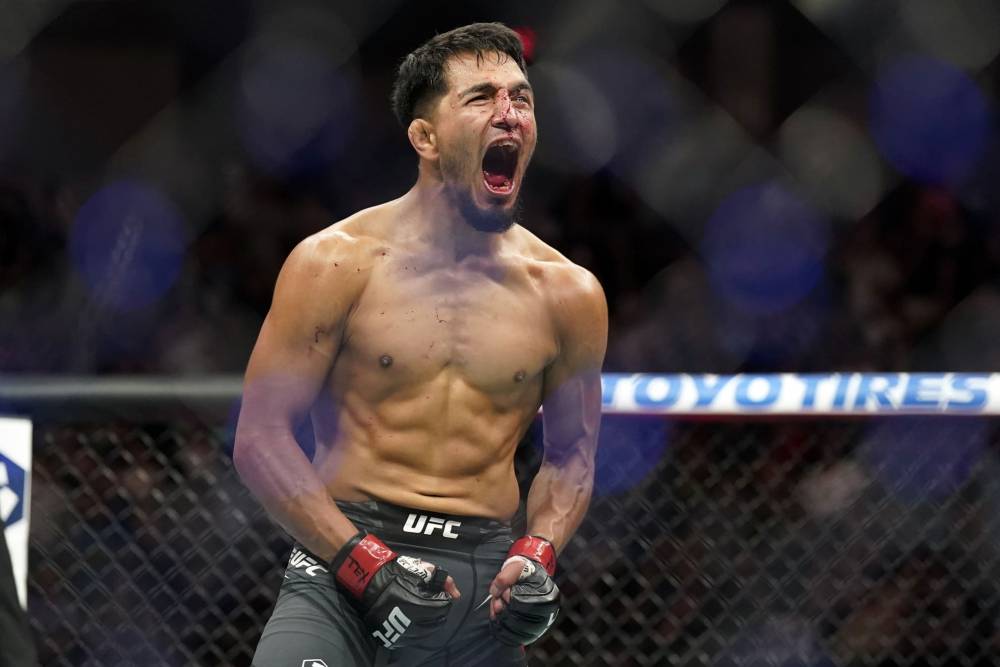 Rob Font vs Adrian Yanez Prediction UFC Picks Tonight 4/8
Apr 3, 2023, 5:46:03 PM
© Scott Wachter-USA TODAY Sports
Fight Preview: Rob Font vs Adrian Yanez
Two exciting bantamweights are set to clash in what promises to be a thrilling battle at UFC 287. Rob Font comes into this fight with an impressive record of 19-6-0 and a height advantage of 1 inch over Adrian Yanez, who has a record of 16-3-0. Font has shown himself to be a well-rounded fighter with both striking and grappling skills, averaging 6.38 significant strikes landed per minute and an impressive 37% takedown accuracy. With his height and reach advantage, he should look to keep Yanez at range and pick him apart with his striking, while also mixing in takedowns to keep Yanez guessing. Yanez, on the other hand, is a dangerous striker with a high striking output, averaging 6.62 significant strikes landed per minute. He will likely look to close the distance and engage Font in a brawl, using his heavy hands to land the knockout blow. Both fighters have shown a willingness to stand and trade, and this fight is likely to be a back and forth affair. It could ultimately come down to who lands the bigger shots and who is able to impose their game plan more effectively. Will Font use his grappling to wear down Yanez or will Yanez land the knockout blow and secure his spot in the rankings? Tune in to find out.
Rob Font Striking
Rob Font has established himself as a top contender in the bantamweight division, with a record of 19-6-0 and an impressive striking game. His significant strike accuracy sits at 46%, and he lands an average of 6.38 significant strikes per minute. His striking defense is also noteworthy, with a 57% defense rate. One of Font's most impressive performances came in May 2021, when he defeated former bantamweight champion Cody Garbrandt by unanimous decision. Font was able to land 130 significant strikes in the five-round fight, showcasing his exceptional striking abilities. While Font's striking is certainly his strong suit, he is also proficient in takedowns, with an average of 1.03 takedowns landed per 15 minutes and a 37% takedown accuracy rate. In his upcoming fight against Adrian Yanez at UFC 287, fans can expect to see Font utilize his striking skills to their full potential as he looks to continue his ascent up the bantamweight rankings.
Rob Font Wrestling
Rob Font has a solid wrestling background, and he has utilized his grappling abilities to great effect in his MMA career. With an average of 1.03 takedowns landed per 15 minutes and a takedown accuracy of 37%, Font is able to control his opponents on the ground and wear them out. He also has a strong takedown defense, with opponents only landing 55% of their takedown attempts against him. In his fight against Pedro Munhoz, Font was able to secure a submission victory with a guillotine choke in the third round. He was able to take Munhoz down and transition to the choke, showcasing his grappling skills. Against Raphael Assuncao, Font was not able to secure a takedown but he was able to defend against his opponent's takedown attempts. Although Font lost the fight by a close decision, he was able to stay on his feet and avoid being taken down by Assuncao, who is known for his grappling. Font's solid wrestling skills make him a well-rounded fighter who can hold his own in all aspects of the game. In his upcoming fight against Adrian Yanez, Font will likely look to utilize his grappling to control the fight and wear down his opponent.
Adrian Yanez Striking
Adrian Yanez is a talented striker with a 16-3 record in his professional career. He boasts an impressive significant strike landed per minute rate of 6.62 and a significant striking accuracy of 40%. On top of that, he has a significant strike defense rate of 59%, which means he is able to avoid the majority of his opponents' strikes. Yanez has demonstrated his striking prowess in his recent fights, winning three of his last four by way of knockout or technical knockout. His most recent TKO victory was against Randy Costa in July 2021 at UFC Fight Night: Sandhagen vs. Dillashaw. Yanez was able to land a clean right hand that sent Costa to the canvas, where Yanez followed up with ground and pound to secure the victory. Yanez's striking abilities are not limited to just his hands, as he has also shown a proficiency in kicking techniques. In his UFC debut against Victor Rodriguez in October 2020, Yanez landed a powerful head kick that knocked out his opponent in the first round. Overall, Yanez is a dangerous striker with a diverse skill set, making him a tough opponent for anyone in the bantamweight division. Expect him to utilize his striking to his advantage in his upcoming fight against Rob Font at UFC 287 in April 2023. Adrian Yanez's wrestling may not be his strongest attribute, but he has proven to be a well-rounded fighter with a solid grappling game. Yanez has shown exceptional takedown defense, with a 100% success rate, and he has yet to attempt a takedown in his UFC career. Yanez's striking skills are his greatest weapon, as he has displayed impressive power and accuracy in his punches and kicks. He has earned four of his six wins in the UFC via knockout and has landed an average of 6.62 significant strikes per minute. In his most recent fight against Gustavo Lopez, Yanez showed his ability to mix up his striking with a well-timed takedown in the third round, demonstrating his potential as a threat on the ground as well. However, Yanez's opponent, Rob Font, has a more well-rounded game and a solid wrestling background. Font's takedown accuracy is at 37%, and he has an average of 1.03 takedowns landed per 15 minutes. Yanez will need to be prepared to defend against Font's wrestling and maintain his striking range. Overall, Yanez's wrestling may not be his strongest attribute, but his well-rounded skills and exceptional striking make him a dangerous opponent for anyone in the bantamweight division. It will be interesting to see how he matches up against the more experienced and well-rounded Font in their upcoming fight.
How Rob Font can win
Rob Font can win the fight against Adrian Yanez by utilizing his significant striking accuracy and defense. His stats show that he lands 6.38 significant strikes per minute with a 46% accuracy, while also having a 57% significant strike defense. Font should use his reach advantage of 71" to keep Yanez at bay and pick his shots carefully. Font also has a decent takedown defense with a 55% success rate. If Yanez attempts to take the fight to the ground, Font must defend well and look for opportunities to get back to his feet. Font's average of 0.4 submissions attempted per 15 minutes shows that he is not much of a submission artist, so keeping the fight standing and using his striking skills should be his game plan. In addition, Font should use his experience to his advantage, having a record of 19-6-0 compared to Yanez's 16-3-0. He has faced some tough opponents like Cody Garbrandt and Jose Aldo, and has shown his resiliency and perseverance throughout his career. Overall, Font needs to stay patient and avoid getting into brawling exchanges with Yanez. If he sticks to the game plan, he can use his skills to win the fight by decision or possibly even get a knockout victory.
How Adrian Yanez can win
Adrian Yanez has a chance to win against Rob Font in their upcoming matchup. Yanez should focus on his striking, as he is known for his powerful punches and accurate strikes. He should also use his footwork to avoid Font's attacks and keep him at a distance, as Font has a longer reach. Yanez should also try to take Font down to the ground, as Font's takedown defense is not as strong as Yanez's. Once on the ground, Yanez should use his jiu-jitsu skills to secure a submission or ground-and-pound Font to earn points on the judges' scorecards. Overall, Yanez needs to stay aggressive and take advantage of any opportunities that arise during the fight. If he can execute his game plan and avoid being knocked out, Yanez has a good chance of winning and taking a step closer to a title shot.
Prediction: Rob Font vs Adrian Yanez
This is a matchup between two bantamweight prospects who have been on a tear lately. Rob Font has been unstoppable in his last three fights, taking out former champion Cody Garbrandt, Marlon Moraes, and Sergio Pettis. Adrian Yanez has also been impressive, winning all of his UFC fights so far including a spectacular knockout of Randy Costa. Both fighters are equally skilled in striking and have great knockout power, which makes this fight a toss-up. While Font has been on a hot streak, Yanez has been more active and has shown a higher level of precision in his striking. Yanez also has an advantage in reach and has shown great durability in his fights. This fight could end in a knockout, but Yanez has the edge in this matchup.
Pick: Adrian Yanez ML -180
Upgrade to View Prediction
#1

last 30 days winnings
$2,430
#2