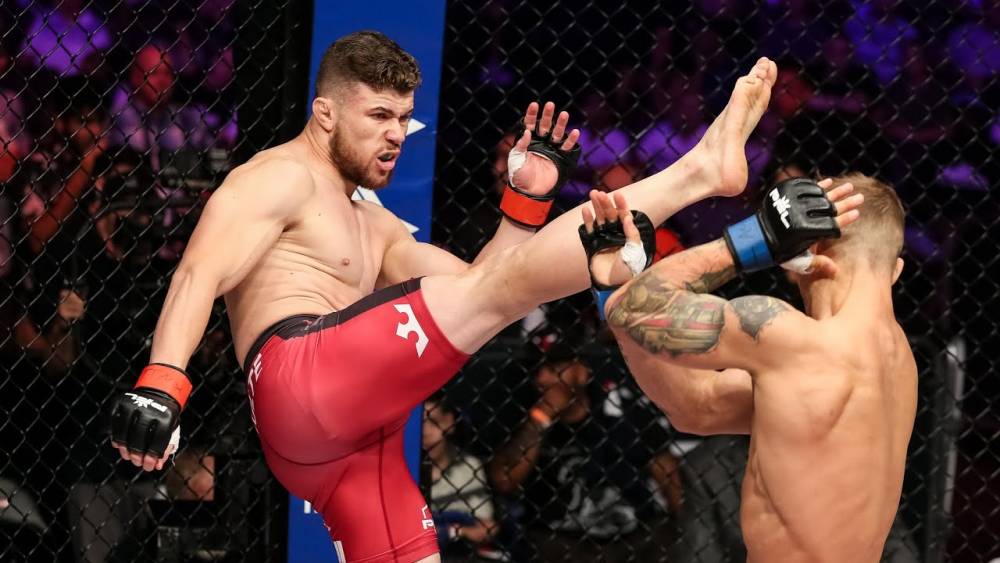 Natan Schulte vs Raush Manfio Prediction UFC Picks 6/23
Jun 23, 2023, 1:03:42 AM
PFL 6 Fight Prediction: Natan "Russo" Schulte vs. Raush "Cavalo de Guerra" Manfio
Welcome to another exciting preview of a Professional Fighters League (PFL) matchup. In this article, we'll be analyzing the lightweight clash between Natan "Russo" Schulte and Raush "Cavalo de Guerra" Manfio at PFL 6, set to take place on June 23, 2023. Both fighters have impressive records, and it promises to be a thrilling showdown. Join us as we delve into the strengths and skills of both fighters and make a prediction for this highly anticipated bout.
Natan "Russo" Schulte
Natan Schulte, also known as "Russo," is a Brazilian fighter with an impressive professional MMA record of 24-5-1. At 31 years of age, Schulte brings a wealth of experience and a well-rounded skill set to the cage.
Striking and Wrestling Skills
Schulte is a well-rounded fighter who has showcased his skills in both striking and wrestling throughout his career. In the striking department, Schulte has demonstrated precise and powerful strikes, utilizing a variety of punches and kicks to keep his opponents at bay. His striking accuracy and ability to generate significant power make him a threat on the feet.
However, it is Schulte's wrestling prowess that truly sets him apart. With a strong wrestling background, Schulte has excellent takedown defense and is capable of executing takedowns with precision. Once on the ground, he showcases dominant top control, often looking to secure submissions or deliver ground and pound. His ability to dictate the fight's pace and control the grappling exchanges provides him with a significant advantage over his opponents.
Recent Performance and Momentum
Schulte is currently riding a three-fight winning streak, showcasing his consistency and ability to perform at a high level. His most recent victory came in a decision win over Alex Martinez at PFL 3 in April 2023. This win further solidified Schulte's position as a top contender in the lightweight division.
Furthermore, Schulte's experience in the PFL format gives him an edge. He has competed in multiple PFL seasons, demonstrating his ability to perform under the tournament's unique structure and handle the pressure that comes with it. Schulte's familiarity with the PFL format, combined with his recent success and momentum, make him a formidable opponent for anyone in the division.
Raush "Cavalo de Guerra" Manfio
Raush Manfio, also known as "Cavalo de Guerra," is a skilled lightweight fighter hailing from Brazil. He holds a professional MMA record of 17-4-0 and has showcased his talents in various promotions throughout his career.
Striking and Grappling Skills
Manfio possesses solid striking skills, with crisp and technical striking techniques in his arsenal. He has shown good accuracy and power in his punches and kicks, capable of delivering devastating combinations. Manfio's ability to maintain distance and find openings for his strikes can pose a significant threat to his opponents.
In addition to his striking, Manfio has a background in Brazilian Jiu-Jitsu, which has helped him develop a formidable ground game. He has displayed proficiency in submissions, utilizing his grappling skills to secure dominant positions and finish fights. Manfio's well-rounded skill set allows him to adapt to different scenarios in the cage.
Prediction
The matchup between Natan Schulte and Raush Manfio presents an intriguing clash of styles. Schulte's wrestling expertise and top control could pose a challenge for Manfio, who excels in striking and grappling. Schulte's ability to take the fight to the ground and nullify Manfio's offense may be a key factor in this bout.
While Manfio has the skills to make this fight competitive, Schulte's well-roundedness and recent winning streak give him the edge. Schulte's ability to control the fight's tempo and impose his grappling game could be the deciding factor in securing a victory.
Based on our analysis of the fighters' skills, recent performances, and momentum, we predict that Natan "Russo" Schulte will emerge victorious in this lightweight clash against Raush "Cavalo de Guerra" Manfio at PFL 6.
Pick: Nathan Schulte -200
#1

#2