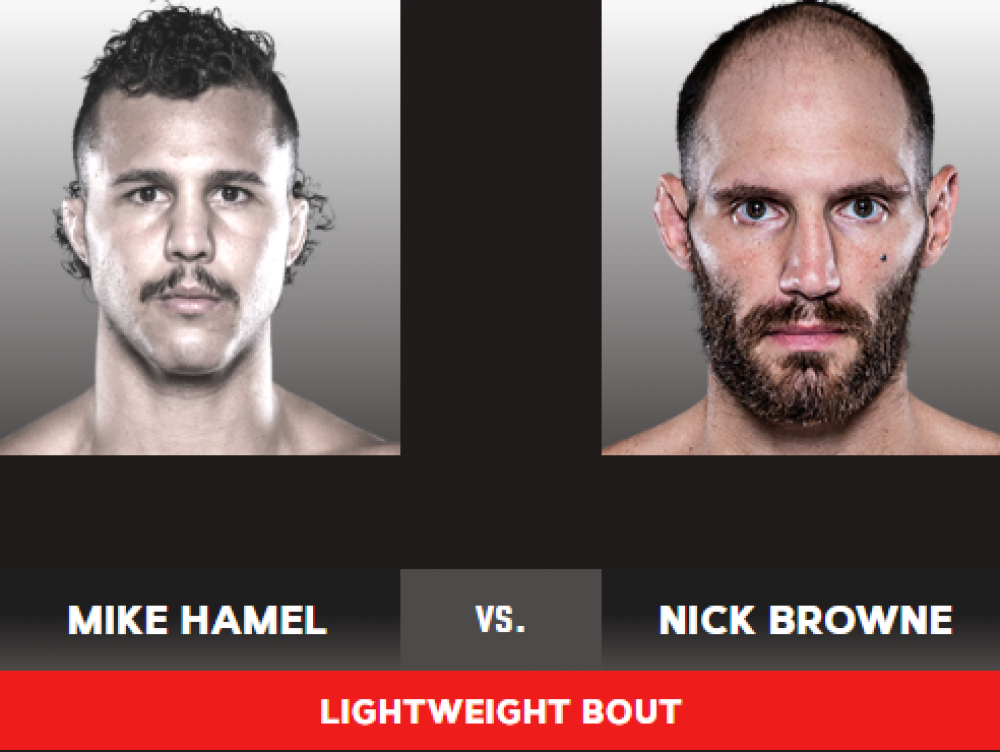 Mike Hamel vs Nick Browne Prediction Bellator Picks 03/31
Mar 29, 2023, 7:16:23 AM
Introduction
Betting on mixed martial arts (MMA) fights can be an incredibly challenging activity, especially for those without a deep knowledge of the sport. However, with the KingPin.pro app, you can stay ahead of the game by accessing the best ufc picks and parlays and ufc fight predictions for upcoming events, such as the Bellator 293 fight between Nick Browne and Mike Hamel.
Nick "Nyquil" Browne:
Nick Browne is a highly accomplished fighter with a pro MMA record of 13-2-0. He is a master of grappling and submission skills, which make him a dominant force inside the octagon. Browne's ground-and-pound style combined with his ability to take his opponent down is a major advantage that he uses to win most of his fights. In his last fight at the Bellator 272 event in December 2021, Browne showcased his skills in a split decision victory over Killys Mota. He has an impressive record and continues to improve with every fight, making him a formidable opponent for any fighter in his division.
Mike "Magic" Hamel:
Mike Hamel is a highly skilled fighter with a pro MMA record of 9-5-0. He is known for his striking ability, which is well complemented by his grappling and takedown skills. Hamel is a relentless fighter who maintains a fast-paced fighting style and can outlast his opponents. In his last fight at the BFC event in December 2021, Hamel defeated Ádám Borics in a split decision victory. Although his record is not as impressive as Browne's, Hamel is a fighter to watch out for as he continues to improve and hone his skills inside the octagon.
Prediction: Why Browne Will Win
While both fighters are skilled, our prediction for the upcoming Bellator 293 fight is that Nick Browne will emerge victorious. Here are some reasons why:
Browne's superior grappling skills - As mentioned earlier, Browne is an excellent grappler with superior ground-and-pound skills. This style has proven effective in most of his fights and will likely give him an edge against Hamel.

Browne's submission skills - In addition to his grappling skills, Browne has a proven ability to submit his opponents. With six submission wins in his career, he will likely capitalize on any opportunity to take Hamel down and finish the fight.

Browne's takedown defense - While Hamel is known for his takedown abilities, Browne's takedown defense is equally impressive. He has a 74% takedown defense rate, indicating that he is capable of stopping most takedown attempts.

Hamel's struggles against superior grapplers - In Hamel's five losses, three have come against fighters with superior grappling skills. This suggests that he may struggle against fighters like Browne, who excel in this area.
Conclusion
In conclusion, with his superior grappling and submission skills, Nick Browne is the favorite to win the upcoming Bellator 293 fight against Mike Hamel. However, as with all MMA fights, anything can happen, and the outcome may surprise us. To increase your chances of making accurate predictions, be sure to use the KingPin.pro app to access the best ufc picks tonight and ufc picks for upcoming events.
#1

#2

last 30 days winnings
$4,740