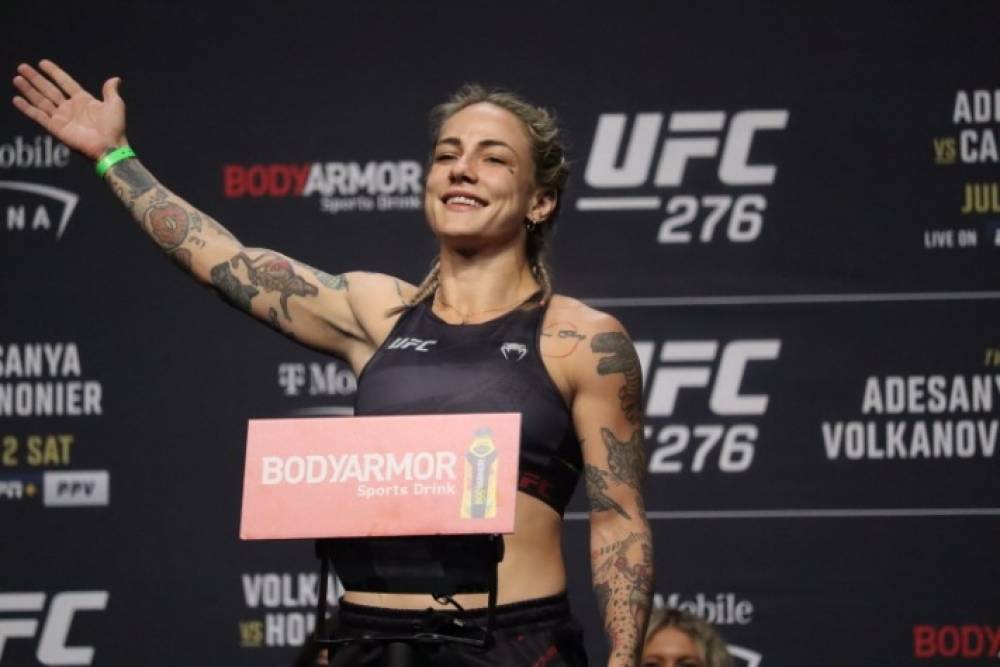 Jessica-Rose Clark vs Tainara Lisboa Prediction UFC 5/13
May 13, 2023, 12:00:58 AM
Fight Preview: Jessica-Rose Clark vs Tainara Lisboa
On May 13th, 2023, UFC Fight Night: Rozenstruik vs. Almeida will feature an exciting bantamweight matchup between Jessica-Rose Clark and Tainara Lisboa. Clark, with an 11-8-0 (1NC) record, will face off against Lisboa, who has a 5-2-0 record and fights under the moniker "Thai Panther".
Clark is a well-rounded fighter with an impressive striking accuracy of 52% and a significant striking rate of 4.02 strikes landed per minute. She also has a strong takedown defense, with opponents landing only 37% of their attempts. She has showcased her skills in the octagon with victories over Sarah Alpar and Joselyne Edwards.
Lisboa is a relative newcomer to the UFC, with only two fights under her belt, but she has shown potential with a perfect takedown defense and a reputation as a ferocious striker. She will look to use her height and reach advantage to land significant strikes and test Clark's defense.
This fight is sure to be a battle between two women looking to prove themselves in the bantamweight division. Clark will look to utilize her experience and well-rounded skill set to outmaneuver Lisboa, while Lisboa will be eager to make a statement with a win over a more experienced opponent.
Overall, this matchup promises to be a high-energy, action-packed fight that fans won't want to miss. Tune in to UFC Fight Night on May 13th, 2023 to see who comes out on top between Jessica-Rose Clark and Tainara Lisboa.
Jessica-Rose Clark Striking
Jessica-Rose Clark is a talented striker who has a significant striking accuracy of 52% and lands an average of 4.02 significant strikes per minute. She has good striking defense, as well, with a percentage of 59%. Clark also has a solid ground game, with an average of 1.76 takedowns landed per 15 minutes and a takedown accuracy of 52%. In her last fight against Joselyne Edwards, Clark showcased her striking ability, landing several significant strikes on the feet and winning the fight via unanimous decision after three rounds. Her striking also played a key role in her victory over Sarah Alpar at UFC Fight Night: Covington vs. Woodley, where she finished the fight with a knee to the body. Clark's striking can be a dangerous weapon, and she will likely look to utilize it against her next opponent, Tainara Lisboa. If she can keep the fight standing and find her range on the feet, Clark has the potential to pick apart Lisboa with her sharp striking and earn another victory. Jessica-Rose Clark is a well-rounded fighter who is proficient in both striking and grappling. Her style is aggressive and she likes to push the pace, always looking for the finish. Clark has a record of 11-8-0 (1NC) and has fought some tough opponents in her career. Her upcoming fight against Tainara Lisboa will be an interesting matchup as Lisboa is still a relatively new fighter with a record of 5-2-0. Clark will have the advantage in terms of experience, but Lisboa is a skilled striker who could pose a threat on the feet. Clark will need to be careful not to underestimate Lisboa and should look to utilize her grappling and ground game where she has an advantage. If Clark can take the fight to the ground and control the pace, she should be able to come out on top. Overall, this fight will come down to who can impose their game plan more effectively. Clark's experience and well-rounded skillset should give her the edge in this matchup, but Lisboa will be looking to make a name for herself by taking out a more established fighter.
Tainara Lisboa Striking:
Tainara Lisboa, also known as the "Thai Panther," has a record of 5-2-0 in her professional career. While her statistics may not be as impressive as her upcoming opponent Jessica-Rose Clark, it's important to note that she possesses a dangerous striking game that could be the key to her victory. Lisboa has a background in Muay Thai, which explains the "Thai" in her nickname. Her striking is characterized by powerful leg kicks, vicious elbows, and relentless pressure. She is not afraid to stand and trade with her opponents, often overwhelming them with her volume and accuracy. In her last fight, Lisboa displayed her striking prowess against Vanessa Melo. She landed a flurry of punches and elbows that forced the referee to stop the fight in the second round. This victory demonstrated her potential as a dangerous striker in the bantamweight division. Clark, on the other hand, has a well-rounded game with good striking and grappling skills. However, she has shown vulnerability in her striking defense in the past, which could play into Lisboa's strengths. If Lisboa can utilize her striking to its full potential and avoid Clark's takedowns, she could emerge victorious. In conclusion, Lisboa's striking is definitely a weapon to watch out for in her upcoming fight against Clark. While Clark is a tough opponent, Lisboa could use her striking to secure a win and possibly make her way up the rankings in the bantamweight division.
Tainara Lisboa:
Tainara Lisboa is a promising talent in the UFC's bantamweight division. The Brazilian fighter boasts a professional record of 5-2-0 and has been making waves in the MMA community with her impressive performances inside the Octagon. At 5'7", Lisboa has a height advantage over many of her opponents which allows her to use her reach to her advantage. She has a style that combines strong grappling skills with dynamic striking, making her a versatile fighter that is always dangerous. While her striking statistics may not jump off the page with zero significant strikes landed per minute and a striking accuracy of 0%, it's important to note that Lisboa is still relatively new to the sport and is continuously improving her skills. What sets Lisboa apart is her ability to take the fight to the ground. She has a takedown accuracy of 0% but has shown a willingness to take risks and use her grappling to control her opponents. With an average of 0 takedowns landed per 15 minutes, Lisboa will need to improve in this aspect of her game to compete with the best in the division. On May 13, 2023, Lisboa will face off against Jessica-Rose Clark in what promises to be a thrilling matchup between two formidable fighters. While Clark will certainly pose a tough challenge for the young Brazilian, Lisboa has shown that she has the potential to rise to the occasion and make a name for herself in the UFC world. Fans and analysts alike will be keeping a close eye on Lisboa's future fights to see if she can continue to develop her skills and ascend the bantamweight rankings. With the potential to become a dominant force in the division, Lisboa is a fighter to watch in the coming years.
Jessica-Rose Clark's Path to Victory Against Tainara Lisboa
To win against Tainara Lisboa, Jessica-Rose Clark needs to focus on her strengths and use them to dominate the fight. Clark is known for her striking accuracy, takedown defense, and ability to finish fights. Here are some key strategies for Clark to implement: 1. Utilize her striking: Clark needs to use her striking accuracy to wear down Lisboa and keep her at a distance. With a reach advantage, Clark should use her jab to keep Lisboa away and then follow up with heavy strikes when the opportunity arises. 2. Defend against takedowns: Lisboa has yet to land a takedown in her career, but Clark needs to be ready for any attempts. With over 60% takedown defense, Clark should be able to stuff any takedown attempts and keep the fight standing. 3. Look for the finish: Clark has finished fights with both submissions and knockouts. She should be looking for opportunities to take Lisboa down and work towards a submission. Alternatively, if she sees an opening, she should look to finish the fight with strikes. Overall, Jessica-Rose Clark's key to victory is to use her striking to avoid takedowns, stay on her feet, and look for opportunities to finish the fight.
How Tainara Lisboa Can Win Against Jessica-Rose Clark
Tainara Lisboa has a tough opponent in Jessica-Rose Clark, who has a lot of experience in the octagon. However, Tainara Lisboa can pull off a win by utilizing her height and reach advantage over her opponent. She should focus on keeping the fight at a distance and use her long-range strikes to keep Clark at bay. Tainara Lisboa should also work on her takedown defense to prevent Clark from taking her to the ground and controlling the fight. She should look for opportunities to land effective strikes and avoid getting caught in Clark's counter punches. Additionally, Tainara Lisboa can use her agility and quick footwork to move around the octagon and tire Clark out. She should aim to outpace and outlast her opponent to secure a win. Overall, Tainara Lisboa needs to stay focused, stay patient, and use her strengths to her advantage. With the right strategy and execution, she can definitely come out on top against Jessica-Rose Clark.
Prediction
This fight is between two bantamweight contenders who are looking to establish themselves as the future of the division. Jessica-Rose Clark has had a mixed record in the UFC so far, but she has shown that she can be a tough opponent for anyone. Tainara Lisboa, on the other hand, is relatively new to the UFC, but she has already made a name for herself as a skilled striker. In this fight, I believe that Jessica-Rose Clark will come out on top. While she has had some losses in the past, she has shown that she has the ability to bounce back and learn from her mistakes. She also has a more well-rounded game than Lisboa, which I think will be the difference in this fight.
Pick: Jessica-Rose Clark (Moneyline)
#1

#2