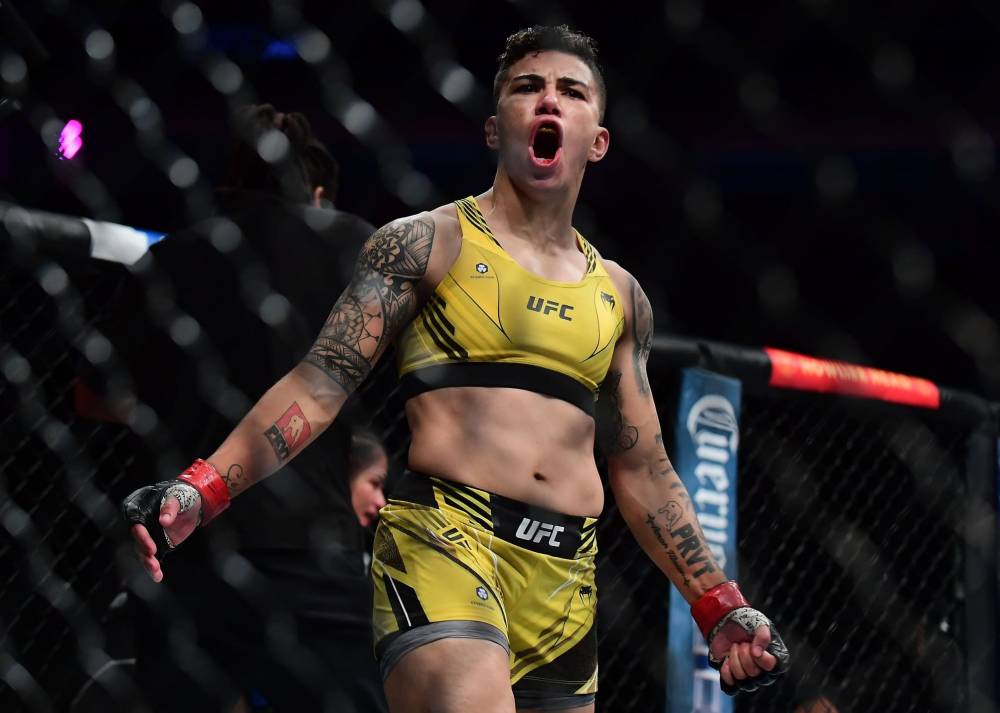 Jessica Andrade vs Yan Xiaonan Prediction UFC 288 Picks 5/6
May 5, 2023, 7:14:19 PM
© Gary A. Vasquez-USA TODAY Sports
Jessica Andrade vs Yan Xiaonan: Fight Preview
On May 06, 2023, two talented female fighters will face each other at UFC 288: Sterling vs. Cejudo. Jessica Andrade, with a record of 24-10-0, will be fighting Yan Xiaonan, with a record of 16-3-0 (1NC).
Jessica Andrade
Andrade, nicknamed "Bate Estaca", is a Brazilian fighter who stands 5'1" and weighs 115lbs. She has an orthodox stance and has a reach of 62". Her career statistics include:
SLpM: 6.84
Str.Acc.: 51%
SApM: 5.34
Str.Def: 54%
TDAvg.: 2.64
TDAcc.: 54%
TDDef.: 73%
Sub.Avg.: 0.4
In her last fight on February 18, 2023, Andrade submitted Erin Blanchfield via rear-naked choke in the second round.
Yan Xiaonan
Xiaonan is a Chinese fighter who stands 5'5" and weighs 115lbs. She also has an orthodox stance and has a reach of 63". Her career statistics include:
SLpM: 5.45
Str.Acc.: 44%
SApM: 3.53
Str.Def: 61%
TDAvg.: 0.87
TDAcc.: 66%
TDDef.: 70%
Sub.Avg.: 0.0
Xiaonan's last fight was on October 01, 2022, where she lost to Mackenzie Dern via majority decision.
Fight Preview
Both Andrade and Xiaonan are skilled fighters with a great track record. Andrade has the advantage when it comes to takedowns, while Xiaonan has better striking accuracy. It will be interesting to see how they will match up against each other in the octagon.
Andrade will be looking to continue her winning streak and secure another victory through her grappling skills. Xiaonan, on the other hand, will try to keep the fight standing and utilize her striking abilities to finish the fight.
This fight could potentially go either way, but one thing is for sure - it will be an exciting bout to watch.
Jessica Andrade Striking: An Analysis
Jessica Andrade, also known as "Bate Estaca," is a Brazilian mixed martial artist known for her aggressive and powerful striking. Standing at just 5'1" tall, Andrade has a compact frame that allows her to generate significant power in her strikes. Looking at her career statistics, Andrade has an impressive SLpM (significant strikes landed per minute) of 6.84, with a striking accuracy of 51%. She absorbs an average of 5.34 significant strikes per minute, but her significant strike defense is at a solid 54%. Andrade also displays excellent takedown skills, with an average of 2.64 takedowns landed per 15 minutes and a takedown accuracy of 54%. Her takedown defense is also high at 73%. In terms of her striking style, Andrade is known for her heavy hands and ability to generate power from both her punches and kicks. She also has a tendency to move forward aggressively, pressuring her opponents and looking for openings to land her strikes. However, this aggressive style can also leave her vulnerable to counterattacks, as seen in her loss to Valentina Shevchenko at UFC 261. Andrade was unable to close the distance effectively, and Shevchenko was able to pick her apart with counterstrikes. Overall, Andrade's striking is a significant threat to any opponent, and her ability to mix in takedown attempts makes her a versatile and dangerous fighter in the octagon. It will be interesting to see how she matches up against Yan Xiaonan in their upcoming fight at UFC 288.
Jessica Andrade Wrestling:
Jessica Andrade is known for her aggressive wrestling style, using her small stature and compact build to bulldoze opponents to the ground and unleash her ground and pound. Andrade's record of 24-10-0 reflects her tenacity and prowess on the mat, with an impressive takedown average of 2.64 per 15 minutes and a takedown accuracy of 54%. In her most recent fight against Erin Blanchfield at UFC Fight Night, Andrade showcased her ground game, eventually securing a rear-naked choke at 21:37 in the second round. Andrade also displayed her striking ability in a dominant performance against Lauren Murphy at UFC 283, winning by unanimous decision. However, Andrade's wrestling skills were tested in her fight against Zhang Weili at UFC Fight Night in 2019, where she suffered a devastating knockout loss in the first round. Despite this setback, Andrade continues to be a formidable force in the strawweight division, with upcoming fights against Yan Xiaonan at UFC 288 and a potential rematch against Rose Namajunas. Yan Xiaonan, Andrade's opponent at UFC 288, has her own impressive takedown accuracy of 66%, making for an intriguing matchup. Andrade will need to utilize her wrestling strength and aggressive ground game against Xiaonan's striking and defensive skills. Overall, Jessica Andrade's wrestling is a defining aspect of her fighting style and has helped her become a dominant force in the octagon. As she continues to train and refine her skills, it is sure to be a formidable weapon in future fights.
Yan Xiaonan Striking: A Formidable Force
Yan Xiaonan is known for her impeccable striking skills and is considered one of the most dangerous strikers in the women's strawweight division. She employs a fluid, technical, and aggressive striking style, often using her long reach to her advantage. Xiaonan is proficient in both striking and counter-striking, comfortable fighting from both orthodox and southpaw stances. She has a solid understanding of distance and timing, often catching her opponents with her fast, hard punches and kicks. In her fight against Claudia Gadelha, Xiaonan put on a striking clinic, consistently outlanding Gadelha in significant strikes. She also showcased her clinch work, utilizing knees and elbows effectively to wear down her opponent. Xiaonan's striking accuracy stands at 44%, but it's her volume that is most impressive. She lands an average of 5.45 significant strikes per minute, absorbing 3.53 in return. This shows that she's always looking for opportunities to land strikes. Her striking defense, at 61%, means she prevents more than half of her opponent's significant strikes from landing. This statistic suggests that Xiaonan has good head movement, quick footwork, and sound defensive techniques. Overall, Yan Xiaonan's striking is a powerful and refined force. If she can continue to push the pace and showcase her skills, she could become one of the most dominant strikers in the division.
Yan Xiaonan Wrestling: Strengths and Weaknesses
Yan Xiaonan has shown remarkable wrestling skills in her professional career. With an average of 0.87 takedowns per 15 minutes and a 66% takedown accuracy, Yan Xiaonan has the ability to take her opponents down and keep them there. Her takedown defense is also strong at 70%, making it difficult for her opponents to take her down. In terms of striking, Yan Xiaonan's significant striking accuracy is at 44%, and she lands an average of 5.45 significant strikes per minute. Her striking defense is also impressive at 61%, meaning that she has the ability to avoid her opponents' strikes and counter effectively. Despite her impressive wrestling and striking skills, Yan Xiaonan has shown weaknesses in her grappling. Her submission average is at 0.0, meaning that she has not attempted many submissions in her career. This could be a vulnerability for her in grappling-heavy matchups. Additionally, Yan Xiaonan has suffered losses to opponents with strong grappling skills, such as Mackenzie Dern and Marina Rodriguez. These losses suggest that grappling may be a weakness for her in high-level matchups. Overall, Yan Xiaonan's wrestling skills are a significant asset in her fighting style. However, her grappling may be a vulnerability that opponents could exploit in close matchups.
Jessica Andrade's Road to Victory against Yan Xiaonan
Jessica Andrade is a fighter known for her aggressive striking and grappling skills. To win against Yan Xiaonan, she needs to utilize her strengths and avoid getting caught in the Chinese fighter's impressive striking. Firstly, Andrade should focus on closing the distance quickly and getting inside Xiaonan's range. She should look to utilize her powerful grappling skills and take the fight to the ground where she can control and dominate. Andrade's takedown accuracy and average takedowns per 15 minutes are higher than Xiaonan's, which gives her an advantage in this regard. Secondly, Andrade needs to be defensively sound while on her feet and avoid getting caught by Xiaonan's precise and powerful striking. Andrade has a higher significant strike defense percentage than Xiaonan, so she should be able to withstand Xiaonan's punches and kicks and look for opportunities to counterattack. Finally, Andrade should use her physical advantages, including her shorter height and reach, to close the distance and get in Xiaonan's face. Andrade's powerful strikes can stun Xiaonan and potentially lead to a knockout victory. If Andrade can avoid getting caught in Xiaonan's striking and effectively utilize her grappling skills, she has a good chance of securing a victory and potentially earn herself a title shot.
How Yan Xiaonan Can Win Against Jessica Andrade
Yan Xiaonan has a tough opponent in Jessica Andrade but there are a few ways she can pull off the win. Firstly, she needs to use her superior reach advantage to keep Andrade at bay and avoid getting into a brawl. She should focus on landing strikes from a distance and use her footwork to avoid getting backed into the cage. Secondly, Yan Xiaonan should utilize her strong takedown defense to prevent Andrade from taking the fight to the ground. While Andrade is a strong wrestler, Yan Xiaonan's takedown defense has proven to be solid in the past and she should use that to her advantage. Lastly, Yan Xiaonan needs to maintain her stamina throughout the fight as Andrade is a relentless fighter who doesn't let up. She should look to pick her shots and conserve her energy while defending Andrade's attacks. If Yan Xiaonan can execute these strategies effectively, she has a good chance of winning the fight.
Prediction:
I predict that this will be a closely contested fight between two highly skilled fighters in the women's strawweight division. Jessica Andrade will look to use her aggression and power to overwhelm Yan Xiaonan, while Xiaonan will seek to use her technical striking to keep Andrade at bay. It may come down to who can dictate the pace and style of the fight.
Pick: Yan Xiaonan (Moneyline) +165
Upgrade to View Prediction
#1

#2

last 30 days winnings
$4,740
#5