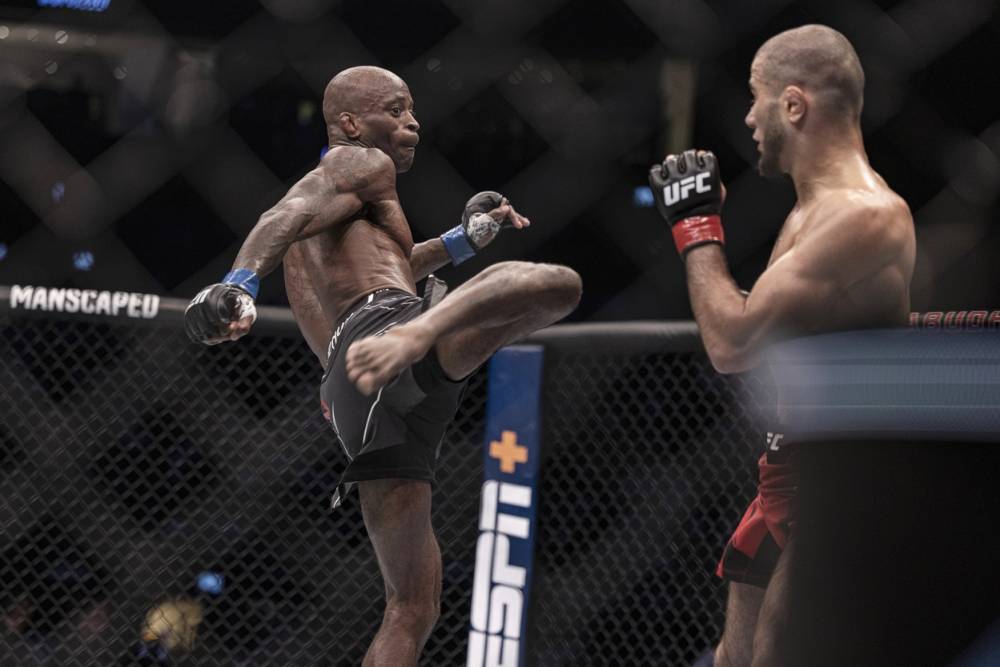 Jake Hadley vs Malcolm Gordon UFC Prediction and Odds
Mar 17, 2023, 1:26:31 AM
Photo Credit: © Craig Kidwell-USA TODAY Sports
UFC 286: Jake Hadley vs Malcolm Gordon
The UFC 286 event will take place at the O2 Arena in London, England, on March 18, 2023, and one of the most exciting matchups is between Jake Hadley and Malcolm Gordon. The two flyweights are both looking to climb up the rankings in their division and make a statement with a win in London. In this article, we will preview both fighters and give our prediction for the fight's outcome.
Jake Hadley
Jake Hadley is a 26-year-old English fighter who fights out of Fearless MMA. He has a record of 9-1-0, with five submission victories and two knockout victories. His last fight was on November 5, 2022, against Carlos Candelario, which he won via submission in the second round.
Before joining the UFC, Hadley competed in various promotions, including Bellator and Cage Warriors, where he won multiple fights and titles. Hadley is known for his grappling skills and has a well-rounded game that can cause problems for any opponent. He has a switch stance and is a southpaw, which can make it difficult for his opponents to read his attacks.
Hadley has a high level of Brazilian jiu-jitsu and is capable of finishing fights with his submission skills. He has won his last two fights via submission and is known for his ability to lock in a rear-naked choke. However, Hadley is not limited to just his grappling skills, as he also possesses power in his hands, as evidenced by his two knockout victories.
His only professional loss came against Allan Nascimento in a closely contested fight that went to a decision. Despite the loss, Hadley put on an impressive performance and proved that he can hang with some of the top fighters in his division.
In his upcoming fight against Malcolm Gordon, Hadley will be looking to continue his winning ways and climb up the UFC flyweight rankings. With his well-rounded skill set and impressive submission skills, Hadley has a good chance of coming out on top in this fight.
Malcolm Gordon
Malcolm Gordon is a 32-year-old Canadian fighter who fights out of Para Bellum MMA. He has a record of 14-6-0, with two knockout victories and one submission victory. His last fight was on October 22, 2022, against Muhammad Mokaev, which he lost via submission in the third round.
Gordon has competed in various promotions, including the UFC, where he has had mixed results. He is a well-rounded fighter with decent striking and grappling skills, but he has struggled against tough opponents. Gordon has a switch stance and a reach of 71 inches, which can give him an advantage over his opponents.
Gordon's striking accuracy is at 44%, and he absorbs an average of 2.04 significant strikes per minute. While these numbers may not be as impressive as some other fighters, Gordon is still a dangerous striker with the ability to finish fights. His grappling skills are also notable, with an average of 1.66 takedowns per 15 minutes and an average of 0.8 submission attempts per 15 minutes. However, his takedown defense is low, with a success rate of only 9%.
In his upcoming fight against Jake Hadley, Gordon will need to utilize his striking and grappling skills effectively if he wants to come out on top. With his switch stance and reach advantage, Gordon has the potential to give Hadley trouble on the feet. However, if the fight goes to the ground, Gordon will need to be careful not to get caught in Hadley's submission game
Prediction
The fight between Hadley and Gordon is expected to be a close one, but the prediction is that it will go over 1.5 rounds. Hadley is a talented grappler who will look to take the fight to the ground and control Gordon. However, Gordon has decent takedown defense and can defend against Hadley's grappling attacks.
On the other hand, Gordon will look to keep the fight standing and use his reach to land strikes on Hadley. Hadley has a good chin and can take a punch, but he will need to be careful not to get caught by Gordon's strikes.
Overall, the fight is expected to be a tactical one, with both fighters looking to impose their game plan on the other. However, with both fighters having the ability to defend themselves, it is expected that the fight will go over 1.5 rounds.
Pick: Over 1.5 rounds -154
Looking for the best UFC 286 predictions and MMA picks? KingPin.pro has got you covered. This top-rated sports betting app is available on both iOS and Android and provides real-time odds, public betting data, and comprehensive data analysis to help you make informed decisions when placing your bets.
But that's not all. KingPin.pro takes it a step further by offering users access to expert handicappers and their UFC picks. Users can purchase picks from handicappers for a variety of sports, including the NBA, NFL, MLB, and more. The handicappers on the site are experts in their field and have a proven track record of success, making their UFC picks and UFC 286 predictions tonight reliable and valuable.
In addition to expert picks, KingPin.pro also allows users to place their own picks and compete for a spot in the top 10 leaderboard. This is a great opportunity to test your skills against other sports bettors and potentially earn a payout if your pick makes it to the top 10.
One of the unique features of KingPin.pro is that users can view all the picks on the site, not just those from the handicappers they choose to follow. This allows users to gain more insight into the overall trends and predictions of the community and make more informed betting decisions.
Overall, KingPin.pro is a comprehensive and user-friendly platform for sports bettors looking for the best UFC parlays and UFC picks. Whether you're a seasoned bettor or new to the game, this app offers valuable insights and expert advice to help you make informed decisions and potentially earn some money.
#1

#2

last 30 days winnings
$4,740
#5