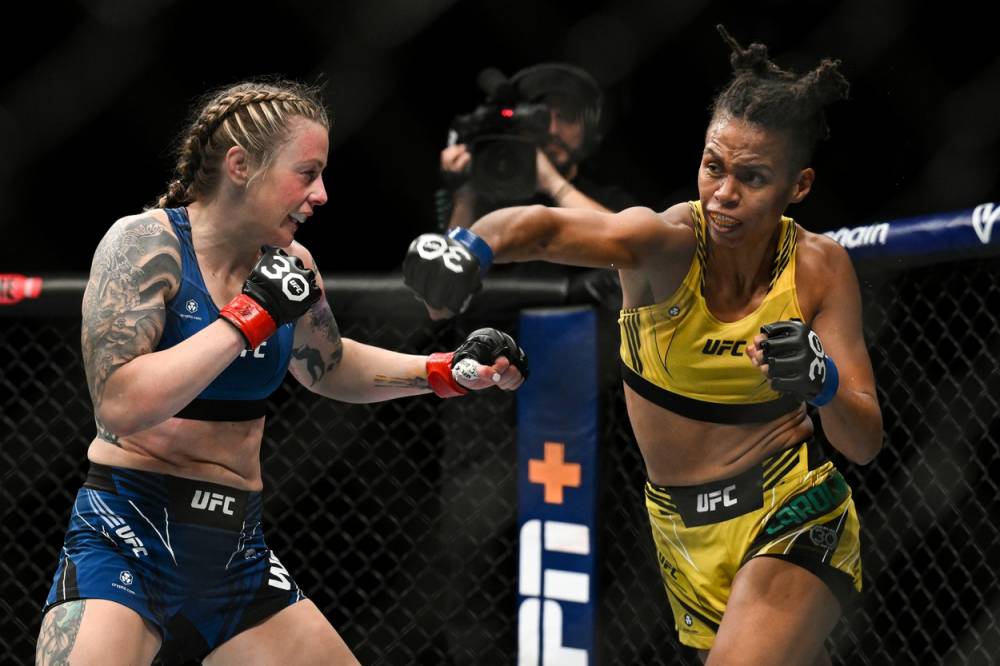 Ivana Petrovic vs Luana Carolina Prediction UFC Picks 7/1
Jun 30, 2023, 12:47:55 AM
© Per Haljestam-USA TODAY Sports
Ivana Petrovic vs. Luana Carolina: Matchup Preview
In this section, we will take a closer look at the much-anticipated matchup between Ivana Petrovic and Luana Carolina. Both fighters possess impressive records and skills, making this fight an intriguing one for MMA fans. Ivana Petrovic, with a record of 6-0-0, stands at 5'8" tall and weighs 125lbs. She fights in a southpaw stance and has a reach of 70". Petrovic's career statistics show that she has yet to land a significant strike or takedown, but her striking accuracy and defense are listed at 0%. She has not attempted any submissions either. However, these statistics may not fully reflect her fighting abilities, and it will be interesting to see how she performs in this upcoming match. On the other side of the octagon, Luana Carolina steps in with a record of 8-4-0. She is slightly shorter than Petrovic, standing at 5'6" tall, and weighs the same at 125lbs. Carolina fights in an orthodox stance and has a reach of 69". Her career statistics indicate that she has a significant strikes landed per minute rate of 4.98, with a striking accuracy of 50%. Her significant strikes absorbed per minute is 4.43, and her striking defense stands at 45%. Carolina has not attempted any takedowns, but her takedown defense is impressive at 78%. She has an average of 0.8 submissions attempted per 15 minutes.
Luana Carolina
Luana Carolina is known for her impressive striking skills inside the octagon. With a record of 8-4-0, she has showcased her talent in several high-profile fights. Standing at 5'6" and weighing 125lbs, Carolina possesses speed and power in her strikes, making her a dangerous opponent for anyone. Her significant strikes landed per minute (SLpM) average at 4.98, indicating her ability to consistently land effective strikes. This is backed up by her striking accuracy, which stands at an impressive 50%. Carolina has a solid striking defense as well, with a 45% rate of opponents' strikes that did not land. Carolina's aggressive style is evident in her significant strikes absorbed per minute (SApM) average of 4.43. Despite absorbing strikes, she manages to defend herself well, with a 78% takedown defense rate, showcasing her ability to avoid getting taken down by her opponents. In terms of finishes, Carolina has showcased her versatility. She has an average submission attempts rate of 0.8 per 15 minutes, highlighting her proficiency in grappling exchanges. However, her victories predominantly come from her striking prowess. Her knockout victory against Molly McCann with a spinning back elbow is a testament to her ability to finish fights in spectacular fashion. Carolina's upcoming fight against Ivana Petrovic at UFC Fight Night: Strickland vs. Magomedov on July 1, 2023, promises to be an intriguing matchup. Both fighters possess impressive striking skills, setting the stage for an exciting battle in the flyweight division. As Carolina continues to develop her striking game and gain experience inside the octagon, fans can expect to witness more thrilling performances from this talented fighter.
Ivana Petrovic
Ivana Petrovic enters the fight with an undefeated record of 6-0-0 and possesses an impressive height advantage at 5'8". Petrovic, a southpaw fighter, has showcased her striking accuracy and defense in her previous fights. With a 0% significant striking accuracy and defense, Petrovic has proven to be a formidable force on her feet. Additionally, her takedown accuracy and defense stand at 0%, showing her ability to keep the fight standing. On the other hand, Luana Carolina, with a record of 8-4-0, brings her own set of skills into the cage. Standing at 5'6", Carolina utilizes her orthodox stance to deliver significant strikes at a rate of 4.98 per minute. With a striking accuracy of 50% and a striking defense of 45%, Carolina has proven to be a well-rounded striker. However, she lacks in the takedown department, with a 0% takedown accuracy and a defense of 78%. Based on their previous performances, it is clear that both fighters possess their own strengths and weaknesses. Petrovic's undefeated record showcases her ability to overcome any challenge, while Carolina's impressive striking accuracy can prove to be a game-changer. Ultimately, this fight could go either way. If Petrovic can use her height advantage to keep the fight at a distance and utilize her striking accuracy, she may have the upper hand. However, if Carolina can find a way to close the distance and take advantage of her striking skills, she could come out victorious. In conclusion, the matchup between Luana Carolina and Ivana Petrovic is expected to be a thrilling fight with both fighters showcasing their unique skill sets. It will come down to who can impose their game plan better and capitalize on their opponent's weaknesses. MMA fans should be prepared for an electrifying showdown.
How Ivana Petrovic can win
To win the fight against Luana Carolina, Ivana Petrovic needs to utilize her strengths and exploit her opponent's weaknesses. Here's a strategy for Ivana Petrovic to secure victory: 1. Capitalize on Reach Advantage: With a reach of 70 inches compared to Luana Carolina's 69 inches, Petrovic should use her longer limbs to control the distance. She should maintain a safe distance using her jab and straight punches to keep Carolina on the outside, making it difficult for her to close the distance and land significant strikes. 2. Exploit Carolina's Striking Defense: Despite Carolina's decent striking statistics, Petrovic must focus on finding the openings and weaknesses in her opponent's striking defense. Analyzing Carolina's previous fights, Petrovic should look for patterns or tendencies where Carolina may leave herself vulnerable to counters or specific strikes. 3. Utilize Southpaw Stance: Petrovic fights from a southpaw stance, which can often pose challenges for orthodox fighters like Carolina. She must take advantage of this by using angles and footwork to create confusion and make it harder for Carolina to establish her offense. 4. Mix Up Strikes and Takedowns: Although Petrovic's statistics show no takedowns averaging, she shouldn't neglect utilizing her grappling skills. By mixing up strikes with takedowns, she can keep Carolina guessing and prevent her from building momentum. Petrovic should look for opportune times to shoot for takedowns and secure dominant positions on the ground. 5. Conditioning and Endurance: It's crucial for Petrovic to maintain a high level of conditioning throughout the fight. Carolina has shown good endurance in her previous matches, so Petrovic must be prepared to match her pace and potentially push the fight into later rounds where she can potentially exploit any cardio disadvantages. By implementing these strategies and executing them effectively, Ivana Petrovic can increase her chances of winning the fight against Luana Carolina.
How Luana Carolina can win
In order for Luana Carolina to win against Ivana Petrovic, she will need to utilize her strengths and exploit her opponent's weaknesses. First, Carolina should rely on her significant striking advantage. Her statistics show that she lands an impressive 4.98 significant strikes per minute with a striking accuracy of 50%. She should focus on landing clean and powerful strikes to wear down Petrovic and potentially secure a knockout. Carolina should also take advantage of Petrovic's lower striking defense percentage of 45%. By throwing a variety of strikes and combinations, she can overwhelm Petrovic and increase her chances of landing significant strikes. Additionally, Carolina should capitalize on Petrovic's lack of takedowns. Petrovic has a takedown average of 0.00, indicating that her wrestling skills may be weaker than Carolina's. Carolina should look for opportunities to take the fight to the ground and potentially secure a submission. It is crucial for Carolina to maintain a high level of aggression and pressure throughout the fight. By constantly pushing the pace and dictating the exchanges, she can control the fight and prevent Petrovic from finding her rhythm. Carolina's previous wins indicate her ability to go the distance and win by decision. If she maintains her cardio and endurance, she can outlast Petrovic in a grueling fight and secure a victory on the judges' scorecards. Overall, Luana Carolina can win against Ivana Petrovic by utilizing her significant striking advantage, exploiting Petrovic's weaker striking defense, capitalizing on her opponent's lack of takedowns, maintaining constant pressure, and potentially securing a knockout or winning by decision.
Prediction
In this matchup, we have two talented fighters with contrasting styles. Ivana Petrovic is undefeated, with a record of 6-0. She possesses a southpaw stance and has shown impressive striking accuracy. On the other hand, Luana Carolina has a record of 8-4 and is known for her orthodox stance and well-rounded skills. Considering their records and styles, this fight has the potential to be an exciting and closely contested battle. Petrovic's undefeated streak indicates her ability to perform under pressure and find ways to win. Her striking accuracy could be a significant factor in this bout. However, Luana Carolina's experience and well-roundedness cannot be overlooked. While she may have suffered some losses in the past, she has also showcased her ability to finish fights with striking and submission techniques and has experience in the UFC.
Pick: Luana Carolina (Moneyline) +185
#1

#2