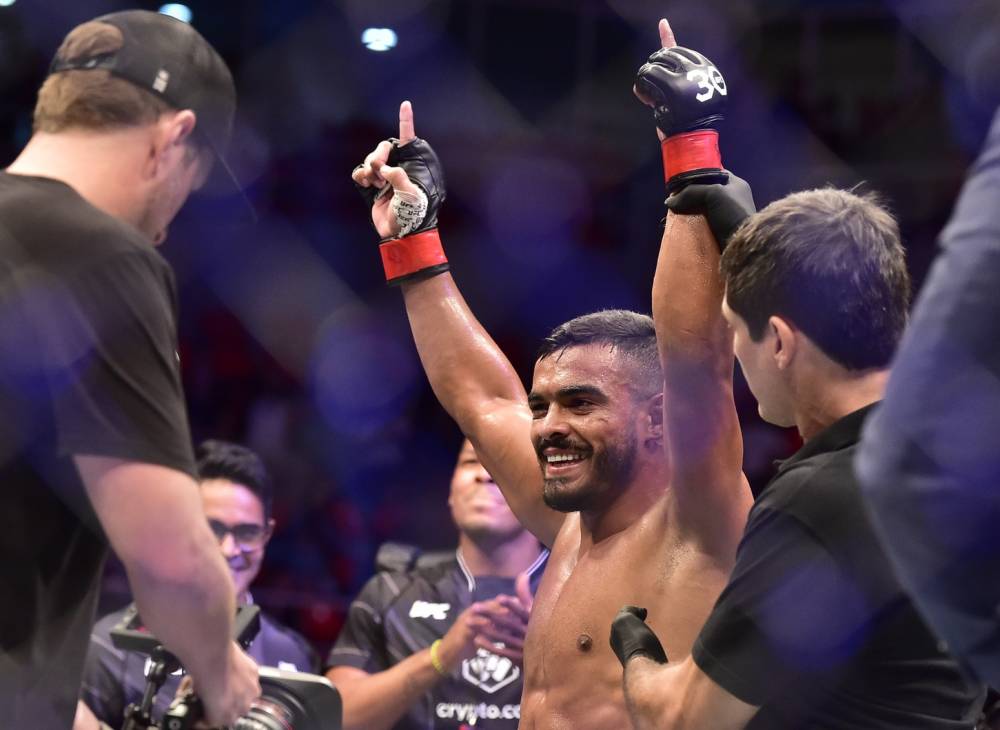 Ismael Bonfim vs Vinc Pichel Prediction UFC Picks 11/4
Oct 31, 2023, 4:53:17 AM
© Jason da Silva-USA TODAY Sports
UFC Fight Night: Almeida vs. Lewis - Bonfim vs. Pichel
UFC Fight Night returns to Sao Paulo, Brazil, on November 4, 2023, at the Ginasio Do Ibirapuera, and the lightweight division is set to witness a thrilling showdown between two formidable fighters. Ismael Bonfim, representing Cerrado MMA, will step into the octagon to face Vinc Pichel, hailing from FactoryX Muay Thai.
Ismael Bonfim - Marreta
Ismael "Marreta" Bonfim, the Brazilian lightweight fighter, brings a wealth of experience and skill to the octagon. With a professional record of 19 wins and 4 losses, Bonfim has proven himself as a versatile fighter who can finish his opponents in various ways. His record shows a balanced mix of nine (T)KO victories and four submissions.
Recent Fight History:
In his most recent fight on July 1, 2023, at UFC Fight Night: Strickland vs. Magomedov, Bonfim faced Benoit Saint Denis and suffered a submission loss. However, Bonfim rebounded in his previous fight, securing a KO/TKO victory over Terrance McKinney at UFC 283: Teixeira vs. Hill on January 21, 2023. Notably, he also secured a unanimous decision win against Nariman Abbasov at Dana White's Contender Series: Season 6, Week 7 on September 6, 2022.
Submission Specialist:
One key aspect that sets Ismael Bonfim apart is his proficiency in submissions. With four submission victories to his name, he has showcased a knack for taking opponents to the ground and locking in submissions that force them to tap out. This could be a crucial factor in his upcoming fight against Vinc Pichel, who has a record that includes one submission loss.
Bonfim's ability to seize opportunities on the ground and capitalize on his opponents' vulnerabilities can be a game-changer. His submission arsenal includes techniques like anaconda chokes and kimuras, which he has used effectively in past fights to secure victories. If the fight against Pichel goes to the ground, Bonfim's submission skills might become the deciding factor.
Vinc Pichel - From Hell
Vinc "From Hell" Pichel, representing FactoryX Muay Thai, is a seasoned American lightweight fighter. With a record of 14 wins and 3 losses, Pichel has demonstrated his striking abilities with eight (T)KO victories, but his ground game hasn't been as prominent, with one submission loss on his record.
Recent Fight History:
In his most recent fight on April 9, 2022, at UFC 273: Volkanovski vs. The Korean Zombie, Pichel faced Mark O. Madsen and experienced a unanimous decision loss. This fight marked a departure from his previous victory over Austin Hubbard at UFC Fight Night: Cannonier vs. Gastelum on August 21, 2021, where he secured a unanimous decision win.
Prediction:
As the fight between Ismael Bonfim and Vinc Pichel approaches, it's clear that Bonfim's submission skills hold the key to victory in this matchup. Pichel, while a formidable striker, has shown vulnerability to submissions in the past, and Bonfim's track record of securing submissions in his victories cannot be overlooked.
If Bonfim can effectively take the fight to the ground and capitalize on Pichel's potential weaknesses in his ground game, we may witness a submission finish. Bonfim's arsenal, including anaconda chokes and kimuras, can present a significant threat to Pichel. His ability to seize opportunities and lock in submissions makes him a strong contender in this bout.
While both fighters bring their strengths into the octagon, the best bet for this fight is on Ismael Bonfim to secure a submission victory, leveraging his ground skills to claim the win at UFC Fight Night: Almeida vs. Lewis.
Pick: Bonfim to Win by Submission
Upgrade to View Prediction
#1

#2

last 30 days winnings
$4,740
#5