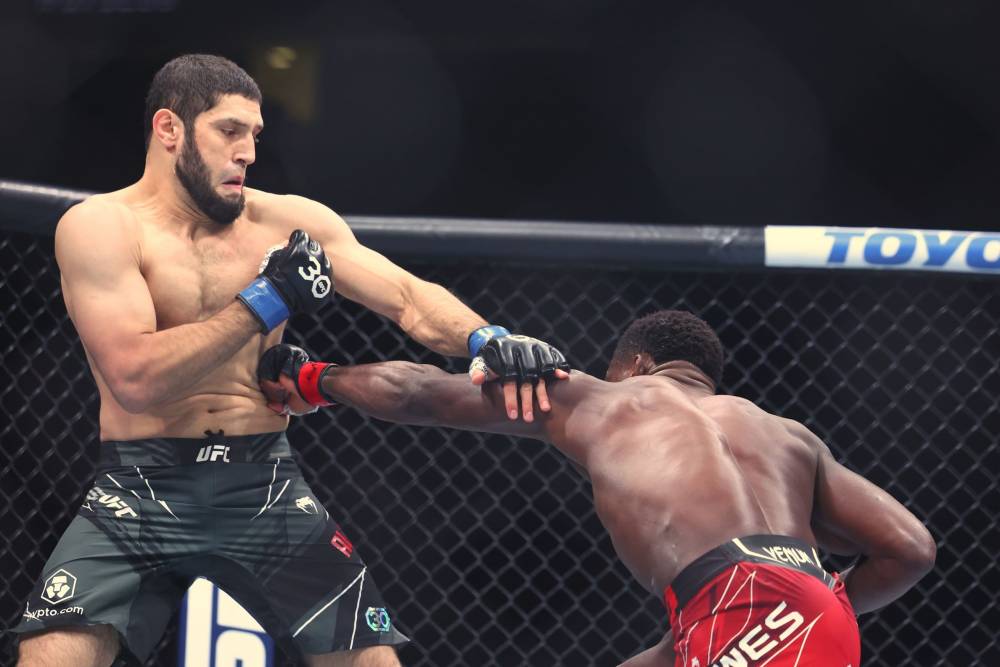 Ikram Aliskerov vs Warlley Alves Prediction UFC 294 10/21
Oct 21, 2023, 6:29:38 AM
© Ed Mulholland-USA TODAY Sports
UFC 294: Ikram Aliskerov vs. Warlley Alves
Warlley Alves and Ikram Aliskerov square off in a Saturday UFC 294 match at the Etihad Arena. Aliskerov comes into this fight with a 14-1 record and a knockout victory percentage of 36%. Alves comes into this bout with a 14-6 record and a 43 percent submission victory rate.
Ikram Aliskerov
Ikram Aliskerov: Striking Analysis
Ikram Aliskerov is a formidable striker in the middleweight division who possesses excellent movement and technique in his striking game. Standing at 6'0" with a reach of 76", he is a southpaw fighter who utilizes his agility and speed to keep his opponents at bay. Aliskerov has fought 14 professional MMA fights, winning 13 of them, with his only loss coming against American fighter, John Phillips. Aliskerov's striking game is a vital aspect of his approach to fighting, and he boasts decent striking accuracy, landing 3.26 significant strikes per minute at a 58% accuracy rate. He absorbs an average of 7.91 strikes per minute, indicating that he is vulnerable to getting hit but still manages to keep his striking game going. His striking defense stands at 41%, which implies that he needs to improve his defense to avoid getting hit when striking. In addition to his striking game, Aliskerov also possesses excellent grappling skills, averaging 6.98 takedowns per 15 minutes. Although his takedown defense rate stands at 0%, he makes up for this with his ability to submit his opponents, averaging seven submissions per 15 minutes. Aliskerov's striking game will be tested in his upcoming matchup against Phil Hawes at UFC 288: Sterling vs. Cejudo on May 6, 2023. Hawes is also a solid striker, and the matchup is expected to be a test for Aliskerov's movement and striking accuracy. However, with Aliskerov's proven track record in the UFC and his well-rounded fighting style, he is expected to put up a good fight against Hawes.
Ikram Aliskerov Wrestling:
Ikram Aliskerov is a name that is fast becoming synonymous with grappling excellence. The 28-year-old MMA fighter hails from Daghestan, Russia, a region that has produced some of the biggest names in wrestling. Aliskerov's accomplishments in the ring are a testament to this legacy, and his upcoming matchup against Phil Hawes promises to be another showcase of his skill. Standing at 6'0" and weighing 185lbs, Aliskerov is a powerhouse wrestler with a reach of 76". He fights in the southpaw stance and boasts an impressive career statistics record of 13-1-0. Aliskerov is a well-rounded fighter, with significant striking accuracy of 58% and a significant strikes absorbed per minute rate of 7.91. Where Aliskerov's wrestling truly shines is in his takedown game. He has an average of 6.98 successful takedowns landed per 15 minutes, with 33% accuracy. Aliskerov is also a submission specialist, with an average of 7.0 submissions attempted per 15 minutes. Aliskerov's recent victory over Mario Sousa showed off his grappling prowess, with a submission win via Kimura at the DWCS 6.8 event. With his sights set on Phil Hawes next, Aliskerov is sure to bring his A-game to the octagon. In this matchup, Aliskerov's wrestling skills will be tested by Hawes, a formidable opponent with 100% takedown defense. However, Aliskerov's abilities on the ground are sure to give Hawes pause, especially when it comes to submissions. Overall, Ikram Aliskerov is a wrestler to watch in the coming years. His dedication to his craft and impressive skill set make him a force to be reckoned with in the octagon.
Warlley Alves's Striking in UFC
Alves has lost twice in his past eight fights and most recently lost to Nicolas Dalby in January. Alves is making 3.21 major strikes each minute on average, with a 47 percent accuracy rate. Alves averages 1.37 takedowns per match with a 50% accuracy rate. Alves recently suffered a decision loss at UFC 283, where he had 167 blows taken and 75 strikes landed. Alves is currently 8-6 overall and 4-3 in decisions throughout his UFC career. Alves, who has a history in kickboxing, is attempting to earn his first victory since UFC on ESPN 20. Alves has been finished in 3 of his 6 losses and is a strong defensive fighter with a good takedown defense %.
In his most recent two outings, Warlley Alves had a string of defeats; maybe, this change in weight classes would change his fortunes. His chin should benefit from not having to worry about losing weight at the last minute for this fight. Alves must concentrate on his defense and avoid being caught in this battle because he was just knocked out by Jeremiah Wells. When marching forward and initiating the exchanges while keeping his arm guard raised, he is quite aggressive. Alves will have a better chance of scoring some power shots of his own if he can maintain a tight guard and annoy Aliskerov.
Prediction:
Even to newbies like Jeremiah Wells, Warlley has suffered a great deal of defeat lately. Because of the Brazilian's expected writing style, bookies are confident that Aliskerov will be able to read it without any issues. For our Aliskerov vs. Alves prediction, we wholeheartedly concur with them. But placing a wager on Aliskerov is really stupid, so we're going to go under. A standing finish is considerably more likely for Aliskerov because of his superior punching strength and accuracy. Ikram has a chance to win by knockout even in the first round if the Brazilian quickly starts to apply pressure.
Pick: Ikram Aliskerov ML -600
Upgrade to View Prediction
#1

#2

last 30 days winnings
$4,740
#5