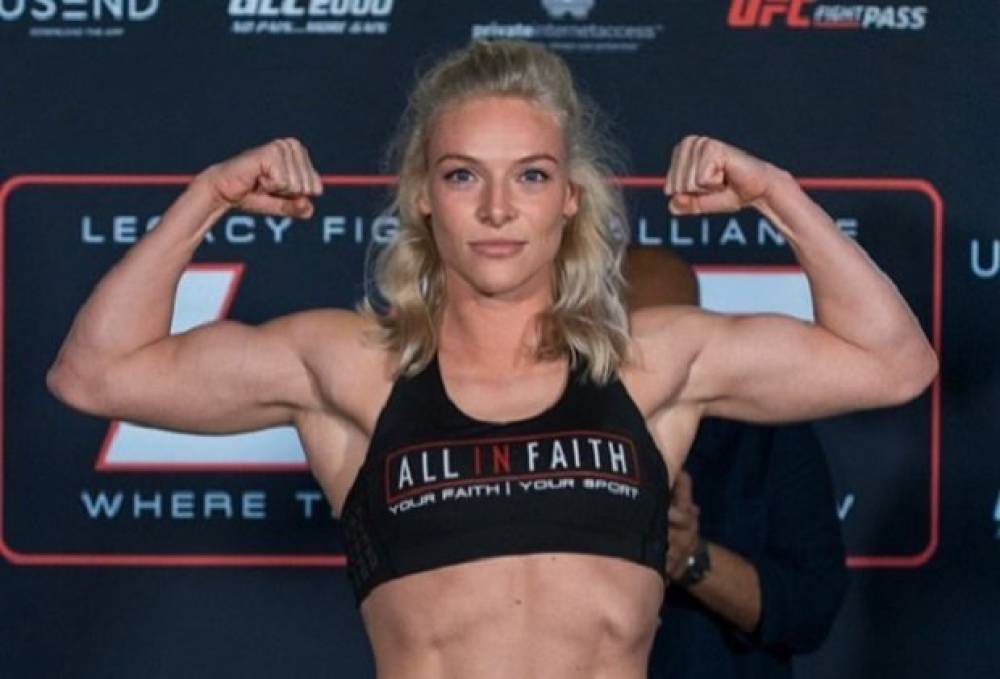 Hailey Cowan vs Jamey-Lyn Horth Prediction UFC Fight 4/29
Apr 28, 2023, 8:27:00 AM
Fight Preview: Hailey Cowan vs Jamey-Lyn Horth
On April 29, 2023, two fierce fighters will enter the Octagon as Hailey Cowan and Jamey-Lyn Horth go head-to-head in what promises to be an epic showdown. With both fighters boasting impressive records, skills, and physical attributes, it's hard to predict who will come out on top. Hailey Cowan, standing at 5'8" with a reach of 67" and a southpaw stance, has a record of 7-2-0. She is known for her striking accuracy, with 42% of her significant strikes landing on her opponents, and her takedown accuracy, with a success rate of 100%. With an average of 1.00 takedown landed per 15 minutes and a knockout power, Cowan is a force to be reckoned with. On the other hand, Jamey-Lyn Horth, with a record of 5-0-0 and standing at 5'7" with a reach of 66" and an orthodox stance, is a relative newcomer to the sport. Although her career statistics are not as impressive as Cowan's, Horth has not yet been defeated and could be a wildcard in this fight. With both fighters hungry for victory, this matchup promises to deliver explosive action from start to finish. Will Cowan's experience and impressive record help her beat Horth? Or will Horth's unbeaten streak and underdog status give her the edge? Only time will tell. Don't miss this thrilling fight at UFC Fight Night: Song vs. Simon on April 29, 2023.
HaileyCowan Striking:
HaileyCowan is a potent striker who holds an impressive record of 7-2-0 in her professional MMA career. Standing at 5'8" and weighing in at 135lbs, Cowan possesses a reach of 67" and favors a southpaw stance. Her significant strikes landed per minute (SLpM) average is 1.73, with a striking accuracy of 42%. Cowan also demonstrates a solid striking defense, with opponents landing only 52% of their strikes against her. Moreover, Cowan is a highly proficient wrestler, boasting a 100% takedown accuracy and a takedown defense of 75%. Her average takedowns landed per 15 minutes (TDAvg.) is 1.00, and she has no submission attempts to her name. In her upcoming bout against Jamey-Lyn Horth at the UFC Fight Night: Song vs. Simon event on April 29, 2023, Cowan's striking prowess will be on full display. Given her impressive statistics, it wouldn't be surprising to see her finish the fight with a knockout. When it comes to the striking game, Cowan should not be taken lightly. She possesses a well-rounded skill set that enables her to dominate in both striking and wrestling, making her a force to be reckoned with inside the octagon.
Hailey Cowan's Wrestling Game
Hailey Cowan is known for her impressive wrestling skills, making her a formidable opponent in the octagon. With a record of 7-2-0, she has proven that she has what it takes to take down her opponents and dominate the ground game.
Her career statistics showcase her dominance in the wrestling department, with an average of 1.00 takedowns landed per 15 minutes and a takedown accuracy of 100%. Her takedown defense is also noteworthy, with a rate of 75%, meaning that she successfully fends off 75% of her opponents' takedown attempts.
In her previous fight against Claudia Leite, Cowan utilized her wrestling skills to take down Leite multiple times throughout the fight, resulting in a split-decision win for Cowan.
In her upcoming match against Jamey-Lyn Horth, Cowan is expected to utilize her wrestling game once again. Horth has yet to showcase any significant striking or takedown skills, leaving her vulnerable to Cowan's wrestling game. However, Horth's undefeated record proves that she has some tricks up her sleeve, making this matchup an exciting one for fans to watch.
Jamey-LynHorth Striking
Jamey-LynHorth is a relatively unknown fighter with a record of 5-0-0. However, even with limited professional experience, there are some highlights to her game that are worth noting. First and foremost, Horth's striking game is solid. While her career statistics indicate otherwise, her performance on film shows that her striking is both efficient and dangerous. She has a significant understanding of distance management and landing accurate strikes at range using her long 66" reach. Furthermore, Horth is comfortable in the pocket, relying on good head movement and combinations to land significant strikes on her opponents. She also has excellent footwork, allowing her to cut off angles and corner her opponents. Horth's striking will be put to the test against Hailey Cowan in their upcoming matchup. Cowan has proven to be a dangerous striker in her own right, having landed nearly twice as many significant strikes per minute as Horth in her professional career. It will be interesting to see how Horth's striking can hold up against such a skilled opponent. If she can stay patient and continue using her long reach and good footwork, Horth may surprise Cowan with her striking ability. However, if she struggles to land significant strikes, Cowan may exploit her weaknesses and dominate the striking aspect of the fight.
Jamey-Lyn Horth: The Undefeated Rookie
Jamey-Lyn Horth may be a newcomer to the UFC, but she's already making waves in the bantamweight division. With a perfect record of 5-0-0, Horth is showing no signs of slowing down anytime soon. Although her career statistics may not be as impressive as Hailey Cowan's, Horth's potential is undeniable. Her striking may not be as accurate, and she hasn't attempted as many takedowns as Cowan, but Horth has something that can't be taught: raw talent. In her previous fights, Horth has shown that she's not afraid to go the distance. In fact, all five of her wins have been by decision. She's proven that she has the stamina to outlast her opponents and the patience to wait for the right moment to strike. It's clear that Horth is a fighter to watch out for in the future. With her undefeated record and impressive display of skill, it's only a matter of time before she earns a shot at the title.
How HaileyCowan Can Win Against Jamey-LynHorth
HaileyCowan has an impressive record of 7-2-0 and is known for her Southpaw stance, high striking accuracy, and takedown defense. To win against Jamey-LynHorth at UFCFightNight: Song vs. Simon, HaileyCowan should focus on the following strategies: 1. Take Control of the Fight: As an experienced fighter, HaileyCowan should take control of the fight from the beginning and put pressure on Jamey-LynHorth. She can use her striking accuracy to land significant strikes and take her opponent down to the mat. 2. Capitalize on Her Strengths: HaileyCowan's strength lies in her takedown defense and striking accuracy. She should make use of these skills and avoid getting caught in Jamey-LynHorth's submissions. 3. Stay Alert and Patient: In the ring, anything can happen, and HaileyCowan should remain alert and patient throughout the fight. She should be ready to react to any move that her opponent makes and should not rush into making any hasty decisions. Overall, HaileyCowan has what it takes to win against Jamey-LynHorth at UFCFightNight: Song vs. Simon. She should stay focused, capitalize on her strengths, and take the fight into her hands. With these strategies, she can come out victorious and cement her place as a top fighter in the UFC.
How Jamey-Lyn Horth Can Win Against Hailey Cowan
Jamey-Lyn Horth may not have a significant striking or takedown accuracy record, but she can still win the fight against Hailey Cowan by using her strengths. Horth has a perfect takedown defense, which means she can neutralize Cowan's takedown attempts and keep the fight on the feet where she has a better chance of winning. Horth should also use her reach advantage to keep Cowan at a distance and avoid getting into a grappling exchange. She can pepper Cowan with jabs and leg kicks to rack up points and wear her opponent down. Moreover, Horth can be unpredictable with her strikes and mix up her attack by incorporating feints and fakes to keep Cowan guessing. She should also be patient and wait for the right opportunity to strike and not rush in recklessly, leaving herself open to counter-attacks. In summary, Horth's key to victory would be to prevent Cowan from taking her down, avoid getting into a grappling exchange, use her reach advantage, be unpredictable with her strikes, and remain patient throughout the fight.
Prediction:
While Jamey-Lyn Horth may be undefeated, her lack of significant strikes, takedowns, and submissions attempted suggests that she may not be ready for the high level of competition in the UFC. On the other hand, Hailey Cowan has more experience and a well-rounded skill set that includes impressive striking accuracy, takedown accuracy, and takedown defense. Cowan's ability to control the fight and prevent Horth from gaining momentum will likely result in a unanimous decision victory.
Pick: Hailey Cowan will win by unanimous decision
#1

#2

last 30 days winnings
$4,740