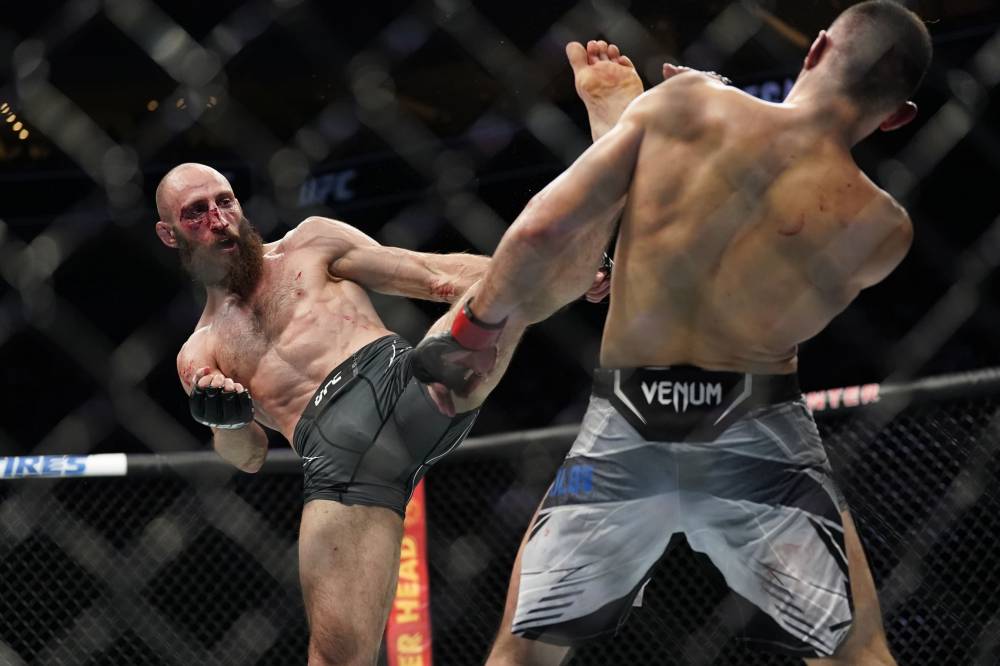 Guram Kutateladze vs Elves Brener Prediction UFC Picks 1/7
Jun 30, 2023, 12:57:09 AM
© Scott Wachter-USA TODAY Sports
Guram Kutateladze vs. Elves Brener: Preview and Prediction
Guram Kutateladze, the Georgian Viking, is set to step into the octagon against the formidable Elves Brener. This highly anticipated matchup will undoubtedly captivate fans with their explosive fighting styles and technique. Let's take a closer look at these fighters' records, statistics, and their previous fights.
Guram Kutateladze
Record: 12-3-0 Height: 5'11" Weight: 155lbs. Reach: 72" Stance: Orthodox DOB: Jan 08, 1992 Guram Kutateladze, known for his aggressive fighting style, has an impressive record of 12 wins and only 3 losses. The Georgian Viking possesses a remarkable striking game, with a significant strikes landed per minute (SLpM) of 3.83, showcasing his accuracy (42% striking accuracy). He absorbs strikes at a rate of 4.37 significant strikes absorbed per minute (SApM), proving his solid striking defense (58% striking defense). Kutateladze also boasts a high takedown defense percentage (77%) and has shown proficiency in defending against takedown attempts. In his most recent fight, Kutateladze faced a tough opponent in Damir Ismagulov, but unfortunately, he suffered a loss in the match. However, he had previously showcased his skills by defeating Mateusz Gamrot in a thrilling encounter.
Elves Brener
Record: 14-3-0 Height: 5'10" Weight: 155lbs. Reach: 72" Stance: Orthodox DOB: Sep 27, 1997 Elves Brener, a force to be reckoned with, enters the bout with an impressive record of 14 wins and 3 losses. Brener possesses a striking style that favors aggression and accuracy, evident in his significant strikes landed per minute (SLpM) of 4.60, showcasing his striking accuracy of 43%. Similar to Kutateladze, he has a solid striking defense (58% striking defense), with a SApM of 4.67. Notably, Brener has yet to attempt a takedown in his career, but his takedown defense percentage remains impeccable at 100%. In his previous fight, Brener displayed his skill and determination by defeating Zubaira Tukhugov in a hard-fought battle. This victory solidified his position as a formidable contender in the division. The matchup between Guram Kutateladze and Elves Brener promises to be a thrilling fight, with both fighters showcasing their exceptional striking abilities. The octagon will witness an intense clash as these talented athletes leave no stone unturned to secure a victory. Fans can anticipate fireworks as these two warriors step into the cage for an unforgettable showdown.
How Guram Kutateladze can win the fight
To win the fight against Elves Brener, Guram Kutateladze needs to implement the following strategies: 1. Utilize his striking skills: Guram Kutateladze has a significant strike accuracy of 42% and an impressive strike defense of 58%. He should focus on utilizing his striking skills to land clean and accurate strikes on Elves Brener. By using his reach advantage and maintaining a solid striking technique, Kutateladze can gradually wear down his opponent. 2. Control the Octagon: Kutateladze should make use of his footwork and movement to control the center of the Octagon. By dictating the pace and positioning of the fight, he can limit Elves Brener's options and force him into less favorable positions. 3. Solid takedown defense: Elves Brener has a 100% takedown accuracy, so it is crucial for Kutateladze to have a strong takedown defense. By effectively defending takedowns, Kutateladze can keep the fight standing and focus on his striking. 4. Capitalize on counter-striking opportunities: Kutateladze should look for opportunities to counter-strike when Elves Brener initiates attacks. With his striking accuracy and defense, Kutateladze can land significant strikes while evading his opponent's strikes. 5. Maintain a high pace and cardio: Kutateladze has shown good cardio in his previous fights. By maintaining a high pace throughout the fight, he can put pressure on Elves Brener and potentially tire him out. This will create opportunities for Kutateladze to capitalize and finish the fight. Overall, Guram Kutateladze can win the fight against Elves Brener by utilizing his striking skills, controlling the Octagon, defending takedowns effectively, capitalizing on counter-striking opportunities, and maintaining a high pace and cardio throughout the fight.
How Elves Brener can win
To win against Guram Kutateladze, Elves Brener needs to strategize and execute a game plan that exploits the weaknesses of his opponent. 1. Utilize striking techniques: Elves Brener should focus on his significant striking accuracy, which is 43%. He should aim to connect with clean and powerful strikes to wear down Kutateladze and potentially secure a knockout victory. 2. Defend against takedowns: Elves Brener has a 100% takedown defense, meaning he is skilled at avoiding takedowns. He should use his defense skills to prevent Kutateladze from taking the fight to the ground, where he may have an advantage. 3. Capitalize on Kutateladze's weaknesses: Elves Brener should study Kutateladze's fights and identify any weaknesses in his defense or tactics. By exploiting these weaknesses, he can create opportunities to gain the upper hand and potentially secure a win. 4. Maintain a high striking and defensive output: Elves Brener should focus on his significant strike defense, which is at 58%. By maintaining a high striking output while effectively defending against Kutateladze's strikes, he can accumulate points on the scorecards and potentially win by decision. 5. Stay composed and be prepared for all scenarios: Elves Brener should be mentally prepared for a tough fight and be ready to adapt his strategy as the fight progresses. He should stay composed, control his emotions, and seize any opportunities that arise during the bout. By implementing these strategies, Elves Brener can increase his chances of defeating Guram Kutateladze and emerge victorious in their matchup.
Prediction
In this matchup between Guram Kutateladze and Elves Brener, both fighters have shown their skills and abilities in the octagon. Kutateladze has a record of 12-3-0, with notable wins over Mateusz Gamrot, while Brener holds a record of 14-3-0, with a recent victory over Zubaira Tukhugov. Kutateladze is known for his striking accuracy and takedown defense, which has helped him secure wins in the past. On the other hand, Brener has displayed impressive striking and defensive skills, making him a tough opponent to face. Considering their statistics and recent performances, this is expected to be an intense and closely contested fight. However, my pick for this fight would be Elves Brener (Moneyline), as he has showcased strong striking skills and a perfect takedown defense and it's worth to give it a shot with +425 odds.
Pick: Elves Brener ML +425
#1

#2