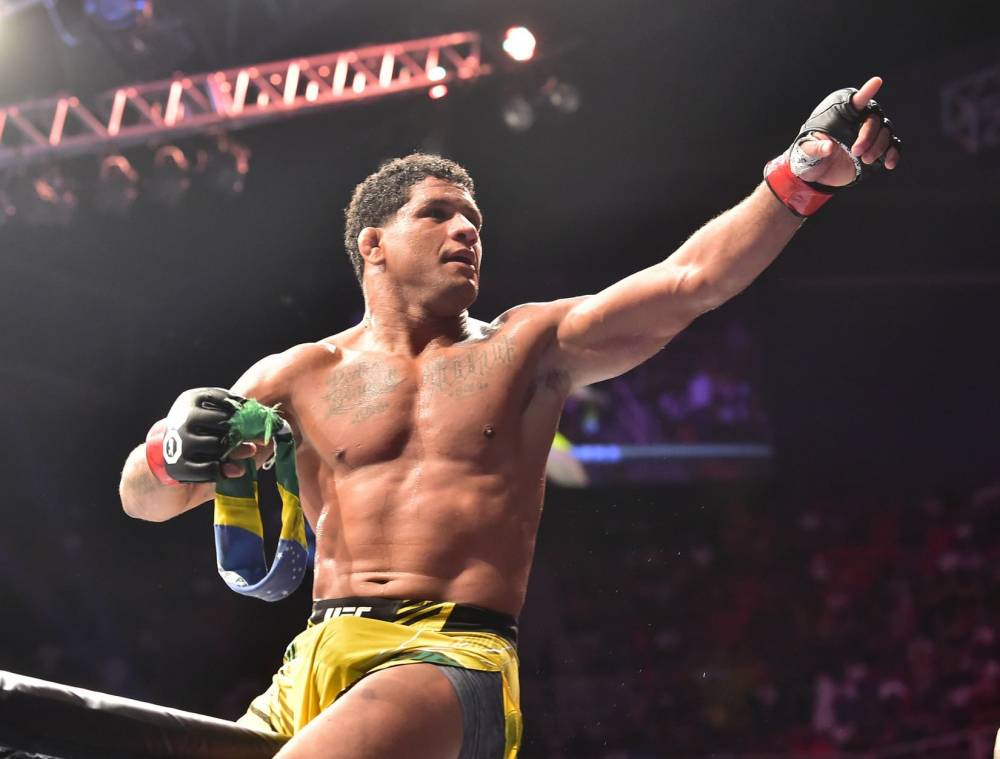 Gilbert Burns vs Jorge Masvidal Prediction UFC 287 Picks 4/8
Apr 3, 2023, 5:39:39 PM
© Jason da Silva-USA TODAY Sports
Gilbert Burns vs Jorge Masvidal: Fight Preview
On April 8, 2023, two talented fighters will face each other in the octagon as Gilbert Burns takes on Jorge Masvidal. The fight will be held at UFC 287 and promises to be an exciting matchup. Gilbert Burns, also known as "Durinho," has a record of 21-5-0 and stands at 5'10". His reach is 71" and he fights in an orthodox stance. He has an impressive striking accuracy of 48%, with a significant strikes landed per minute (SLpM) of 3.42. Burns also has a solid takedown average of 2.03 and a takedown accuracy of 35%. Jorge Masvidal, also known as "Gamebred," has a record of 35-16-0 and stands at 5'11". He has a reach of 74" and fights in an orthodox stance. Masvidal has a significant strikes landed per minute (SLpM) of 4.11 and has a takedown average of 1.44. Both fighters are skilled strikers and have shown their ability to finish fights. However, Burns may have an advantage in the grappling department with his impressive takedown game. Masvidal is known for his explosiveness and knockout power, which he displayed in his recent win against Nate Diaz at UFC 244. Fans can expect an explosive fight between these two fighters, with both looking to finish the fight early. Burns will likely look to take the fight to the ground and utilize his grappling skills while Masvidal will be looking to keep the fight standing and end it with his striking. This fight promises to be an intense matchup that shouldn't be missed.
Gilbert Burns Striking
Gilbert Burns, also known as Durinho, is a well-rounded fighter with impressive striking skills. He has a 48% significant striking accuracy and lands 3.42 significant strikes per minute. His striking defense is at 54%, meaning he is able to avoid many of his opponents' strikes. In his last fight against Stephen Thompson at UFC 264, Burns displayed his powerful striking, landing 29 out of 110 attempted significant strikes. He also managed to land some heavy leg kicks that affected Thompson's mobility throughout the fight. Burns has also shown his knockout power in his fight against Demian Maia, where he finished the Brazilian jiu-jitsu legend with a stunning left hook in the second round. However, Burns' striking can sometimes put him in danger, especially against experienced strikers like Kamaru Usman, who knocked him out in their title fight at UFC 258. Burns will need to use his striking skills cautiously and effectively in his upcoming fight against Jorge Masvidal, who is known for his striking abilities and knockout power.
Gilbert Burns Wrestling:
Gilbert Burns, also known as "Durinho," is a Brazilian mixed martial artist who competes in the welterweight division of the Ultimate Fighting Championship (UFC). As a former Brazilian Jiu-Jitsu world champion, Burns has showcased his ground game throughout his career, but his wrestling skills are equally impressive. Looking at his career statistics, Burns has a Takedown Average (TDAvg.) of 2.03, which means he lands an average of two takedowns per 15 minutes of fighting. His Takedown Accuracy (TDAcc.) is 35%, which indicates that he successfully completes 35% of his takedown attempts. His Takedown Defense (TDDef.), or the percentage of takedown attempts he avoids, is 47%. All these stats confirm that Burns is an excellent wrestler who can take his opponents down and keep them there. Moreover, when it comes to striking, Burns has a Significant Strikes Landed per Minute (SLpM) of 3.42, with a 48% Significant Striking Accuracy (Str. Acc.). He absorbs an average of 3.17 Significant Strikes per Minute (SApM), but his Significant Strike Defense (Str. Def) is at 54%, indicating that he can block or evade most of his opponent's strikes. Overall, Burns' wrestling skills are impressive, making him a formidable opponent for anyone in the welterweight division. In his last fight against Stephen Thompson, Burns demonstrated his proficient wrestling ability, utilizing takedowns to secure a unanimous decision victory. As he sets to face off against Jorge Masvidal in the upcoming UFC 287 event, Burns will undoubtedly look to put his wrestling skills to use once again, and fans can expect an exciting matchup.
Jorge Masvidal Striking:
With Jorge Masvidal is a fighter who is renowned for his technical striking abilities. His striking is characterized by his speed, accuracy, and power. He has an impressive record of 35-16-0, and 14 of those wins have come by KO/TKO. Masvidal's style of striking is based on his ability to move in and out of range quickly and efficiently, utilizing his impressive footwork to set up his strikes. He is excellent at landing combinations, especially when he can use his opponents' momentum against them. He is also known for his impressive kicking game, and his ability to land strikes from unorthodox angles. One aspect of Masvidal's striking that sets him apart from many other fighters is his ability to fight effectively from both orthodox and southpaw stances. He is equally dangerous in either stance, and he often switches stances mid-fight to keep his opponents guessing. Another weapon in Masvidal's striking arsenal is his counter-punching. He has an excellent ability to read his opponents' movements and capitalize on any openings they present. This ability has resulted in some spectacular knockouts, including his now-famous flying knee KO of Ben Askren at UFC 239. While Masvidal is primarily a striker, he is also a competent wrestler and grappler. He has a solid takedown defense and is skilled at using his striking to keep fights standing where he can do the most damage. Overall, Masvidal's striking is a sight to behold, and he is undoubtedly one of the most feared strikers in the UFC today. As he prepares to face Gilbert Burns, fans can expect him to use his striking skills to devastating effect and look to secure yet another highlight-reel knockout. Jorge Masvidal's Background in Wrestling Jorge Masvidal's wrestling skills have been a crucial part of his success in the octagon. He began wrestling in elementary school and continued through high school, where he was a state champion in Florida. Masvidal then went on to compete in freestyle wrestling and won several regional tournaments. In addition to his wrestling background, Masvidal also trained in boxing, kickboxing, and Brazilian Jiu-Jitsu, allowing him to develop a well-rounded skillset. His wrestling skills have helped him to control fights and take down opponents, setting up striking opportunities and enabling him to dominate on the ground. Masvidal's wrestling ability was on full display in his fight against Ben Askren at UFC 239, where he scored a stunning knockout just five seconds into the fight with a flying knee. This knockout was the fastest in UFC history and showcased Masvidal's impressive athleticism and wrestling skill. Overall, Masvidal's wrestling background has played a significant role in his success in the UFC. His ability to control the fight with takedowns and ground-and-pound has made him a formidable opponent and a threat to anyone in his weight class.
How Gilbert Burns can win
Gilbert Burns can win against Jorge Masvidal by utilizing his strong ground game and grappling skills. Burns has shown in his past fights that he has the ability to take down and control his opponents on the ground, and Masvidal has had some struggles defending against takedowns in his fights. If Burns is able to get Masvidal to the ground and control him there, he can wear him down and possibly look to finish the fight with a submission. Burns has a high submission average per 15 minutes, showing that he is comfortable and skilled in finishing fights in that manner. In addition to his grappling skills, Burns also has solid striking and can mix it up with Masvidal on the feet if needed. However, it would be advantageous for Burns to use his grappling and takedowns to control the pace of the fight and avoid getting into a striking battle with the dangerous Masvidal. Overall, Burns' key to victory against Masvidal will be to utilize his grappling and control the fight on the ground, while also mixing in his striking to keep Masvidal guessing. With his well-rounded skill set and strong grappling abilities, Burns has a solid chance of coming out on top against Masvidal.
Jorge Masvidal can win
To win against Gilbert Burns, Jorge Masvidal needs to utilize his striking ability and keep the fight standing. He should try to avoid going to the ground with Burns, who is a skilled Brazilian Jiu-Jitsu practitioner. Masvidal should also work on his takedown defense and try to keep the fight in the center of the octagon, where he can use his footwork to avoid Burns' attacks. If Masvidal can keep the fight standing and land significant strikes, he has a good chance of winning the fight and potentially earning a shot at the welterweight title.
Prediction:
This fight is going to be a back-and-forth war that will keep fans on the edge of their seats. Both fighters have heavy hands and aren't afraid to exchange in the pocket. Burns will likely look to take this fight to the ground, where he has a slight advantage in grappling, but Masvidal's takedown defense is solid. It's going to be a battle of who can land the bigger shots and do more damage. Ultimately, we see Masvidal edging out Burns in a close split decision. It's unlikely that either fighter will get finished, as they are both tough and durable.
Pick: Jorge Masvidal ML +380
Upgrade to View Prediction
#1

#2