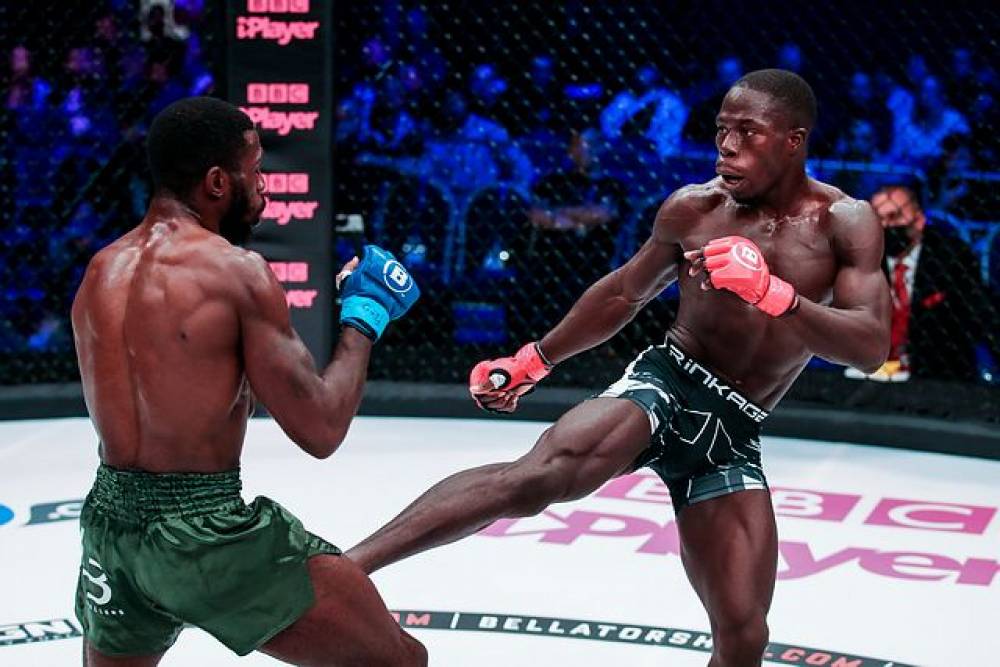 Fabacary Diatta vs Keir Harvie Prediction Bellator 296 5/12
May 12, 2023, 1:09:35 AM
Introduction:
Bellator 296 is set to deliver another thrilling night of MMA action, featuring an intriguing featherweight bout between Fabacary Diatta and Keir Harvie. These skilled fighters will face off inside the cage at the Accor Arena in Paris, France, on May 12, 2023. In this article, we will provide a comprehensive analysis of both fighters, delving into their records, fighting styles, and recent performances. Furthermore, we will offer a detailed prediction on why Fabacary Diatta is expected to emerge victorious by decision.
Fabacary Diatta: The Determined Warrior
abacary Diatta boasts an impressive professional MMA record of 8 wins and 1 loss, showcasing his talent and determination in the featherweight division. At 26 years old, Diatta brings a wealth of experience and a versatile skill set to the cage. Standing at 5'9" tall with a reach of 70.5 inches, he possesses solid physical attributes for the weight class.
Diatta's fighting style is characterized by a well-rounded approach. He has shown proficiency in all areas of the game, with 2 wins by KO/TKO, 1 win by submission, and 5 wins by decision. This versatility allows Diatta to adapt to different opponents and implement effective strategies inside the cage. He is known for his technical striking, grappling prowess, and excellent conditioning, making him a formidable competitor.
Despite a recent loss in his last fight, Diatta has displayed resilience and a strong mental fortitude throughout his career. He has consistently faced tough opponents and proven his ability to perform under pressure. Diatta's experience and determination make him a formidable challenge for any featherweight contender.
Keir Harvie: The Resilient Contender
Keir Harvie enters this matchup with a professional MMA record of 5 wins, 2 losses, and 2 draws. At 24 years old, Harvie has already shown great potential in the featherweight division. Standing at 5'9" tall, he possesses a similar physical stature to his opponent, Fabacary Diatta.
Harvie's fighting style is characterized by his well-rounded skills and ability to adapt in the cage. With 1 win by KO/TKO, 2 wins by submission, and 2 wins by decision, he has proven to be a versatile fighter capable of finishing fights or winning through the judges' scorecards. Harvie's resilience and durability have been evident throughout his career, as he has faced adversity and bounced back from losses.
Prediction
When analyzing this matchup, Fabacary Diatta holds several advantages that position him as the favorite to win by decision. Firstly, Diatta's overall experience and record speak volumes about his skills and ability to perform under pressure. With a record of 8-1-0, he has faced tough competition and has shown the mental toughness necessary to overcome challenges.
Secondly, Diatta's well-rounded skill set provides him with multiple paths to victory. Whether it's striking exchanges on the feet or grappling exchanges on the ground, Diatta has the ability to dictate the flow of the fight. His technical striking and grappling acumen should allow him to control the tempo and land significant strikes while avoiding Harvie's potentially dangerous offense.
Moreover, Diatta's conditioning and pace could play a crucial role in this matchup. He has consistently showcased high levels of endurance and cardio, allowing him to maintain a relentless pace throughout the fight. This could put Harvie at a disadvantage if he struggles to keep up with Diatta's relentless pressure.
Pick: Diatta to win by decision
Upgrade to View Prediction
#1

#2

last 30 days winnings
$4,740
#5