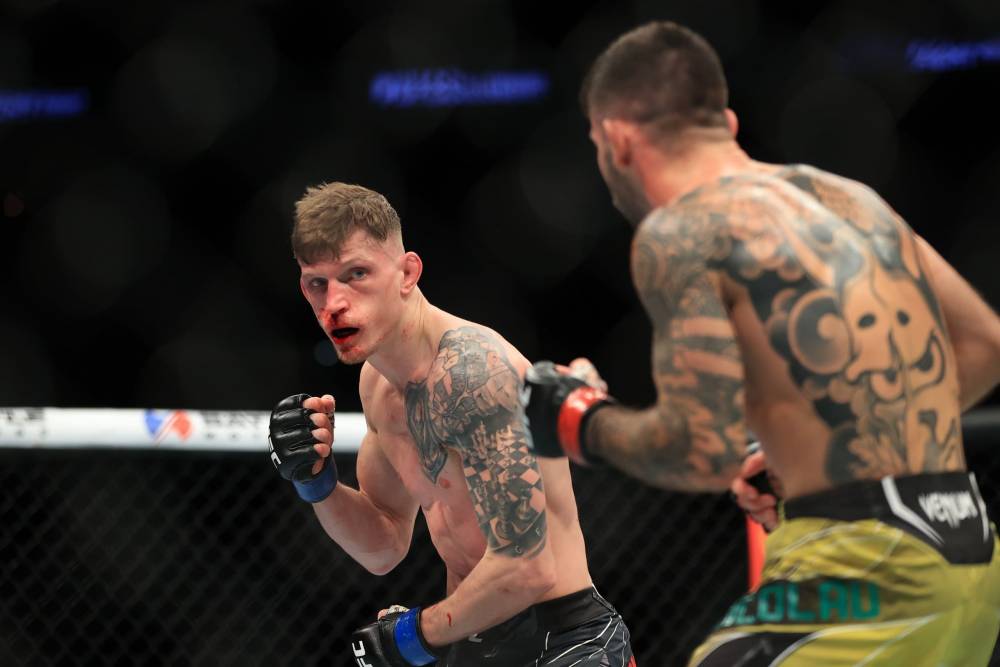 David Dvorak vs Stephen Erceg Prediction UFC 289 Picks 6/10
Jun 6, 2023, 6:54:13 AM
© Aaron Doster-USA TODAY Sports
David Dvorak vs Stephen Erceg: Fight Preview
Get ready for an exciting fight as David Dvorak takes on Stephen Erceg at UFC 289. Dvorak has a record of 20-5-0 and is known for his impressive striking and takedown defense. He has a significant striking accuracy of 42% and a takedown defense of 81%. Dvorak has won his last three fights and is looking to continue his winning streak against Erceg.
On the other hand, Erceg has a record of 9-1-0 and is a relative newcomer in the UFC. He is known for his unorthodox style and elusive footwork. However, his statistics are not as impressive as Dvorak's, with 0% striking accuracy and takedown defense. Erceg will need to bring his A-game if he wants to stand a chance against Dvorak.
This fight is expected to be a battle of striking skills, with both fighters having a similar reach and height. Dvorak's significant striking accuracy may give him an edge over Erceg, but Erceg's unorthodox style can be difficult to read and counter. It is anyone's guess who will come out on top in this exciting matchup.
David Dvorak's Striking Ability
David Dvorak is known for his excellent striking ability, which has helped him to win most of his fights. He has an impressive record of 20-5-0, with 42% striking accuracy and 3.47 significant strikes landed per minute. Dvorak also has a good striking defense, with a 59% rate of blocking opponents' strikes. He is an orthodox fighter who has a reach of 68 inches and weighs 125lbs. Dvorak uses his speed and quick reflexes to dodge and attack his opponents, making it difficult for them to counter his moves. He has a strong jab and devastating hooks, which he uses to knock out his opponents. Dvorak's striking ability was tested in his last fight against Manel Kape at UFC Fight Night: Cannonier vs. Strickland. Although he lost the fight by unanimous decision after a close match, Dvorak exhibited his striking skill by landing heavy punches and kicks on his opponent. He is expected to bounce back in his next fight against Stephen Erceg at UFC 289: Nunes vs. Aldana. Overall, David Dvorak's striking ability is one of his strongest assets in the octagon, and he uses it to his advantage in every fight. His opponents should be wary of his quick and powerful attacks and prepare accordingly.
David Dvorak Wrestling:
David Dvorak is a Czech mixed martial artist who currently competes in the Flyweight division of the Ultimate Fighting Championship (UFC). With a record of 20-5-0, he is known for his exceptional wrestling skills and his ability to control the pace of the fight. Dvorak's wrestling style is characterized by his excellent takedown defense and accuracy. With a TDDef of 81%, he can easily stop his opponent's takedowns and maintain control of the fight. Additionally, his TDAvg of 0.48 shows that he is able to land takedowns with ease, which allows him to dictate the pace of the fight. Moreover, Dvorak is also a skilled striker with a significant striking accuracy of 42%. He is known for his powerful strikes and his ability to land significant strikes consistently throughout the fight. With a Sub.Avg. of 0.20, he is also a potent submission artist, which makes him a versatile fighter. In his last four fights, Dvorak has won three and lost one. He lost his last fight to Manel Kape at UFC Fight Night: Cannonier vs. Strickland via unanimous decision. However, he is looking to bounce back in his next fight against Stephen Erceg at UFC 289: Nunes vs. Aldana. Overall, David Dvorak is a formidable wrestler with exceptional takedown defense and accuracy. He is also a skilled striker and a talented submission artist, making him a versatile fighter who is always a threat inside the Octagon.
Stephen Erceg Striking
Stephen Erceg is a relatively unknown fighter in the UFC, with just 10 professional fights to his name. However, one aspect of his game that has caught the attention of fight fans is his striking ability. Erceg has a background in Muay Thai, which he has used to devastating effect in his fights. Erceg is an orthodox striker, which means that he primarily uses his right hand to land his strikes. However, he also has a potent left hook and a snapping front kick that he is not afraid to throw. Erceg is not the most accurate striker in the game, but he makes up for it with his sheer power. Erceg likes to stand in the pocket and exchange strikes with his opponents. He has a tendency to engage in brawls, which can be both a blessing and a curse. On the one hand, it makes for exciting fights and can overwhelm his opponents. On the other hand, it leaves him open to counters and can tire him out quickly. However, Erceg's striking ability is not just limited to his fists and feet. He also possesses some vicious elbows and knees, which he can use in close quarters. Erceg is a skilled clinch fighter, and he uses his size and strength to control his opponents against the cage. Overall, Erceg's striking ability is what makes him a dangerous fighter in the UFC's flyweight division. If he can improve his accuracy and work on his defense, he could become a force to be reckoned with.
Stephen Erceg Wrestling:
Stephen Erceg is a rising star in the world of wrestling. With a record of 9-1-0, he has shown that he has what it takes to make it to the top. Erceg, also known as Astroboy, fights in the flyweight division and stands at an undisclosed height and reach. While Erceg's statistics do not currently have significant striking or takedown averages, he has proven to be a formidable opponent in the octagon with nine victories under his belt. His expertise in wrestling and his grappling skills might be the reason behind his success. Erceg's next matchup is against David Dvorak at UFC 289: Nunes vs. Aldana on June 10, 2023. This event will be a crucial moment for Erceg in his career. Going toe-to-toe with a tough contender like Dvorak will show spectators if Stephen Erceg is ready for bigger and more challenging fights in the future. Erceg is still young, and his professional career may still be in its early stages, but with his skill set, wrestling prowess, and determination to succeed, he is an exciting fighter to watch out for. In conclusion, Stephen Erceg is a fighter worth keeping an eye on. He has already established himself as a dominant force in the octagon, and his potential is limitless. His future fights will undoubtedly be worth watching as he continues to climb his way up the ranks.
How David Dvorak Can Win Against Stephen Erceg
David Dvorak can win this matchup against Stephen Erceg by utilizing his superior striking skills and wrestling abilities. Dvorak has an impressive record of 20-5-0, and he knows how to end a fight both on the feet and on the ground. His striking accuracy and defense will allow him to out-strike Erceg and land significant blows while avoiding his opponent's attacks. Furthermore, Dvorak's takedown accuracy and defense will enable him to control the fight on the ground and wear down Erceg. His submission skills will also come into play, as he can potentially finish the fight with a submission hold. In order for Dvorak to secure the victory, he must stick to his game plan and not let Erceg dictate the pace of the fight. Dvorak should stay patient, pick his shots, and utilize his range advantage to keep Erceg at bay. If he stays composed and executes his game plan, Dvorak has an excellent chance of winning this matchup.
How Stephen Erceg Can Win Against David Dvorak
1. Improve striking accuracy: Stephen Erceg needs to work on his striking accuracy as it currently stands at 0%. He should aim to land more significant strikes per minute to put pressure on David Dvorak. 2. Enhance takedown defense: Since David Dvorak has a high takedown accuracy of 28%, Stephen Erceg should focus on improving his takedown defense to prevent being taken down to the ground. 3. Capitalize on submission opportunities: Stephen Erceg should aim to take advantage of David Dvorak's low submission average of 0.2 per 15 minutes and attempt to get him to the ground to finish the fight with a submission hold. 4. Stay focused and composed: As a relative newcomer to the UFC, Stephen Erceg may feel pressure to perform on the big stage. He should stay composed and focused on executing his game plan to come out victorious against a seasoned fighter like David Dvorak. If Stephen Erceg can work on these areas and implement a solid game plan, he has a good chance of winning the fight against David Dvorak.
Prediction
David Dvorak has clearly been the more impressive fighter, with a 20-5-0 record and a strong skill set that includes an average of 3.47 significant strikes landed per minute, 0.48 average takedowns landed per 15 minutes, and strong takedown defense at 81%. On the other hand, Stephen Erceg is virtually unknown in the MMA circuit with only 9 wins and 1 loss, and not enough stats to gauge his fighting abilities. While Stephen Erceg may surprise us with some unique tricks up his sleeve, it's hard to imagine him being able to withstand David Dvorak's strong striking and grappling skills. Dvorak has a clear upper hand going into the fight and is likely to emerge victorious.
Pick: David Dvorak (Moneyline).
#1

#2