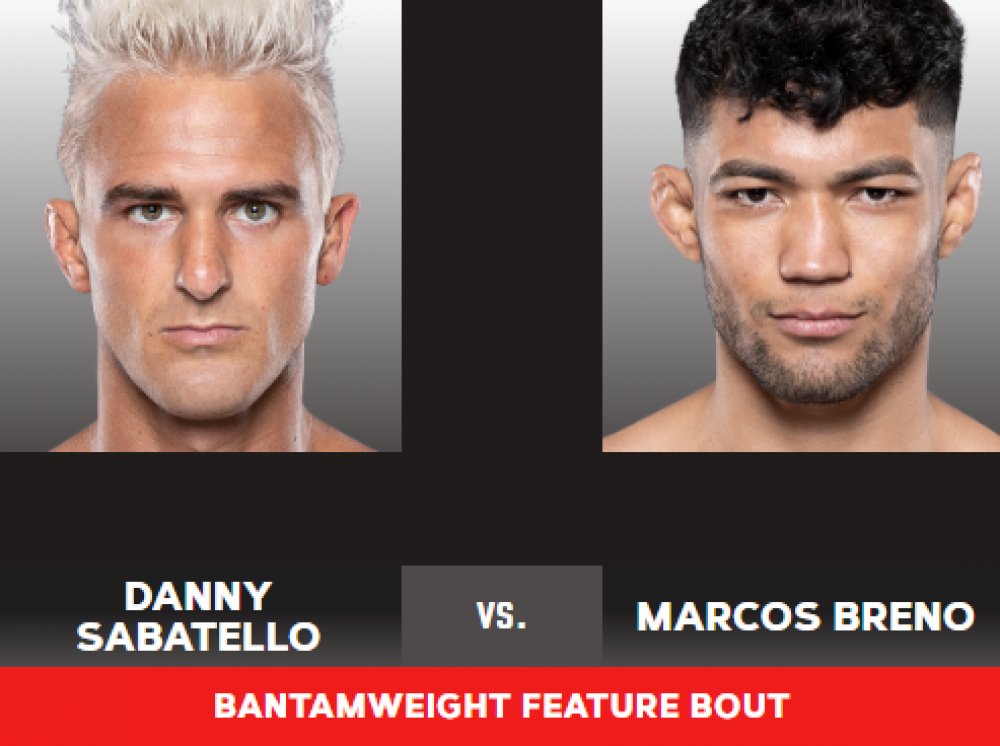 Danny Sabatello vs Marcos Breno Prediction Bellator 294
Apr 21, 2023, 7:07:15 AM
Introduction
Bellator 294 is set to take place on April 21, 2023, in Honolulu, Hawaii. The card features several exciting matchups, including the bantamweight fight between Danny Sabatello and Marcos Breno. In this article, we will provide an extensive review of both fighters and make our prediction on who will come out on top.
At KingPin.pro, we offer expert MMA picks and parlays to help bettors make informed decisions. Our team of analysts takes a deep dive into the fighters' records, styles, and trends to deliver the best Bellator fight predictions. Let's take a closer look at the two fighters in this bout and see who has the edge.
Danny Sabatello
Danny "The Italian Gangster" Sabatello has a professional MMA record of 13-2-0. He is known for his wrestling and grappling skills and has earned six of his victories via decision. Sabatello has fought in various promotions, including Bellator, and is currently affiliated with American Top Team.
In his last fight, Sabatello lost to Raufeon Stots via split decision at Bellator 289. Despite the setback, Sabatello showed grit and determination and was competitive throughout the fight. He will look to bounce back and return to the win column against Breno.
Sabatello's grappling skills will be key to his success in this fight. He has a significant reach advantage over Breno and should look to keep the fight at a distance to avoid getting caught in Breno's striking game. If he can take Breno down and control him on the ground, Sabatello will have a significant advantage.
Marcos Breno
Marcos Breno has a professional MMA record of 15-2-0 and is known for his striking and knockout power. He has won eight of his fights via KO/TKO and has shown impressive striking accuracy. Breno is affiliated with Teixeira MMA & Fitness and is ranked as the 80th best bantamweight fighter in the world.
In his last fight, Breno defeated Josh Hill via unanimous decision at Bellator 284. He showcased his striking skills and was able to outpoint Hill over three rounds. Breno will look to continue his winning streak against Sabatello and earn his second victory in Bellator.
Breno's striking will be his best weapon in this fight. He will look to use his power to keep Sabatello at bay and avoid getting taken down. Breno's takedown defense will be crucial, and he will need to stuff Sabatello's takedown attempts to keep the fight standing.
Prediction
Both Sabatello and Breno are skilled fighters, but we believe Sabatello has the edge in this matchup. Sabatello's wrestling and grappling skills will allow him to take Breno down and control him on the ground. His reach advantage will also help him keep the fight at a distance and avoid getting caught in Breno's striking game.
Breno's striking is dangerous, but he has shown susceptibility to takedowns in the past. Sabatello will look to exploit this weakness and take Breno down to avoid getting caught by his power punches. If Sabatello can implement his game plan effectively, he should be able to secure a dominant victory.
In terms of recent performance, Sabatello is coming off a tough loss in his last fight, but he had won his previous four fights prior to that. Breno, on the other hand, has won his last three fights, but two of those were against lower-level competition. Sabatello has faced tougher opponents throughout his career and has proven himself to be a top-level fighter in the bantamweight division.
In conclusion, while Breno's striking is a threat, Sabatello's wrestling and grappling skills, along with his reach advantage, should give him the advantage in this matchup. We predict that Sabatello will win this fight by decision, controlling Breno on the ground and avoiding his dangerous strikes.
Make sure to check out the Kingpin.pro iOS and Android app for more MMA picks and parlays, including Bellator fight predictions and Bellator picks tonight. We hope you enjoy this exciting event and the many other great fights to come in the world of MMA.
Pick: Danny Sabatello ML -400
#1

#2

last 30 days winnings
$4,740
#5