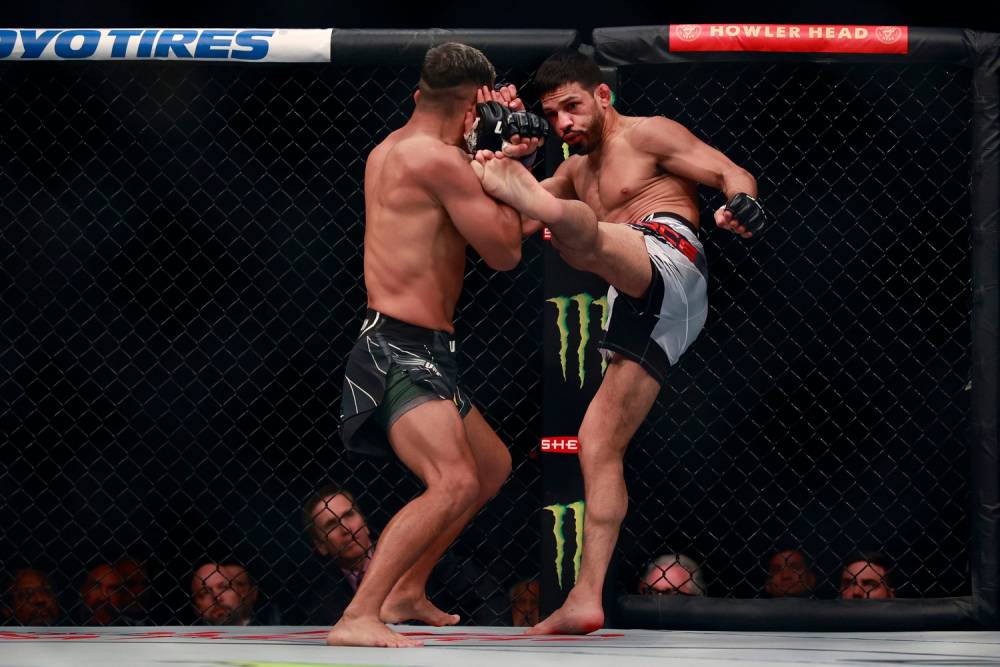 Daniel Santos vs Johnny Munoz Prediction UFC 288 Picks 5/6
May 4, 2023, 9:12:04 PM
© Corey Perrine/Florida Times-Union / USA TODAY NETWORK
Daniel Santos vs Johnny Munoz: Fight Preview
Two rising stars in the bantamweight division, Daniel Santos and Johnny Munoz will go head to head in a highly anticipated matchup at UFC 288: Sterling vs Cejudo on May 06, 2023. Both fighters have impressive records, with Santos at 11-2-0 and Munoz at 12-2-0. Santos is known for his heavy hands and accurate striking, landing an average of 4.82 significant strikes per minute with a striking accuracy of 32%. He also has a solid takedown defense, stopping 57% of his opponents' takedown attempts. On the other hand, Munoz is a well-rounded fighter with solid striking and grappling skills. He averages 3.69 significant strikes per minute and has a takedown accuracy of 25%, averaging 2.32 takedowns landed per 15 minutes. Munoz also has a submission average of 1.6 submissions attempted per 15 minutes. This matchup promises to be an exciting and closely contested battle, with both fighters having the ability to finish the fight in various ways. Santos' striking power will be a significant challenge for Munoz, but Munoz's grappling abilities could be the game-changer. Will Santos' striking be too much for Munoz to handle, or will Munoz utilize his grappling skills to secure the victory? Fans will have to tune in to find out.
DanielSantos Striking
Daniel Santos is an orthodox fighter who possesses an impressive striking arsenal. He has a significant strike landed per minute rate of 4.82 and a striking accuracy of 32%. Santos is a fighter who prefers to stand and trade with his opponents, and he has the skills to make it work. His significant strike defence is at 50%, which suggests that he is a difficult fighter to hit cleanly. Santos has shown the ability to finish fights with his striking, as shown in his last fight against John Castaneda. He landed a knee that knocked Castaneda out in the second round. This was a testament to his power and accuracy as a striker. Santos' striking prowess will be a significant factor in his upcoming matchup against Johnny Munoz. Against Munoz, Santos will face a fighter who is also proficient in striking. Munoz has a significant strike landed per minute rate of 3.69 and a striking accuracy of 37%. This suggests that Munoz will be able to hold his own against Santos on the feet. However, Santos has a reach advantage of four inches, which could prove to be crucial in the fight. In conclusion, Daniel Santos' striking is one of his strongest assets. He has the power, accuracy, and defense to make him a threat to any fighter in the bantamweight division. His upcoming matchup against Johnny Munoz will be a showcase of his striking skills, and he will be looking to secure a victory with them.
Daniel Santos Wrestling:
Daniel Santos's wrestling skills have been an important aspect of his fighting style. With a record of 11-2-0, Santos seems comfortable taking the fight to the ground, with an impressive TDAvg. of 1.23. He's also shown good accuracy in securing takedowns, with a TDAcc. of 33%. In his upcoming fight with Johnny Munoz at UFC 288, Santos's wrestling skills will be put to the test against Munoz's superior takedown average of 2.32 and takedown accuracy of 25%. However, Santos has a better striking accuracy and defense, which he can rely on to keep the fight standing or transition to a dominant position on the canvas. While Santos has lost two fights, his wrestling skills have played a major role in his victories, particularly against John Castaneda where he secured a KO/TKO with a knee strike. Santos's striking skills will also come in handy against Munoz, who has a lower striking average and accuracy. Based on these factors, it's likely that Santos will attempt to take Munoz down and control him on the ground. But he'll also need to be careful in doing so, as Munoz is known for his submission skills with an average of 1.6 submissions attempted per 15 minutes. Overall, Santos's wrestling skills are a significant part of his fighting style and will play an important role in his upcoming fight with Munoz. If he can use his wrestling to control the fight and prevent Munoz from utilizing his submission skills, Santos may come out with a victory.
Johnny Munoz Striking:
When it comes to striking ability, Johnny Munoz cannot be overlooked. Munoz has proven to be a dangerous striker with his precise and powerful punches, as evidenced by his record of 12-2-0. One of Munoz's most notable fights was against Tony Gravely at UFC Fight Night: Volkov vs. Rozenstruik in June 2022. Munoz demonstrated his striking prowess with a quick and devastating punch that knocked out Gravely, earning him a TKO victory in just 11:08. Munoz's striking is not just limited to his hands, either. He is also known for his powerful kicks and knees, which he employs with precision and accuracy. This was evident in his fight against Jamey Simmons at UFC 265, where Munoz secured a rear-naked choke submission after softening Simmons up with a series of punishing strikes. While Munoz is certainly a force to be reckoned with in the striking department, he is also well-rounded and has a strong ground game. This versatility makes him a formidable opponent for anyone in the bantamweight division. As Munoz prepares for his upcoming fight against Daniel Santos at UFC 288: Sterling vs. Cejudo, fans can expect to see him utilize his striking skills to their fullest potential. With his precision, power, and ability to mix up his techniques, Munoz is sure to make a statement in the Octagon.
Daniel Santos vs Johnny Munoz: How Santos Can Win
To win against Johnny Munoz, Daniel Santos needs to play to his strengths. Santos has a higher striking accuracy than Munoz, so he should focus on landing significant strikes. He also has stronger takedown defense and needs to keep the fight standing to avoid Munoz's ground game. Santos should utilize his reach advantage and keep Munoz at bay with his jab. He needs to maintain distance and avoid getting caught in Munoz's clinch. In addition, Santos should keep the pace high and look to tire Munoz out. He should use his footwork to move around the cage and not let Munoz get a chance to take him down. If the fight does go to the ground, Santos needs to be cautious and avoid Munoz's submission attempts. He should look to get back to his feet quickly and continue striking. Overall, Santos needs to be patient but aggressive. He has the skills to outstrike Munoz and avoid the ground game, and if he executes the right game plan, he can win the fight.
How Johnny Munoz Can Win Against Daniel Santos
Johnny Munoz has a tough opponent in Daniel Santos, but there are some strategies he can use to come out on top: 1. Utilize his grappling skills: Munoz has a much higher takedown average and accuracy rate than Santos. He should look to take Santos down and keep him on the ground, where he can control the pace of the fight and potentially look for a submission. 2. Work the body: Santos has a lower significant strike defense than Munoz, so Munoz should target the body with his strikes to wear down Santos and potentially open up a TKO opportunity. 3. Stay patient: Munoz has a tendency to rush into combinations and leave himself open to counters. He should stay patient and wait for openings, while also staying defensively sound to limit Santos' offense. If Munoz can effectively implement these strategies, he has a good chance of coming out on top against Santos.
Prediction:
This fight between Daniel Santos and Johnny Munoz is going to be an intense battle. Both fighters have impressive records and have shown their skill in the octagon. Santos will be looking to dominate the striking aspect of the fight with his impressive significant striking accuracy and strikes landed per minute. On the other hand, Munoz will be looking to bring the fight to the ground where he has proven to be successful in the past. With his takedown accuracy and average takedowns landed per 15 minutes, he will be looking to control Santos on the ground. However, if Santos can keep the fight standing and utilize his striking skills, he may be able to outstrike Munoz and come out victorious.
Pick: Daniel Santos (Moneyline) -190
#1

#2