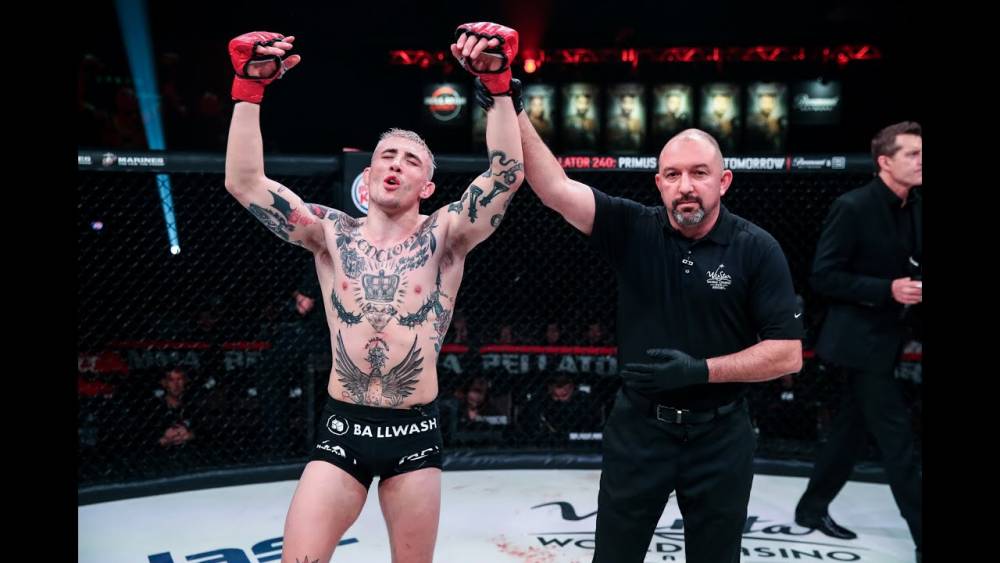 Cris Lencioni vs Blake Smith Prediction Bellator Picks 4/21
Apr 21, 2023, 2:27:01 AM
Introduction
Bellator MMA returns to Honolulu, Hawaii, for Bellator 294: Carmouche vs. Bennett 2 on April 21, 2023. The main card features a highly-anticipated bout between Cris "Sunshine" Lencioni and Blake Smith, both of whom are looking to make a statement and climb the ranks of the featherweight division.
In this article, we'll provide a comprehensive breakdown of each fighter's stats and fight history, as well as our expert predictions for the upcoming fight. Before we dive into the analysis, let's take a look at the Kingpin.pro iOS and Android app, which provides users with the latest MMA news, expert analysis, and betting advice.
Kingpin.pro App
The Kingpin.pro app is a must-have for MMA fans and sports bettors alike. The app features up-to-date news on the latest MMA events, expert analysis and predictions, and betting advice from industry insiders. Users can also track their bets, get real-time odds and lines, and receive push notifications for breaking news and major events.
The app is available for download on both iOS and Android devices, and users can sign up for a premium subscription to access exclusive content and features.
Cris "Sunshine" Lencioni
Cris Lencioni has a professional MMA record of 10-3-0 and is coming off of a three-fight win streak. He is known for his explosive striking and well-rounded grappling skills, which have helped him secure five wins via submission and five wins via decision.
Lencioni is ranked #109 in the worldwide featherweight rankings and is the #4 ranked featherweight in the New England region. He trains out of Sunshine Athletics in Portland, Oregon, and has a foundation style of "shakes that'll make you quake."
In his last fight, Lencioni defeated Cody Law via split decision at Bellator 289 in December 2022. He showcased his striking and grappling skills throughout the fight, landing several takedowns and controlling the pace of the fight.
Blake Smith
Blake Smith has a professional MMA record of 7-3-0 and is coming off of a loss to Kendly St. Louis at CFFC 114 in November 2022. He is a well-rounded fighter with a mix of striking and grappling skills, and has secured two wins via KO/TKO, three wins via submission, and two wins via decision.
Smith is ranked #159 in the United States featherweight rankings and is the #37 ranked lightweight in the Florida region. He trains out of DEFWAR in Tampa, Florida, and has a foundation style of N/A.
In his last fight, Smith suffered a unanimous decision loss to Kendly St. Louis at CFFC 114. Smith struggled to find his rhythm throughout the fight and was unable to defend against St. Louis' takedowns and ground and pound.
Prediction
When looking at the stats and fight history of both fighters, it's clear that Cris Lencioni has the edge in this matchup. Lencioni has more experience in the cage, a better record, and has shown a more dominant performance in his recent fights.
Lencioni's striking and grappling skills will likely pose a significant challenge for Smith, who has struggled against more well-rounded opponents in the past. However, Smith is known for his tenacity and ability to hang in tough fights, so it's possible he could weather the storm and come back strong.
Ultimately, it's difficult to predict the outcome of any MMA fight with certainty, as anything can happen once the cage door closes. However, based on the available data and analysis, my prediction would be that Cris Lencioni will come out on top in this matchup, likely via TKO or submission in the later rounds of the fight.
Pick: Cris Lencioni ML -125
Upgrade to View Prediction
#1

last 30 days winnings
$2,430
#2