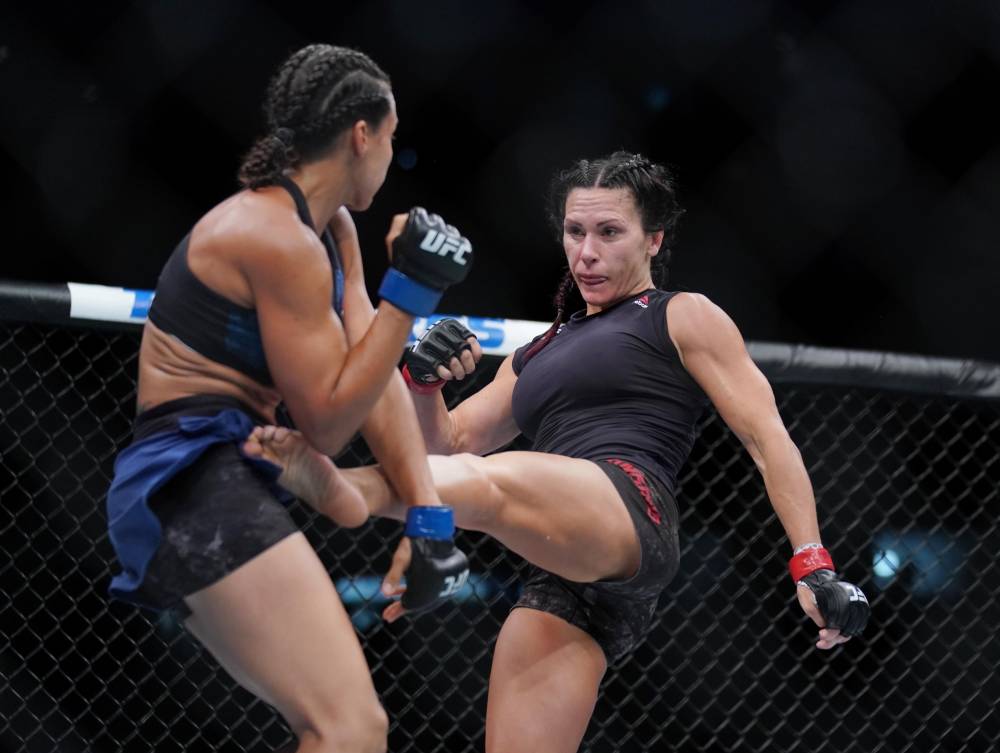 Cat Zingano vs Leah McCourt Prediction Bellator 293
Mar 29, 2023, 7:43:31 PM
© Kyle Terada-USA TODAY Sports
Introduction
Bellator 293 is just around the corner, and fans are eagerly awaiting the fight between Cat Zingano and Leah McCourt. Both fighters are talented, skilled, and experienced, making this an exciting matchup that promises to be full of action. In this article, we'll take a closer look at each fighter's background, their stats and fight history, and why we predict that Cat Zingano will come out on top. As always, we'll be using the KingPin.pro iOS and Android app to provide the latest UFC picks and parlays, as well as Bellator fight predictions.
Leah McCourt
Leah McCourt is a 30-year-old fighter from Saintfield, Northern Ireland. She has a professional MMA record of 7-2-0, with her most recent win coming in September 2022 in BFC. McCourt fights in the featherweight division and currently holds the #8 spot for the best female featherweight fighter.
McCourt's fighting style is well-rounded, and she's comfortable both on the ground and standing up. She has excellent striking skills, and her grappling abilities are also impressive. McCourt is a smart fighter who knows how to read her opponents and adjust her game plan accordingly.
Cat Zingano
Cat Zingano is a veteran of the MMA world, with a professional record of 13-4-0. The 40-year-old fighter from Broomfield, Colorado, has fought for both UFC and BFC, and her most recent win came in June 2022 in BFC. Zingano fights in the featherweight division and currently holds the #2 spot for the best female featherweight fighter.
Zingano's fighting style is aggressive and relentless. She's a powerful striker who is always looking to push the pace and take the fight to her opponents. Zingano is also a talented grappler and has a black belt in Brazilian Jiu-Jitsu, making her dangerous both on the feet and on the ground.
Prediction
This matchup between Cat Zingano and Leah McCourt promises to be a thrilling fight between two talented fighters. However, we predict that Cat Zingano will come out on top for several reasons.
Firstly, Zingano has the advantage of experience, having fought in the MMA world for many years. She's faced some tough opponents and has come out on top, proving that she has what it takes to win. McCourt, while talented, hasn't faced as many high-level opponents as Zingano has.
Secondly, Zingano's aggressive fighting style will likely put McCourt on the defensive, forcing her to fight Zingano's game. Zingano is known for pushing the pace and taking control of the fight, and McCourt will need to be careful not to get caught up in Zingano's aggressive style.
Finally, Zingano's grappling skills give her an advantage on the ground. If the fight goes to the mat, Zingano has the ability to submit McCourt, which could be a deciding factor in the fight.
Overall, we predict that Cat Zingano will come out on top in the Bellator 293 fight against Leah McCourt. Zingano's experience, combined with her technical skills and aggressive style, gives her a clear advantage in this matchup.
Zingano's grappling skills are particularly impressive, and we expect her to use them to control the fight and potentially earn a submission victory. However, McCourt is a talented fighter in her own right, with a strong striking game and good defensive grappling skills. She will likely be looking to keep the fight on the feet and land strikes from distance, using her length and reach advantage.
But Zingano is a savvy veteran who knows how to adapt to her opponent's game plan and make adjustments mid-fight. She is also incredibly tough and durable, able to absorb punishment and keep pushing forward. This could prove to be a crucial factor if McCourt is unable to finish the fight early.
Ultimately, we believe that Zingano's experience and well-rounded skill set will be too much for McCourt to overcome. While McCourt is certainly a talented fighter with a bright future, she is still relatively inexperienced at the highest levels of the sport. Zingano, on the other hand, has faced and defeated some of the best fighters in the world, including Miesha Tate, Amanda Nunes, and Raquel Pennington.
Pick: Cat Zingano
#1

#2