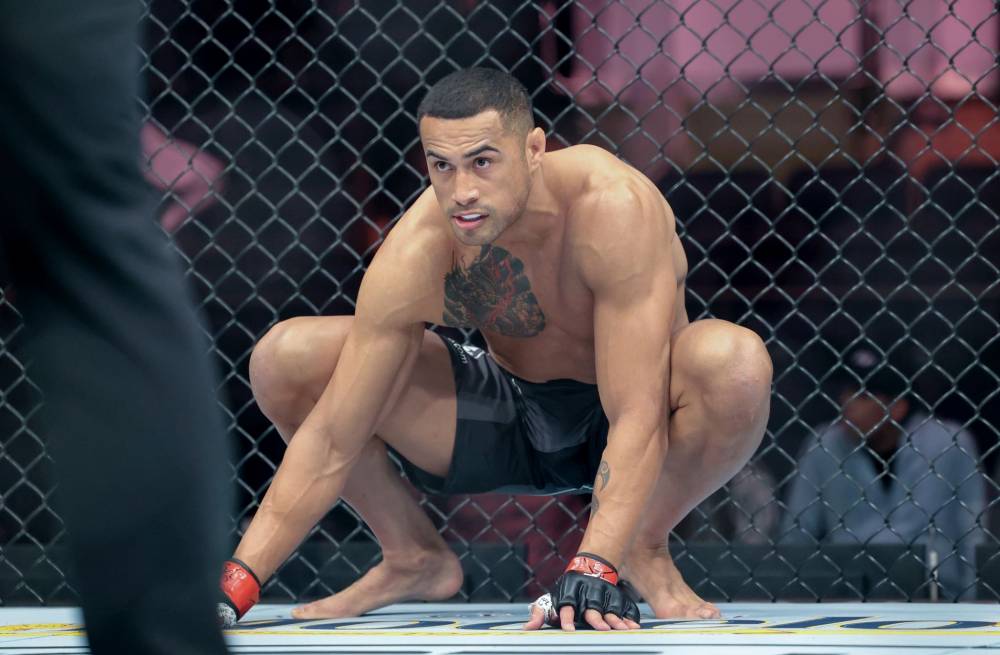 Carlos Ulberg vs Ihor Potieria Prediction UFC Picks 5/13
May 13, 2023, 1:22:56 AM
© Jessica Alcheh-USA TODAY Sports
Fight Preview: Carlos Ulberg vs Ihor Potieria
The upcoming UFC Fight Night match between Carlos Ulberg and Ihor Potieria promises to be an exciting affair. Ulberg, with a record of 8-1-0 and standing at 6'4", brings a significant reach advantage to the fight, with a reach of 77 inches. His striking accuracy of 62% and 100% takedown accuracy make him a dangerous opponent for Potieria. Potieria, on the other hand, has a record of 19-3-0 and a southpaw stance. He will be looking to use his striking power to overcome Ulberg's reach advantage. With a striking accuracy of 56%, Potieria will be looking to land significant strikes and avoid being taken down by Ulberg. Both fighters have shown their KO/TKO abilities in earlier matches, making this fight a potential highlight reel finish. The fight could go either way, with both fighters possessing the skills and experience to come out on top. Fans can look forward to an intense battle when Carlos Ulberg takes on Ihor Potieria, as they both aim to make a statement in the UFC.
CarlosUlberg Striking: A Look at His Style and Technique
CarlosUlberg is known for his explosive striking abilities and knockout power. Standing at 6'4" and with a reach of 77 inches, he has a significant advantage over his opponents. Ulberg boasts an impressive striking record of 8.27 significant strikes landed per minute with a striking accuracy of 62%. His significant strike defense is 53%, indicating his ability to avoid most of his opponent's strikes. Ulberg's striking style is heavily influenced by Muay Thai, which is evident in his use of powerful kicks, knees, and elbows. He is also proficient in boxing, using his quick and powerful hands to land heavy punches on his opponents. His striking style is a perfect combination of speed, power, and accuracy, making it difficult for his opponents to defend against his attacks. One of the notable fights in Ulberg's career was against Kennedy Nzechukwu at UFC 259. Ulberg secured a stunning KO/TKO victory with a punch in the second round, proving his exceptional striking skills and knockout power. Ulberg's striking technique is unique, and he has showcased his ability to evolve and adapt in each fight, making him a dangerous opponent for any fighter in the light heavyweight division. In his upcoming fight against Ihor Potieria at UFC Fight Night: Rozenstruik vs. Almeida, Ulberg will look to continue his winning streak and add another impressive knockout victory to his resume. With his striking skills and technique, Ulberg is undoubtedly one of the most exciting young fighters to watch in the light heavyweight division.
Carlos Ulberg's Wrestling Abilities
Carlos Ulberg's wrestling abilities are a dominant aspect of his fighting style. With a perfect takedown accuracy and defense record, Ulberg is well-known for his ability to take the fight to the ground and control the match. He has an average takedown rate of 0.99 per 15 minutes, which is indicative of his reliance on his wrestling skills in fights. Ulberg's striking accuracy is also impressive, with a 62% success rate in landing significant strikes. This indicates that he is not just a one-dimensional wrestler but has the ability to combine his wrestling skills with striking techniques, making him a well-rounded fighter. Ulberg's most recent fight against Tafon Nchukwi showcased his wrestling prowess, as he was able to take Nchukwi down early on in the first round and control him on the ground, eventually securing the victory by way of a TKO due to punches. Ulberg's opponent, Ihor Potieria, on the other hand, has zero takedowns on his record and a 33% takedown defense rate. While Potieria's striking abilities cannot be overlooked, it remains to be seen how he will fare against Ulberg's dominant wrestling style. Overall, Ulberg's wrestling abilities give him a significant advantage in this matchup and could be the key to securing his ninth victory in the octagon.
Ihor Potieria Striking
Ihor Potieria is known for his striking abilities in the MMA world. With a record of 19-3-0, Potieria has shown his strength and expertise in striking techniques. He has a significant strike rate of 4.72, and an accuracy of 56%. Potieria's defense technique is also noteworthy, with a 43% strike defense rate, meaning he is able to avoid almost half of the strikes aimed at him by his opponents. Potieria's fight against Carlos Ulberg, scheduled for UFC Fight Night: Rozenstruik vs. Almeida on May 13, 2023, is expected to showcase his striking capabilities. Potieria has a southpaw stance, which can often be challenging for other fighters to deal with. He has a reach of 75 inches, giving him an advantage over many of his opponents. Potieria's takedown average is 0.00, meaning he is not typically known for his grappling. However, his knockout record shows that he is a formidable force when it comes to striking. His opponents need to be careful not to underestimate his striking abilities if they want to come out of the fight unscathed. Potieria's previous fights against Mauricio Rua, Nicolae Negumereanu, and Lucasz Sudolski have all ended in knockouts, with Potieria taking down his opponents with punches and knees. His technique and accuracy in striking have earned him a reputation as a dangerous fighter, and fans are looking forward to seeing more of his striking prowess in the future.
Ihor Potieria: A Skilled Southpaw Duelist
Ihor Potieria has made quite a name for himself in the MMA world with his impressive record of 19 wins and only 3 losses. As a 6'3" southpaw duelist, he has shown to be a formidable opponent for anyone he faces in the octagon. In terms of striking, Potieria has shown to have a decent output with 4.72 significant strikes landed per minute with a striking accuracy of 56%. His striking defense, however, can be seen as a weakness with a significant strike defense rate of only 43%. This may be an area that his opponents will look to exploit. While Potieria has never attempted a takedown in his professional career, his takedown defense rate is only at 33%. This may be attributed to his striking-centric approach to fights, but it will be interesting to see how he will fare against a wrestler who can bring the fight to the ground. Looking at his past fights, Potieria has shown his ability to finish fights with 13 of his 19 wins coming by way of KO or TKO. He also has a win by submission, showing that he is not a one-dimensional fighter. In his upcoming match against Carlos Ulberg, Potieria will look to use his striking skills to keep the fight standing and avoid Ulberg's takedown attempts. If he can keep the fight on the feet, he has the skills to finish the fight and come out with another impressive victory.
How Carlos Ulberg Can Win Against Ihor Potieria
Potieria is a southpaw, so Ulberg needs to be prepared to adjust his strikes accordingly. Ulberg should aim to keep the fight standing, as Potieria has a low takedown accuracy of 0%. Ulberg's takedown defense is 100%, so if Potieria tries to take the fight to the ground, Ulberg should be able to defend it. Ulberg has a reach of 77", which is two inches longer than Potieria's reach of 75". Ulberg should use this advantage to keep Potieria at a distance and land strikes from the outside. Ulberg's significant striking accuracy and Potieria's low striking defense of 43% could provide Ulberg with the opportunity to finish the fight with a knockout or TKO. Overall, for Carlos Ulberg to win against Ihor Potieria, he needs to utilize his striking skills, keep the fight standing, defend any takedown attempts, and take advantage of Potieria's lower striking defense.
How Ihor Potieria Can Win Against Carlos Ulberg
Ihor Potieria has a tough opponent in Carlos Ulberg, but he can win the fight with the right strategy. Here are some tips to help him come out victorious: 1. Utilize his southpaw stance: Potieria's southpaw stance can be an advantage against the orthodox Ulberg. He should use this stance to his advantage by throwing quick jabs followed by strong left crosses. 2. Keep the fight standing: Potieria's takedown accuracy is quite low, so his best bet is to keep the fight standing. Ulberg is a dangerous striker, but Potieria can use his footwork and lateral movement to avoid his power punches and counter with his own strikes. 3. Target Ulberg's body: Ulberg has a good chin, so Potieria should focus on targeting his body with punches and kicks. This can sap Ulberg's energy and slow him down as the fight goes on. 4. Mix up his strikes: Potieria should not be predictable with his striking. He should mix up his punches with kicks and feints to keep Ulberg guessing and off-balance. 5. Stay patient: Potieria should not rush to finish the fight. Ulberg is a tough opponent, but he can be worn down over time. Potieria should stay patient and look for openings to finish the fight when they present themselves. By employing these strategies, Ihor Potieria can secure a win against Carlos Ulberg.
Prediction:
The matchup between Carlos Ulberg and Ihor Potieria is expected to be a thrilling bout with both fighters looking to make their mark in the light heavyweight division. Ulberg's superior striking skills and accuracy may give him an advantage over Potieria, who has yet to show much proficiency in takedowns or grappling. However, Potieria's southpaw stance and power in his strikes cannot be overlooked. It is likely that Ulberg will control the pace of the fight, but Potieria will be dangerous in the early rounds. Ultimately, I predict that Carlos Ulberg will win by a unanimous decision.
Pick: Carlos Ulberg by KO/TKO or DQ -210
Upgrade to View Prediction
#1

#2

last 30 days winnings
$4,740
#5