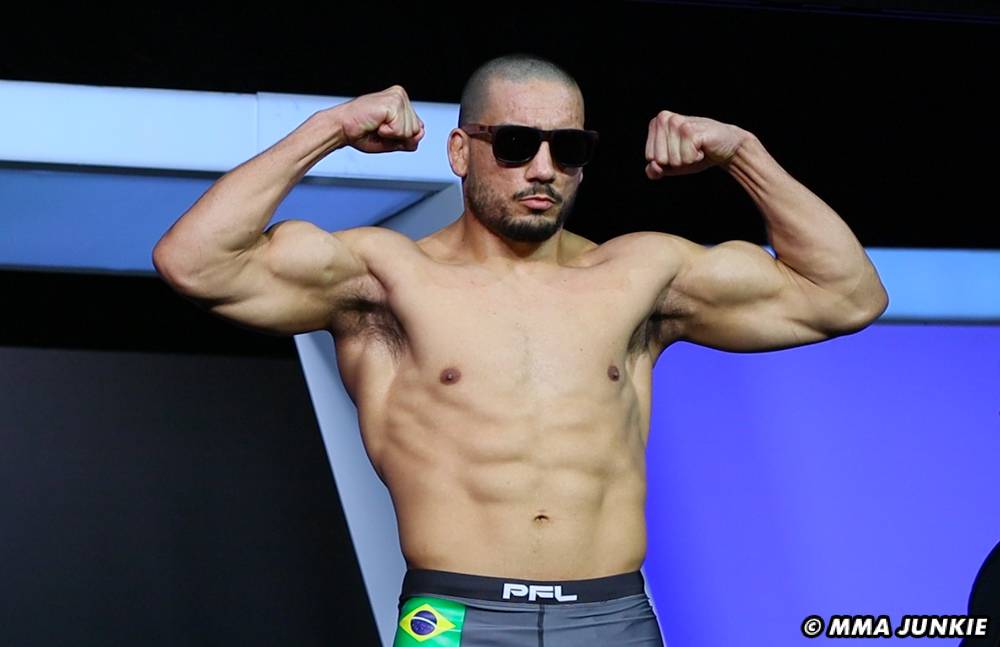 Carlos Leal vs Dilano Taylor Prediction UFC PFL 6 6/23
Jun 23, 2023, 1:16:39 AM
PFL 6 Fight Prediction: Carlos "The Lion" Leal vs. Dilano "The Postman" Taylor
Welcome to our preview of the highly anticipated welterweight clash between Carlos "The Lion" Leal and Dilano "The Postman" Taylor at PFL 6. This article will provide an in-depth analysis of both fighters' records, skills, and recent performances. Join us as we delve into the strengths and abilities of these talented athletes and make a prediction for this exciting bout.
Carlos "The Lion" Leal
Carlos Leal, known as "The Lion," is a skilled welterweight fighter from Brazil. With a professional MMA record of 18-4-0, Leal brings a wealth of experience and a well-rounded skill set to the cage.
Striking and Grappling Skills
Leal is a well-rounded fighter who excels in both striking and grappling. In the striking department, he possesses crisp and technical striking techniques, with a variety of strikes in his arsenal. His ability to maintain distance, deliver accurate strikes, and generate power makes him a dangerous threat on the feet.
In addition to his striking, Leal has showcased his grappling skills in several fights. With a solid background in Brazilian Jiu-Jitsu, he has secured impressive submission victories and displayed a high level of ground control. Leal's ability to seamlessly transition between striking and grappling allows him to dictate the flow of the fight.
Recent Performance and Momentum
Leal is currently riding a one-fight winning streak, with his most recent victory coming against David Zawada at PFL 3 in April 2023. This win showcased Leal's ability to compete at a high level and further solidified his position as a top welterweight contender.
Furthermore, Leal's experience and success in major organizations have honed his skills and provided him with valuable experience against top-level competition. His past performances demonstrate his ability to handle pressure and deliver under the spotlight, making him a formidable opponent for anyone in the welterweight division.
Dilano "The Postman" Taylor
Dilano Taylor, also known as "The Postman," is an experienced welterweight fighter hailing from the United States. With a professional MMA record of 10-4-0, Taylor possesses a unique skill set and the determination to make an impact in the division.
Striking and Ground Game
Taylor's striking game is notable, with a height advantage that allows him to utilize his reach effectively. He has shown knockout power and the ability to deliver significant strikes from various angles. Taylor's striking skills make him a dangerous opponent when standing and exchanging.
In terms of grappling, Taylor has displayed solid takedown defense and the ability to control his opponents on the ground. He has secured submission victories in his career, showcasing his submission skills and ground control. However, Taylor's grappling game may face a significant challenge against Leal's well-rounded skills in both striking and grappling.
Prediction
The matchup between Carlos "The Lion" Leal and Dilano "The Postman" Taylor presents an intriguing clash of styles. Leal's well-rounded skill set, including his striking and grappling abilities, gives him an advantage in this fight. His ability to seamlessly transition between different aspects of the game and dictate the fight's pace will be a key factor in securing a victory.
While Taylor possesses striking power and solid grappling skills, he may struggle to match Leal's technical prowess and experience. Leal's recent win and momentum, coupled with his ability to perform under pressure, make him the favorite in this matchup.
Based on our analysis of the fighters' records, skills, recent performances, and momentum, we predict that Carlos "The Lion" Leal will emerge victorious in this welterweight clash against Dilano "The Postman" Taylor at PFL 6.
Pick: Carlos Leal ML -300
#1

#2