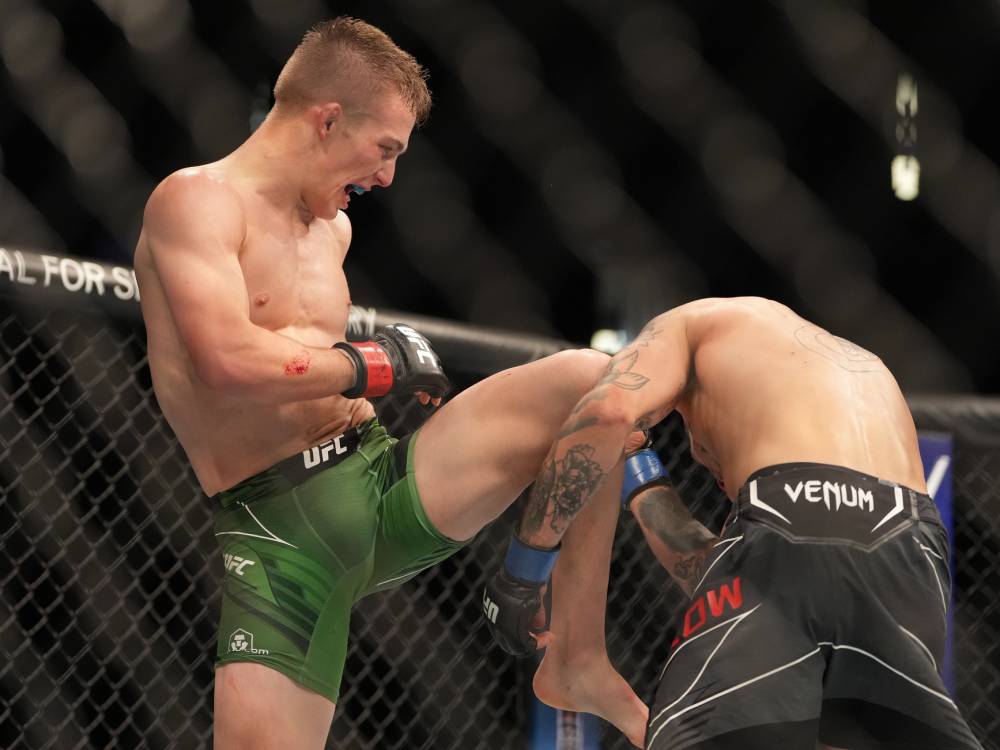 Cameron Saaiman vs Terrence Mitchell Prediction UFC 290 7/8
Jul 7, 2023, 12:05:23 AM
© Stephen R. Sylvanie-USA TODAY Sports
UFC 290 Prediction:
Explore our in-depth analysis and prediction for the UFC 290 bout between Cameron Saaiman and Terrence Mitchell. Get the best UFC picks and parlays for this highly anticipated fight.
A Detailed Look at Cameron "MSP" Saaiman:
Hailing from Pretoria, South Africa, Cameron "MSP" Saaiman boasts an impressive professional MMA record of 8 wins and 0 losses. At just 22 years old, Saaiman has displayed remarkable skill and talent inside the octagon. With a current winning streak of 8 fights, he has proven his ability to dominate opponents.
Saaiman, also known as "MSP," possesses a well-rounded skill set. With 5 wins by KO/TKO, he showcases his striking power and precision. Additionally, his submission game has been effective, with 1 win by submission. Trained under the tutelage of head coach Morne Visser at Team CIT, Saaiman combines technical proficiency with youthful vigor.
A Comprehensive Review of Terrence Mitchell:
Terrence Mitchell steps into the cage with a professional MMA record of 15 wins and 2 losses. At 33 years old, Mitchell brings a wealth of experience to the table. Hailing from Anchorage, Alaska, he represents Garage Crew and is known for his well-rounded skill set.
Mitchell has secured victories via various methods, including 6 wins by KO/TKO and 8 wins by submission. His ability to finish fights both on the feet and on the ground makes him a formidable opponent. With an impressive regional ranking in both the bantamweight and flyweight divisions, Mitchell aims to add another win to his record.
Prediction
When analyzing this bout, it becomes evident that Cameron Saaiman holds the upper hand. With his unbeaten streak and youthful energy, Saaiman has showcased his ability to dominate his opponents inside the octagon. His striking power and precision, combined with his submission skills, create a versatile and formidable arsenal.
In contrast, while Terrence Mitchell has a solid record and possesses a well-rounded skill set, he will face a significant challenge against the rising star that is Saaiman. The South African fighter's speed, technique, and overall dominance are likely to play a crucial role in securing the victory.
In Conclusion:
As we eagerly anticipate the bantamweight clash between Cameron "MSP" Saaiman and Terrence Mitchell at UFC 290, the KingPin.pro app offers the best UFC picks and parlays for this highly anticipated event. Saaiman's unbeaten streak, combined with his striking and submission skills, positions him as the favorite to win. With our comprehensive analysis and predictions, UFC 290 promises to be an electrifying night for MMA fans, with Cameron Saaiman expected to emerge victorious.
Pick: Cameron Saaiman ML -500
#1

#2