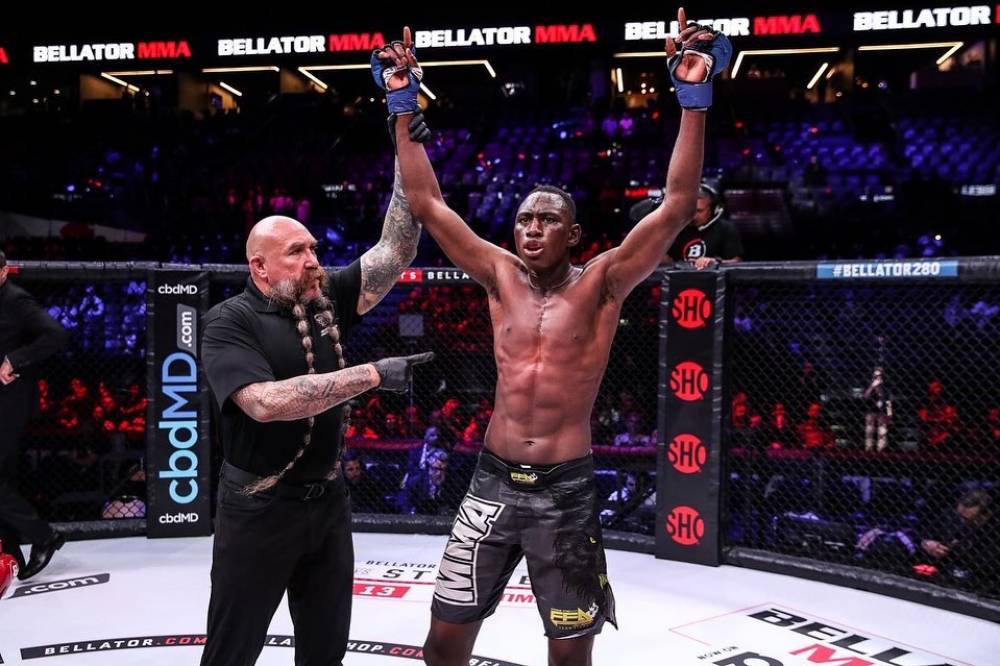 Bourama Camara vs Romain Debienn Prediction Bellator 5/12
May 12, 2023, 12:42:33 AM
Introduction
As Bellator 296 approaches, fight fans are eagerly anticipating the clash between Bourama Camara and Romain Debienne, set to take place at the Accor Arena in Paris, France on May 12, 2023. This welterweight bout has garnered significant attention, and MMA enthusiasts are eager to see how these two talented fighters match up. In this article, we will provide an extensive review of both fighters, analyzing their backgrounds, fighting styles, and recent performances. Finally, we will offer a prediction as to why Bourama Camara is likely to emerge as the victor in this intriguing matchup.
Bourama Camara
Bourama Camara, a French MMA fighter, holds a professional record of 5 wins and 2 losses. Standing at an impressive 6'4" with a reach of 79 inches, Camara possesses physical attributes that give him a significant advantage in the welterweight division. While his affiliation remains undisclosed, Camara's fighting style showcases a blend of striking and grappling skills, making him a well-rounded competitor inside the cage.
Recent Fights and Performance
Camara's last fight took place on October 29, 2022, in the BFC, where he suffered a loss via split decision against Nicolò Solli. This defeat marked his first loss in the promotion, but it does not diminish the potential he possesses. Camara has displayed solid striking skills, utilizing his reach advantage to land powerful strikes. Additionally, his ground game has shown promise, with two of his victories coming via submission. Despite the setback in his last outing, Camara remains a formidable contender in the welterweight division.
Romain Debienne
Romain Debienne, another French MMA fighter, boasts a professional record of 8 wins and 4 losses. Standing at 5'10", Debienne competes at welterweight and middleweight. Fighting out of the Woirin Team Elite, Debienne has garnered experience and training from a respected gym. Although information about his fighting style is limited, Debienne has shown versatility in his victories, utilizing a combination of striking and grappling techniques.
Recent Fights and Performance
Debienne's most recent fight took place on January 22, 2023, in HXMMA, where he secured a victory over Victor Verchere via first-round knockout. This win marked his fourth consecutive victory, highlighting his current momentum and confidence inside the cage. Debienne's ability to finish fights demonstrates his power and striking proficiency. Although he has faced some setbacks in his career, his recent performances indicate that he has made significant improvements and poses a legitimate threat to any opponent in the welterweight division.
Prediction
When assessing this matchup, it becomes clear that Bourama Camara possesses several advantages that could tip the scales in his favor. First and foremost, his physical attributes, including his height and reach, give him a significant edge in dictating the range and controlling the distance of the fight. Camara's long limbs allow him to land strikes from a distance while keeping his opponents at bay.
Furthermore, Camara's well-rounded skill set should not be overlooked. While his striking abilities have been evident in previous fights, his submission victories highlight his proficiency on the ground. This diversity in his skill set makes him a versatile and unpredictable fighter. If the fight goes to the ground, Camara has the ability to capitalize on opportunities and potentially secure a submission victory.
In addition to his physical and technical advantages, Camara's resilience and determination should not be underestimated. Despite his recent loss, Camara has shown the ability to bounce back and learn from his setbacks. This mental fortitude will play a crucial role in his performance, allowing him to overcome challenges and adapt to his opponent's strategy.
While Romain Debienne has been on a winning streak, it is important to consider the level of competition he has faced. Camara's previous opponents have provided him with valuable experience, allowing him to develop and grow as a fighter. Debienne's recent success should not overshadow Camara's potential and hunger to prove himself.
In conclusion, the prediction leans towards Bourama Camara prevailing in this bout. His physical attributes, well-rounded skill set, and ability to adapt make him a formidable opponent for Romain Debienne. Camara's reach advantage, combined with his striking and grappling abilities, could prove to be the deciding factors in this matchup. While Debienne has shown promise, Camara's overall package and recent setbacks make him the favorite to secure the victory at Bellator 296.
Pick: Camara ML -200
Upgrade to View Prediction
#1

#2

last 30 days winnings
$4,740
#5