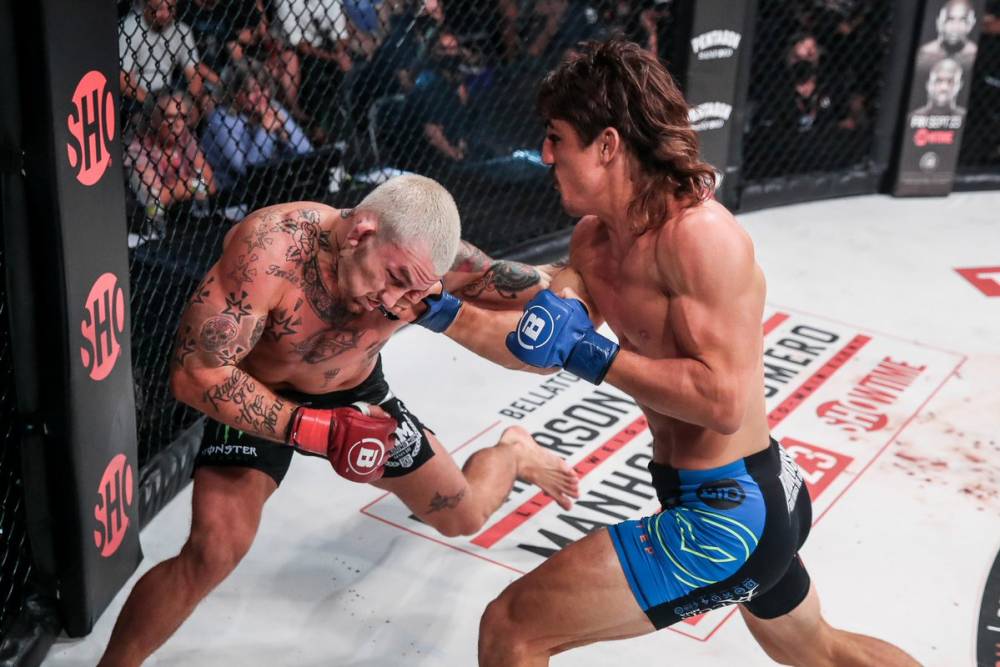 Bellator 293: John Salter vs Aaron Jeffery Prediction 03/30
Mar 29, 2023, 7:33:05 PM
Introduction
Bellator 293 is set to take place on March 31, 2023, at the Pechanga Resort and Casino in Temecula, CA. The event promises to bring the heat with an exciting lineup of fights, including the main event of the evening: John Salter vs. Aaron Jeffery. As we prepare for this highly anticipated matchup, we will take an in-depth look at each fighter's background, fighting style, and recent performance to give you our prediction for who will come out on top.
John Salter
John Salter is a seasoned veteran in the world of mixed martial arts (MMA) and has been competing professionally for over a decade. He holds an impressive record of 18-6-0 and is known for his excellent grappling and submission skills. Salter has fought for various organizations throughout his career, including the UFC and Bellator.
Salter is a black belt in Brazilian Jiu-Jitsu and has won numerous grappling championships. He is also a former NCAA Division II wrestler, making him a well-rounded fighter with strong takedowns and ground control. Salter has finished his opponent in 17 of his 18 wins, with 10 of those wins coming by submission.
In his most recent fight at Bellator 276, Salter suffered a unanimous decision loss to Johnny Eblen, ending his two-fight win streak. Salter is looking to bounce back from this loss and secure a victory against Aaron Jeffery at Bellator 293.
Aaron Jeffery
Aaron Jeffery is a rising star in the world of MMA, holding a record of 13-3-0. Jeffery has been fighting professionally since 2019 and has quickly established himself as a force to be reckoned with in the middleweight division. He is known for his striking skills and has won nine of his fights by KO/TKO.
Jeffery is a brown belt in Brazilian Jiu-Jitsu and has also competed in professional kickboxing. He is a well-rounded fighter who can finish his opponent both standing up and on the ground. Jeffery has won his last three fights, all by KO/TKO, and is looking to continue this streak against John Salter at Bellator 293.
Why Aaron Jeffery Will Win -400
While John Salter is undoubtedly a skilled fighter with a wealth of experience, we predict that Aaron Jeffery will come out on top in this matchup. Here are a few reasons why:
Striking Advantage
One of the biggest advantages that Jeffery has over Salter is his striking ability. Jeffery has proven time and time again that he has knockout power in both his hands and his feet. He is a dynamic striker who can finish a fight from anywhere in the cage. Salter, on the other hand, is primarily a grappler and has struggled against opponents with strong striking skills in the past.
Aggressiveness
Another advantage that Jeffery has over Salter is his aggressiveness. Jeffery is known for his forward pressure and is constantly looking to push the pace and take the fight to his opponent. Salter, on the other hand, is more of a counter-striker and tends to wait for his opponents to make a mistake before he looks to capitalize.
While being a counter-striker can be effective in certain situations, it can also leave Salter vulnerable to Jeffery's aggressive style. Jeffery will likely look to dictate the pace of the fight and constantly pressure Salter, which could force Salter to become more aggressive than he is comfortable with. This could lead to Salter making mistakes and getting caught by Jeffery's strikes.
In addition, Jeffery's aggressiveness can also be seen in his grappling. He is known for his strong wrestling and ground-and-pound game, and will likely look to take Salter down and control him on the ground. This could wear Salter down and make him more susceptible to Jeffery's strikes later in the fight.
Overall, Jeffery's aggressiveness could be a significant advantage in this fight. If he can effectively pressure Salter and control the pace of the fight, he may be able to wear Salter down and eventually finish him. However, Salter's counter-striking and grappling skills cannot be underestimated, and he could certainly capitalize on any mistakes made by Jeffery. It will be interesting to see how the two fighters approach the fight and how they adjust to each other's styles.
#1

#2

last 30 days winnings
$4,740