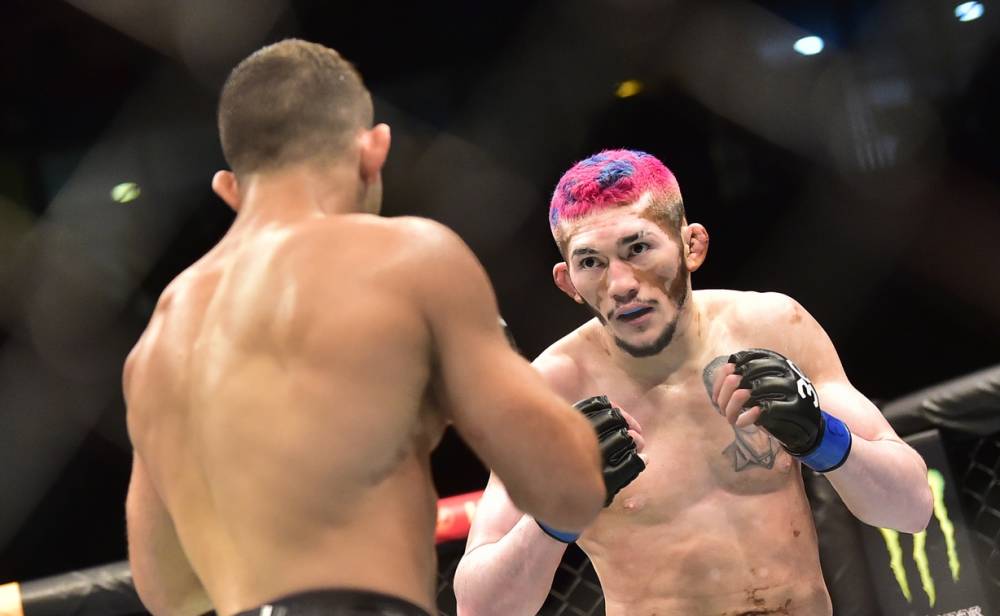 Austin Lingo vs Melquizael Costa Prediction UFC Picks 7/15
Jul 11, 2023, 2:23:23 AM
© Jason da Silva-USA TODAY Sports
Austin Lingo vs Melquizael Costa: Fight Preview
Austin Lingo and Melquizael Costa are set to face off in an exciting matchup at UFC Fight Night. Both fighters have displayed their skills and determination in the octagon, making this an intriguing showdown.
Austin Lingo
Austin Lingo, also known as "Lights Out," is a talented featherweight fighter standing at 5'10" and weighing 145lbs. With a reach of 70 inches, Lingo employs an orthodox stance in the octagon. Born on July 10, 1994, Lingo has showcased impressive statistics throughout his career. His significant strikes landed per minute (SLpM) average stands at 4.21, with a significant striking accuracy (Str.Acc.) of 40%. Lingo absorbs an average of 4.36 significant strikes per minute (SApM) and boasts a significant strike defense (Str.Def) percentage of 58%. In terms of takedowns, Lingo has an average of 0.55 takedowns landed per 15 minutes (TDAvg.), with a takedown accuracy (TDAcc.) of 66% and a takedown defense (TDDef) rate of 78%. His submission average (Sub.Avg.) is currently at 0.0. In his most recent fight, Lingo faced Nate Landwehr, losing via decision. Prior to that, he secured a victory against Luis Saldana in a unanimous decision victory. Lingo's career has seen a mix of wins and losses, with notable fights against Jacob Kilburn and Youssef Zalal.
Melquizael Costa
Melquizael Costa, also known as "Melk Cauthy," is a featherweight fighter who measures 5'10" and weighs 145lbs. His reach reaches 71 inches, and he adopts a southpaw stance. Costa was born on September 14, 1996, and has an impressive career record. Costa's significant strikes landed per minute (SLpM) average is 2.53, with a significant striking accuracy (Str.Acc.) of 46%. His significant strikes absorbed per minute (SApM) is at 2.42, and his significant strike defense (Str.Def) stands at 33%. In terms of takedowns, Costa currently holds an average of 0.00 takedowns landed per 15 minutes (TDAvg.), with a takedown accuracy (TDAcc.) of 0% and a takedown defense (TDDef) rate of 42%. His submission average (Sub.Avg.) is currently at 0.0. Costa's most recent fight saw him face Thiago Moises, where he suffered a loss via submission in the fourth round. Prior to that matchup, he competed against Hill, securing a victory via rear-naked choke submission. As Austin Lingo and Melquizael Costa prepare to face each other in the octagon, fans can expect an intense and highly competitive matchup. Both fighters possess their unique strengths and skills, and it will be interesting to see how their styles clash. Will Lingo's striking and takedown accuracy be able to overpower Costa's defensive tactics? Or will Costa's submission expertise prove to be the key to victory? Only time will tell in this exciting featherweight showdown.
Melquizael Costa striking
Melquizael "Melk Cauthy" Costa has made a name for himself in the world of mixed martial arts with his striking abilities. Standing at 5'10" tall and weighing 145lbs, Costa possesses an impressive reach of 71 inches. He fights from a southpaw stance, which can often give him an advantage against orthodox fighters. In terms of his career statistics, Costa has a significant strikes landed per minute (SLpM) of 2.53, with a striking accuracy of 46%. He absorbs an average of 2.42 significant strikes per minute (SApM) and has a significant strike defense of 33%. This means that Costa is effective in both landing strikes and avoiding significant strikes from his opponents. While Costa's focus is primarily on striking, his takedown average per 15 minutes (TDAvg.) is 0.00, indicating that he prefers to keep the fight standing. His takedown accuracy (TDAcc.) is at 0%, suggesting that he does not have a strong wrestling background. However, his takedown defense (TDDef.) is at 42%, indicating that he is able to defend against takedown attempts from his opponents. In terms of his fight record, Costa has accumulated a professional record of 19 wins and 6 losses. His most recent fight was against Thiago Moises at UFC 283, where he suffered a loss via rear-naked choke in the fourth round, after a grueling battle that lasted for 24 minutes and 5 seconds. Costa's upcoming fight is against Austin Lingo at UFC Fight Night: Holm vs. Silva. This matchup will test Costa's striking skills against Lingo's impressive record of 9 wins and 2 losses. Both fighters have the potential to put on an exciting show with their striking abilities, making this a highly anticipated fight. Overall, Melquizael Costa's striking skills, coupled with his southpaw stance and reach advantage, make him a formidable opponent in the featherweight division. As he continues to develop his skills and gain more experience in the octagon, Costa has the potential to become a top contender in his weight class.
Austin Lingo vs Melquizael Costa: Road to Victory
To secure a win against Melquizael Costa, Austin Lingo must focus on the following strategies: 1. Utilize Significant Striking: Austin Lingo has displayed impressive striking ability with a significant strikes landed per minute of 4.21. He should continue to use his striking techniques to keep Costa at bay and rack up points on the judges' scorecards. 2. Capitalize on Striking Accuracy: Lingo's significant striking accuracy of 40% gives him an edge in precision. By landing significant strikes at a high percentage, he can effectively wear down his opponent and potentially secure a knockout. 3. Maintain Defensive Striking: Lingo's significant strike defense of 58% showcases his ability to avoid opponent strikes. As Costa is known for his striking ability, Lingo must continue to showcase his defensive skills and evade damage. 4. Takedown Accuracy: Lingo's takedown accuracy of 66% can be a valuable asset in this fight. By using his wrestling skills, Lingo can potentially take Costa to the mat, control the fight, and even look for submission opportunities. 5. Takedown Defense: Lingo's takedown defense rate of 78% is crucial in preventing Costa from taking him down and imposing his ground game. Lingo must rely on his defensive wrestling techniques to keep the fight standing. 6. Mental Toughness: It's essential for Lingo to remain mentally strong throughout the fight. He must stay composed, stick to his game plan, and adapt to any changes in the fight. Mental resilience can play a crucial role in securing the victory. By implementing these strategies and capitalizing on his strengths, Austin Lingo can maximize his chances of defeating Melquizael Costa and emerging victorious in their matchup.
Melquizael Costa – How to Win Against Austin Lingo
To secure a victory against Austin Lingo, Melquizael Costa needs to focus on the following key strategies: 1. Capitalize on Striking Accuracy: Costa should utilize his significant striking accuracy advantage over Lingo. With a 46% striking accuracy compared to Lingo's 40%, Costa should aim to land clean and precise strikes, targeting vulnerable areas and accumulating points throughout the fight. 2. Enhance Striking Defense: Although Costa has a lower striking defense percentage (33%) compared to Lingo's (58%), he needs to work on improving his defensive abilities. By implementing better head movement, footwork, and distance management, Costa can avoid unnecessary damage from Lingo's strikes and minimize the risk of being knocked down or finished. 3. Exploit Weaker Takedown Defense: Lingo possesses a high takedown defense percentage of 78%, meaning he is difficult to take down. However, Costa should focus on exposing any potential weaknesses in Lingo's takedown defense, searching for opportunities to secure takedowns and dominate the fight on the ground where he can utilize his grappling skills. 4. Establish Octagon Control: To win the fight, Costa should assert his dominance and establish control over the octagon. By staying in the center and dictating the pace and positioning, he can frustrate Lingo while increasing his chances of landing effective strikes and executing successful takedowns. 5. Develop a Well-Rounded Game Plan: Costa should not solely rely on one aspect of his fighting style. By diversifying his attacks and seamlessly transitioning between striking and grappling, he can keep Lingo guessing and unable to prepare for a specific game plan. This versatility will create openings for Costa to exploit throughout the fight. By executing these strategies effectively, Melquizael Costa can overcome Austin Lingo and claim victory in their upcoming matchup.
Prediction:
After analyzing both fighters' records, statistics, and recent performances, it is evident that Austin Lingo has shown more consistency and success in his career. With a record of 9-2-0, Lingo has displayed solid striking accuracy and takedown defense, making him a formidable opponent. Melquizael Costa, on the other hand, has a record of 19-6-0 but has shown lower striking accuracy and significant strike defense. Additionally, Costa lacks a strong grappling game, with a takedown average and defense below average. Taking these factors into consideration, the pick for this fight would be Austin Lingo (Moneyline).
Pick: Austin Lingo (Moneyline) +175
#1

#2