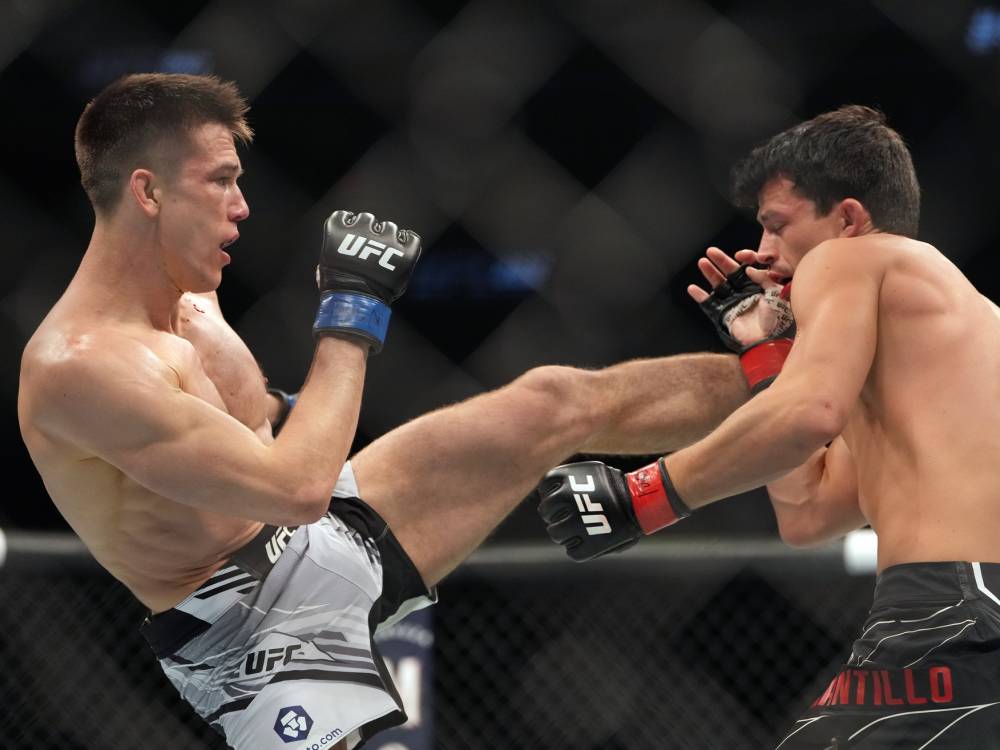 Alexander Hernandez vs Bill Algeo Prediction UFC 10/7
Oct 6, 2023, 11:43:35 PM
© Stephen R. Sylvanie-USA TODAY Sports
UFC Fight Night: Hernandez vs. Algeo - Alexander Hernandez vs. Bill Algeo
Prepare yourselves for an electrifying clash in the Featherweight division at the UFC APEX in Las Vegas, Nevada, on October 21, 2023, during UFC Fight Night: Cruz vs. Johnson. Alexander "The Great Ape" Hernandez, representing FactoryX Muay Thai, is about to face off against the formidable Bill "Señor Perfecto" Algeo, who trains at Algeo MMA and Kickboxing. This showdown promises to be a battle of styles and skills.
Alexander Hernandez: The Great Ape
Hailing from the USA, Alexander Hernandez stands at 5'9" and weighs 145 lbs. With a professional record of 14 wins and 6 losses, he's a seasoned fighter in the Featherweight division. Hernandez possesses striking power with 6 (T)KO victories and submission skills, boasting 2 submissions to his name.
In his recent outing, Hernandez secured a unanimous decision victory against Jim Miller at UFC Fight Night: Andrade vs. Blanchfield.
Why Alexander Hernandez Could Secure the Victory:
Alexander Hernandez is a versatile fighter who can adapt to various situations. To secure victory in this matchup, he may look to use his striking skills to control the distance and dictate the pace of the fight. Hernandez has a history of (T)KO wins, and if he can find his range and land significant strikes, he might secure a knockout victory. His ability to mix in his submission game could also be a factor if the fight goes to the ground.
Bill Algeo: Señor Perfecto's Pursuit of Perfection
Representing the USA, Bill "Señor Perfecto" Algeo stands at 6'0" and weighs 146 lbs. At 34 years old, he holds a record of 17 wins and 7 losses. Algeo is known for his well-rounded skills with 4 (T)KO wins and 7 submission victories, making him a versatile opponent.
In his last fight, Algeo secured a submission victory against TJ Brown at UFC Fight Night: Holloway vs. Allen.
Why Bill Algeo Could Secure the Victory:
Bill Algeo is a fighter who is comfortable in all aspects of MMA. To secure victory in this bout, he might look to utilize his switch stance and striking diversity to keep Hernandez guessing. Algeo's submission skills could be a significant factor if the fight goes to the ground. His ability to mix striking and grappling could create opportunities to secure a submission win or a decision victory.
Prediction:
As we approach UFC Fight Night: Cruz vs. Johnson, the matchup between Alexander Hernandez and Bill Algeo promises an exciting battle between two well-rounded fighters. It's a fight that could go either way.
However, in this clash of styles, the prediction leans toward Alexander Hernandez securing the victory. His adaptability, striking skills, and the potential to finish fights both on the feet and on the ground give him an edge. If Hernandez can control the pace and find his range, he has a strong chance of winning by (T)KO or decision.
Pick: Alexander Hernandez ML -110
Upgrade to View Prediction
#1

#2

last 30 days winnings
$4,740
#5