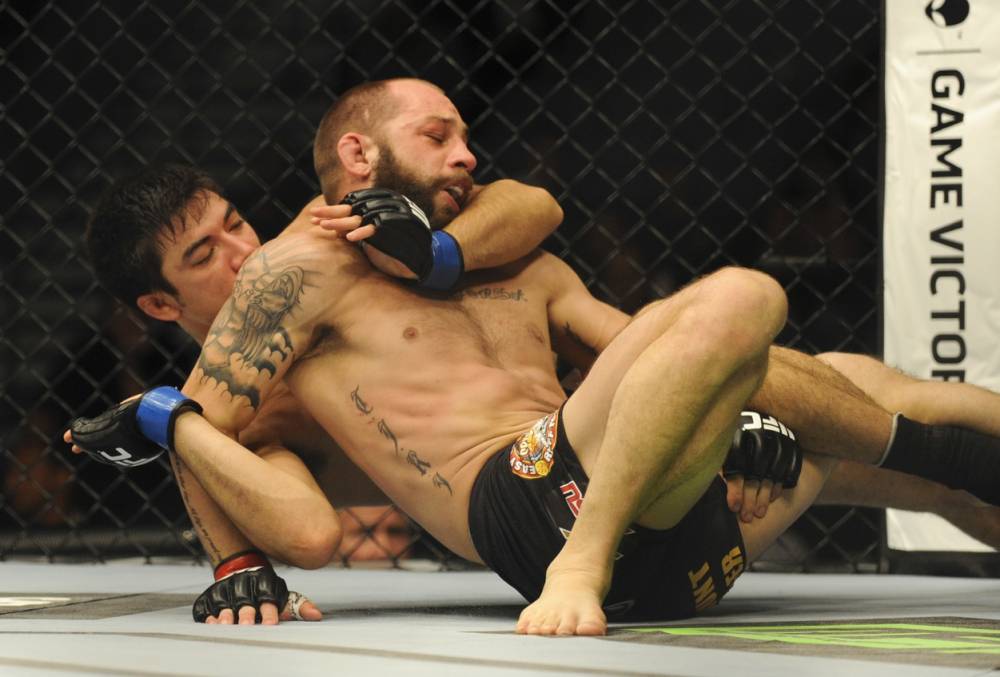 Aaron Phillips vs Gaston Bolanos Prediction UFC Fight Night
Apr 14, 2023, 6:50:53 AM
© Stephen R. Sylvanie-USA TODAY Sports
Aaron Phillips vs Gaston Bolanos: Fight Preview
On April 15, 2023, UFC Fight Night: Holloway vs Allen will feature an exciting bantamweight matchup between The Dragon, Aaron Phillips, and The Dreamkiller, Gaston Bolanos. Phillips boasts a 12-4 record and is known for his strong striking game, with a significant striking accuracy of 56%. He also has a solid takedown defense, with opponents only landing 44% of takedown attempts. Phillips' last fight ended in a submission loss, but he'll be looking to bounce back with a win. Bolanos has a record of 6-3 and is an aggressive fighter with an orthodox stance. However, his career statistics are less impressive than Phillips', with a 0% significant striking accuracy and takedown accuracy. He'll need to bring his A-game if he hopes to best Phillips in the octagon. Overall, this is shaping up to be an exciting fight between two technical fighters in the bantamweight division. Will Phillips' striking power and takedown defense be enough to take down Bolanos? Or will Bolanos surprise everyone with his aggressiveness and come out on top? Tune in to UFC Fight Night: Holloway vs Allen to find out.
Aaron Phillips Striking: A powerful asset in his arsenal
One of the most notable aspects of Aaron Phillips' fighting style is his striking ability. The Dragon has a significant strikes landed per minute rate of 1.65 and a significant striking accuracy of 56%. These statistics suggest that he is a technical striker who is able to land accurate strikes with consistency. In his UFC debut against Sam Sicilia, Aaron Phillips showcased his striking prowess, constantly tagging his opponent with a variety of strikes. Despite being the underdog in that fight, Phillips was able to outstrike Sicilia over three rounds and win via unanimous decision. Phillips' striking technique is also known for its power. He has knocked out four of his opponents in his professional career, showcasing his ability to end fights with a single strike. His most recent knockout victory came against Cameron Else at UFC Fight Island 6, where he landed a flush head kick that put Else out cold. Phillips' opponent in his upcoming fight, Gaston Bolanos, is no slouch in the striking department, with a background in kickboxing and muay thai. However, Phillips' technical and powerful striking, coupled with his southpaw stance, could give him an advantage in the matchup. Overall, Aaron Phillips' striking is a dangerous weapon that could prove to be pivotal in his fights. With a mix of accuracy and power, he has the potential to end fights on the feet and make a statement in the bantamweight division.
Aaron Phillips Wrestling Skills
Aaron Phillips has showcased his wrestling skills in previous fights, with a Takedown Defense percentage of 44%. He also has an Average Takedowns Landed per 15 minutes of 0, which suggests that he prefers to keep the fight standing. Phillips has a Significant Striking Accuracy of 56% and lands 1.65 Significant Strikes per minute, with a Significant Strike Defense percentage of 39%. Phillips' opponents must also be wary of his submission skills, as he has an Average Submissions Attempted per 15 minutes of 0.4. However, his striking skills seem to be his strongest asset, and he will likely look to out-strike his opponent in any upcoming bouts. In his next fight, Phillips is scheduled to face Gaston Bolanos at UFC Fight Night: Holloway vs. Allen on April 15, 2023. Bolanos has a relatively similar record to Phillips, with 6 wins and 3 losses. However, Bolanos has not fought in the UFC before and his career statistics have not shown any significant wrestling or grappling skills. It is likely that Phillips will look to utilize his striking skills against Bolanos and keep the fight standing. However, he must not underestimate Bolanos' capabilities and remain cautious throughout the fight. Overall, Phillips has a solid wrestling foundation and his striking skills make him a formidable opponent in any matchup.
Gaston Bolanos Striking
Gaston Bolanos is known for his incredible striking abilities inside the cage. He has fought primarily in the kickboxing arena before transitioning to MMA, and his striking background is evident in his fights. Bolanos has a background in Muay Thai and kickboxing, which has made him a dynamic and exciting striker. He is known for his powerful kicks and swift punches, and he has used them to devastating effect in many of his MMA fights. In his last fight against Solo Hatley Jr. at Bellator 251, Bolanos showed off his striking skills, landing precise shots and punishing kicks. He outclassed his opponent in the striking exchanges and landed some brutal leg kicks that visibly hurt Hatley Jr. Bolanos also has a good understanding of distance and timing, which allows him to pick his shots and avoid getting hit. He moves well around the cage and has a strong sense of range, which allows him to find openings in his opponents' defense. Additionally, Bolanos is not afraid to go for the finish. He has ended several of his fights with his striking prowess, including his highlight-reel knockout of Malcolm Hill at Bellator 206. Overall, Gaston Bolanos has proven himself to be a top-notch striker in the MMA world. His background in kickboxing and Muay Thai has translated well into his MMA career, and his striking skills make him a dangerous opponent for anyone in the bantamweight division.
Gaston Bolanos: The Dream Killer
Gaston Bolanos is a rising star in the world of mixed martial arts, known for his explosive striking abilities and impressive knockout power. The California-born fighter began his combat sports career in kickboxing, winning multiple amateur titles before transitioning to MMA. Bolanos made his professional MMA debut in 2017, competing under the Bellator banner. He quickly established himself as a force to be reckoned with, winning his first three fights by knockout. Bolanos' striking prowess was on full display in these early fights, as he showcased a devastating array of kicks, punches, and knees to put his opponents away. Despite suffering a setback in his fourth professional fight, Bolanos bounced back with two more knockout victories in the following years. He signed with the PFL in 2021 and is looking to make a run for the featherweight title. Bolanos is a true competitor, always pushing himself to improve his skills and refine his technique. He trains at the renowned American Kickboxing Academy (AKA), alongside some of the best fighters in the world. As a striker, Bolanos' power is his greatest asset, but he has also shown the ability to stay patient and pick his shots. He has a solid chin and maintains a high work rate throughout his fights. Bolanos has the potential to become a major star in the MMA world, and many fans and analysts are eagerly anticipating his continued rise. Bolanos' next opponent is Aaron Phillips, a seasoned veteran who has fought in the UFC and other major organizations. Phillips will be a tough test for Bolanos, but if he can keep up his impressive striking and remain composed under pressure, he has a good chance to pick up another knockout victory.
How Aaron Phillips Can Win
To win against Gaston Bolanos, Aaron Phillips needs to leverage his strengths and exploit his opponent's weaknesses. Here are a few strategies that he can employ: 1. Utilize his Southpaw Stance: Aaron Phillips fights in a Southpaw stance, which can give him an advantage against an orthodox fighter like Gaston Bolanos. He should use this to his advantage by throwing more jabs, crosses, and hooks from his lead hand, which can catch his opponent off-guard. 2. Control the Distance: Aaron Phillips has a longer reach than his opponent, which he should use to keep Gaston Bolanos at bay. He should maintain a safe distance from his opponent and use his jab to pepper him with strikes. 3. Take the Fight to the Ground: Aaron Phillips has a higher takedown accuracy than his opponent, which he can use to take the fight to the ground. Once on the ground, he should use his ground and pound skills to wear his opponent down. 4. Look for Submission Opportunities: Aaron Phillips has a higher average submission attempts per 15 minutes than Gaston Bolanos. He should look for submission opportunities and attempt to submit his opponent on the ground. By leveraging his strengths and exploiting his opponent's weaknesses, Aaron Phillips can win against Gaston Bolanos and secure a victory in their upcoming fight at the UFC Fight Night: Holloway vs. Allen on April 15, 2023.
How Gaston Bolanos Can Win
To win against Aaron Phillips, Gaston Bolanos needs to utilize his striking skills and aggressive style to overwhelm his opponent. Although Bolanos has a lower record compared to Phillips, he has a higher finishing rate with most of his wins coming by way of knockouts. Bolanos should focus on setting the pace of the fight and controlling the center of the octagon. By using his footwork to avoid takedowns, he can force Phillips to engage in a stand-up battle. Bolanos should also aim to land powerful punches and kicks to keep Phillips on his back foot and prevent him from mounting any offense. Furthermore, Bolanos should capitalize on his opponent's defensive weaknesses, particularly in terms of significant strikes absorbed per minute and striking defense. He should try to pressure Phillips and throw combinations to maximize his chances of landing significant strikes and secure a knockout victory. Lastly, Bolanos should stay patient and wait for the right opportunities to strike, as rushing in recklessly can leave him vulnerable to counterattacks. With a well-rounded game plan and a strong mindset, Bolanos can win the fight and make a statement in the bantamweight division.
Prediction:
In this bantamweight bout, both Aaron Phillips and Gaston Bolanos are looking to make an impact in the UFC. Phillips has a slight edge in terms of experience, having fought in bigger promotions like LFA and Bellator. He also has a solid striking game and good takedown defense. On the other hand, Bolanos is known for his flashy kickboxing style and devastating knockout power. That being said, I predict that Aaron Phillips will come out on top in this matchup. While Bolanos is a dangerous striker, Phillips has shown that he can handle himself in stand-up exchanges and has the ability to mix in takedowns to keep his opponents guessing. Additionally, Phillips' experience at a higher level of competition could give him an edge in terms of fight IQ and composure under the bright lights of the UFC.
Pick: Aaron Phillips ML +155
Upgrade to View Prediction
#1

last 30 days winnings
$2,430
#2

#5

last 30 days winnings
($330)