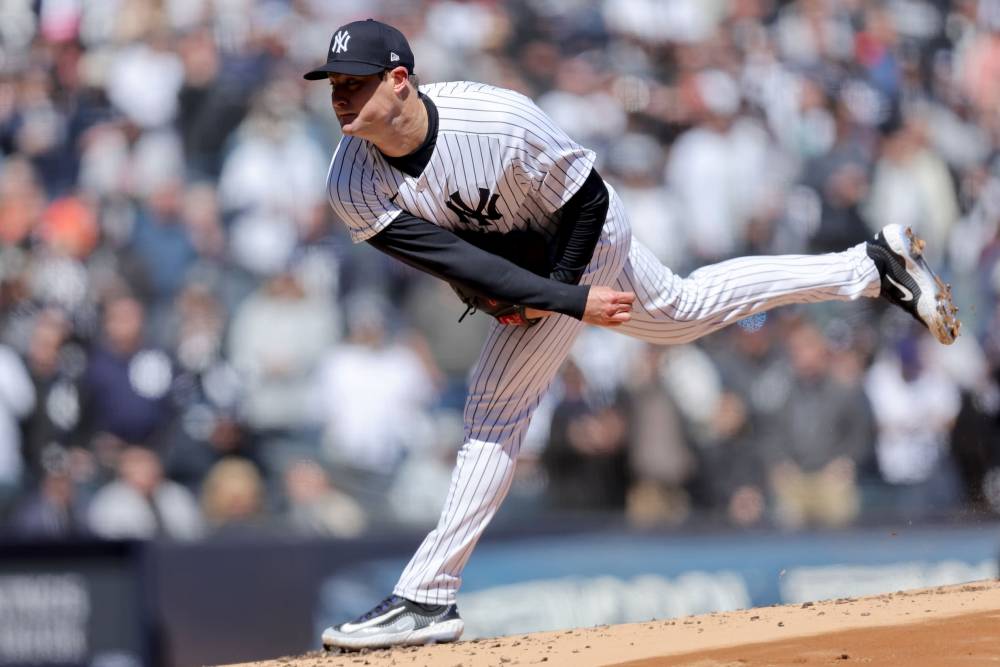 Yankees vs Phillies Prediction MLB Picks and Parlays 4/5
Apr 4, 2023, 7:44:33 PM
© Brad Penner-USA TODAY Sports
MLB Game Preview: Philadelphia Phillies vs New York Yankees
As the MLB season kicks into full swing, the Philadelphia Phillies will take on the New York Yankees in a highly anticipated matchup on April 5, 2023. Both teams have high hopes for the season and will be looking to get a strong start with a win in the early stages of the season. Experts have weighed in with their MLB picks and computer predictions, with the Yankees currently favored with a 61.3% chance of victory over the Phillies' 38.7%. However, as with any game, anything could happen on the field and both teams will be coming out with their best strategies and players. For Phillies fans, it will be a chance to see star players like Alec Bohm, who already has three home runs under his belt, and Aaron Nola, who will be a force to reckon with on the mound. Meanwhile, Yankee fans will be cheering on their lineup featuring sluggers like Giancarlo Stanton and ace pitcher Gerrit Cole. To see which team will come out on top, tune in to the game at Yankee Stadium at 1:05 PM EST. Don't miss out on the excitement of this early-season matchup and see who the MLB experts' picks are for this game.
Phillies: Pitching Analysis
The Philadelphia Phillies are off to a rough start in the 2023 MLB season, currently sitting at 0-4 with an ERA of 9.28, the worst in the league. The Phillies' pitching staff has struggled, especially in their bullpen, with a WHIP of 2.031 and an opponent batting average of .326. One bright spot for the Phillies has been their ace, Aaron Nola. In his lone start this season, Nola threw six scoreless innings, allowing just two hits and striking out four. He has an impressive career ERA of 3.36 and a WHIP of 1.14. The Phillies will look to Nola to carry their rotation and help turn the team's fortunes around. The rest of the Phillies' starting rotation has struggled, with a combined ERA of 10.50. Zack Wheeler, the team's number two starter, has allowed seven runs in just three innings pitched, while Taijuan Walker has given up six runs in two innings. The Phillies will need their starters to improve and provide more innings to take pressure off their beleaguered bullpen. The Phillies' bullpen has been a major weakness so far, allowing 25 earned runs in just 24 innings pitched.
Phillies: Hitting Analysis
The Phillies are off to a rough start this season, with a 0-4 record and struggling at the plate. But what do the MLB picks experts and MLB picks computer models have to say about their hitting potential? MLB picks experts have mixed opinions on the Phillies' hitting abilities. Some are cautious and hesitant to pick them to be a top-performing offense this season due to their slow start. But others point to their talented lineup and predict that they will turn things around and become a force to be reckoned with. Similarly, MLB picks computer predictions have varied results, with some models predicting the Phillies to have a strong offense while others predict them to struggle. Regardless of expert opinions and computer predictions, the Phillies need to focus on improving their hitting performance in order to turn their season around. They have talented players like Alec Bohm and Bryce Harper who can make a big impact at the plate, but they need to work on their consistency and execution. If the Phillies can improve their hitting and take advantage of their talented lineup, they have the potential to become a top-performing offense in the league. But it will take hard work and dedication to make that potential a reality.
Yankees: Pitching Analysis
The Yankees have long been known for their powerhouse offense, but their pitching staff has been a major part of their success in recent years as well. As the 2023 MLB season gets underway, experts and computer models alike are predicting the Yankees to be one of the top teams in the league. Starting pitcher Gerrit Cole is one of the biggest factors in these predictions. He had a dominant season in 2022, posting a 1.85 ERA and 237 strikeouts in 194 innings pitched. He also finished fourth in AL Cy Young voting. With a strong supporting cast of pitchers like Nestor Cortes and Domingo German, the Yankees have a solid rotation that will be tough to beat. In the bullpen, the Yankees also have some key players who can shut down opposing teams. With closer Aroldis Chapman and setup man Jonathan Loaisiga, they have two strong arms that can secure victories in close games. Even new additions like Michael King and Clarke Schmidt have shown promising potential during spring training. Of course, there are always potential concerns with injuries and performance issues, but the Yankees have a solid foundation to build on when it comes to their pitching staff. If they can stay healthy and consistent throughout the season, they have the potential to make a deep run in the playoffs and contend for a World Series title.
Yankees: Hitting Analysis
When it comes to analyzing the New York Yankees' hitting performance, there are a few factors to consider. MLB picks experts, MLB picks computer, and MLB picks emp predictions all have their own opinions on which players are most likely to excel in the upcoming season. However, looking at the team's performance thus far, it's clear that the Yankees have several standout players worth keeping an eye on. MLB today experts have noted the team's strong start to the season, with a current record of 3-1. The team's offense, in particular, has been impressive, with an average of six runs per game. This is due in large part to the efforts of players such as Alec Bohm, who currently leads the team with three home runs and a batting average of .467, and Giancarlo Stanton, who has also hit two home runs and has four RBIs to his name. To make the most informed MLB picks and parlay bets today, it's also important to consider the team's hitting performance against specific opponents. In their game against the Philadelphia Phillies on April 5, the Yankees had a 61.3% chance of winning, according to Pick Center analysis. They were able to maintain this advantage throughout the game, ultimately winning with a score of 14-8. Overall, when making the best MLB
Injury Report
As the Philadelphia Phillies and New York Yankees prepare to face off on April 5, 2023, injuries could play a significant role in determining the outcome of this game. The Phillies will be missing several key players, including Cristopher Sanchez, Bryce Harper, Ranger Suarez, Josh Harrison, and Griff McGarry, all of whom are either on the day-to-day or 15-day injured list. Meanwhile, the Yankees will be without Josh Breaux and Frankie Montas. While injuries are always a concern for any team, MLB picks experts, MLB picks computer programs, and MLB picks emp predictions can help bettors better assess the odds and make informed decisions. According to MLB today experts, the Yankees have a 61.3% chance of winning, while the Phillies have a 38.7% chance. Additionally, MLB picks and parlay options can provide bettors with more opportunities to win by bundling several picks together. Despite the mounting injury concerns, MLB expert picks today and the best MLB bets today suggest that the Yankees remain the favorites to win this game. Bettors should also consider factors like MLB picks with spread, MLB predictions today, and MLB picks odds when making their choices. As always, it's important to do your research and consider all available information before placing your bets.
| Player | Team | Position | Injury Status |
| --- | --- | --- | --- |
| Cristopher Sanchez | Philadelphia Phillies | RP | 15-day IL (Apr 1) |
| Bryce Harper | Philadelphia Phillies | DH | 10-day IL (Apr 2) |
| Ranger Suarez | Philadelphia Phillies | SP | 15-day IL (Apr 3) |
| Josh Harrison | Philadelphia Phillies | 2B | Day-to-day (Apr 4) |
| Griff McGarry | Philadelphia Phillies | SP | Out (Apr 4) |
Prediction:
Both teams have solid pitchers, with Aaron Nola leading the Phillies' rotation and Gerrit Cole heading the Yankees'. In addition, the Phillies' bullpen has been struggling, putting more pressure on their starting pitchers to go deep into the game, which could limit their ability to score runs. On the Yankees' side, they have a strong bullpen, who can help secure victories in close games. Finally, the Phillies are missing several key players due to injuries, which could further impact their ability to score runs. Overall, while there are always potential surprises in any game, the factors mentioned above suggest that the under of 7 runs is a likely outcome for this matchup.
Pick: Under 7
Upgrade to View Prediction
#1

#2