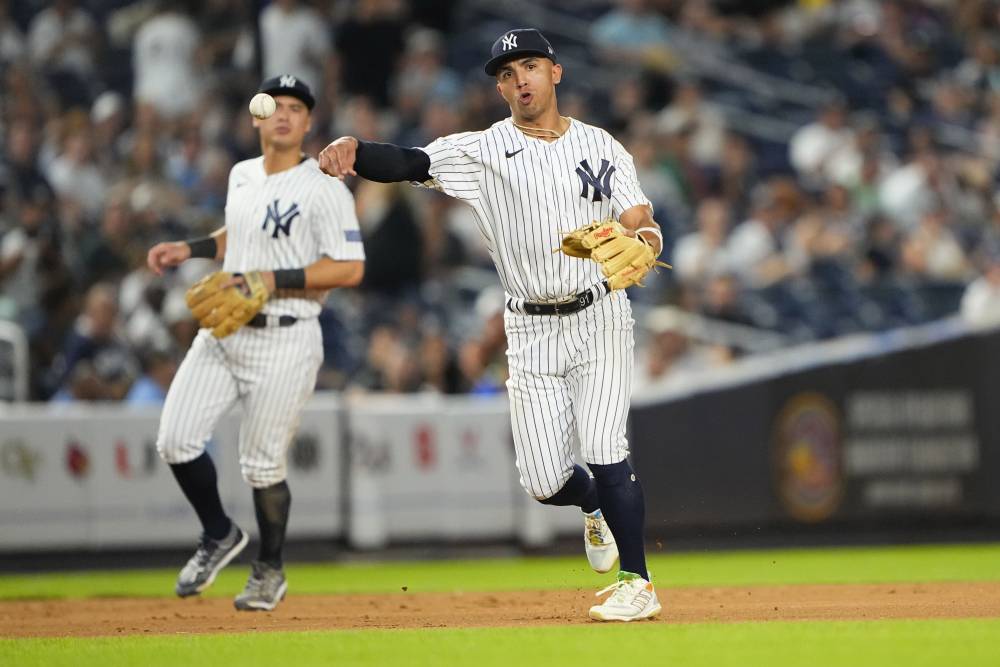 Yankees vs Brewers Prediction MLB Picks Today 9/8
Sep 8, 2023, 5:04:55 AM
© Gregory Fisher-USA TODAY Sports
Brewers vs Yankees: MLB Predictions, Picks, and Expert Analysis
Get ready for an exciting clash as the Milwaukee Brewers take on the New York Yankees at Yankee Stadium. In this MLB showdown, our expert analysis will guide you through the game, and we'll explain our final prediction.
Game Information:
Milwaukee Brewers:
The Milwaukee Brewers have had a solid season with a record of 77-62. Their away record of 37-34 shows their ability to perform under pressure on the road.
Leading the National League Central, the Brewers aim to maintain their position with a strong performance against the Yankees.
Batting Highlights:
Willy Adames and Christian Yelich have been key contributors to the Brewers' offense, delivering home runs and RBIs. Their consistency in clutch situations makes them crucial players.
Adames, the shortstop for the Brewers, has been particularly impressive this season. With 23 home runs and 68 RBIs to his name, he's been a force to be reckoned with in the batter's box. His ability to get on base and drive in runs has been pivotal to the Brewers' success. Expect Adames to play a significant role in this game, especially if the over of 9 runs is to be achieved.
Christian Yelich, a former MVP, has also found his groove this season. With 70 RBIs and 17 home runs, he's been a steady presence in the lineup. His knack for getting on base and delivering in key situations could prove instrumental against the Yankees' pitching.
Pitching Outlook:
Colin Rea will be on the mound for the Brewers, holding a 5-5 record with a 5.07 ERA. While he has shown promise, his ERA suggests the potential for runs. Rea has the challenge of facing a Yankees lineup that can produce power hitters, so he'll need to be on his A-game to keep the scoring in check.
Despite Rea's recent struggles, he has the ability to deliver quality outings. He'll rely on his experience and pitch selection to keep the Yankees' batters off-balance. However, the margin for error against the Yankees' potent offense is slim, which adds intrigue to the over/under line of 9 runs.
New York Yankees:
The New York Yankees, with a record of 70-70, have had an up-and-down season. Playing at home, where they have a 38-34 record, they look to make a statement against the Brewers.
Situated in the competitive American League East, the Yankees are eager to turn their season around.
Batting Leaders:
Aaron Judge and Gleyber Torres have been vital to the Yankees' offense, consistently contributing with home runs and RBIs. Their power hitting poses a threat to opposing pitchers.
Aaron Judge, the towering right fielder, has been a cornerstone of the Yankees' offense. With 31 home runs and 58 RBIs, Judge can change the game with a single swing of the bat. His ability to drive the ball deep into the outfield has made him a fan favorite in the Bronx. Judge's presence in the lineup can make any pitcher nervous, and this game is no exception.
Gleyber Torres, the talented infielder, has been another source of power for the Yankees. With 25 home runs and 62 RBIs, he's had a solid season. His ability to come through in clutch situations has been crucial for the Yankees, and he'll be looking to do just that against the Brewers.
Pitching Challenges:
Luis Severino takes the mound for the Yankees, but his 6.75 ERA is a concern. He has faced difficulties this season, which could lead to a high-scoring game.
Severino, once considered one of the Yankees' top pitchers, has struggled to regain his form after injuries. His high ERA indicates that he's been prone to giving up runs, which could play into the over/under line of 9 runs for this game.
However, Severino has the potential to turn things around. He possesses a lively fastball and a devastating slider when he's on his game. The key for him will be to locate his pitches effectively and keep the Brewers' hitters off-balance. If he can do that, the Yankees may have a chance to stifle the Brewers' offense.
Prediction
Now, let's delve into why the best bet for this game is the over of 9 runs. Both teams have offensive firepower, with players like Adames, Judge, and Torres who can hit for power and drive in runs.
Furthermore, the pitchers on both sides, Colin Rea and Luis Severino, have struggled with high ERAs. This suggests that there may be opportunities for hitters to capitalize and score runs.
Considering the offensive capabilities of both teams and the pitchers' ERAs, it's likely that we'll see a game with plenty of runs scored. The over of 9 runs appears to be the best bet for this matchup.
Pick: Over 9 Runs -110
Upgrade to View Prediction
#1

last 30 days winnings
$1,040
#2

last 30 days winnings
$5,730
Yesterday winnings
($430)
#3

last 30 days winnings
$1,410