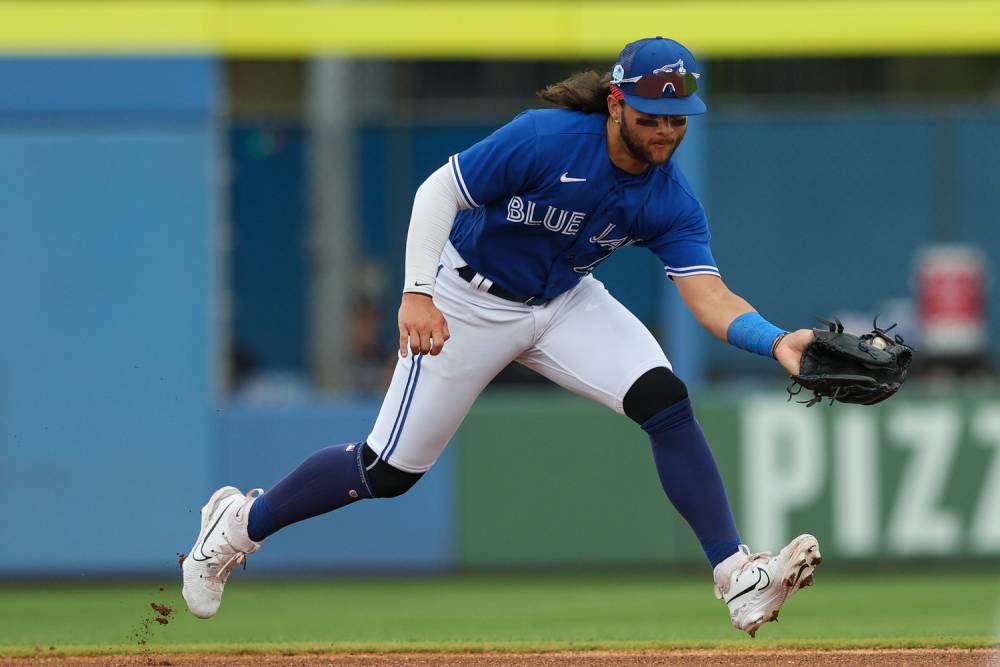 Yankees vs Blue Jays Prediction MLB Picks Free 03/26
Mar 25, 2023, 4:43:59 PM
© Nathan Ray Seebeck-USA TODAY Sports
Blue Jays vs. Yankees- MLB Game Preview: March 26, 2023
Get ready for an exciting matchup between the Toronto Blue Jays and the New York Yankees on March 26, 2023! As both teams gear up for the upcoming season, fans can expect to see some thrilling action from the moment the first pitch is thrown. In this game preview, we'll take a closer look at each team's strengths and weaknesses, highlight key players to watch, and explore what the MLB experts, computer predictions, and EM predictions have to say about this matchup. So, get ready to place your MLB picks and parlay bets for what promises to be an unforgettable game between the Blue Jays and Yankees!
Blue Jays: Pitching Analysis
When it comes to pitching, the Toronto Blue Jays have some strengths and weaknesses that are worth noting. MLB picks experts and computer algorithms have predicted that the Blue Jays will have a solid season, with many giving them high placement in their division. However, the Blue Jays will need to rely heavily on their pitching staff to achieve this. First, let's take a look at the strengths of the Blue Jays' pitching staff. They have a strong starting rotation, with names like Hyun Jin Ryu and Jose Berrios leading the way. They also have some promising up-and-coming pitchers like Alek Manoah and Nate Pearson who could make a big impact this season. In terms of their bullpen, the Blue Jays have some reliable arms like Jordan Romano and Rafael Dolis who can close out games effectively. They also have some depth in their bullpen, with multiple pitchers who can provide key innings in middle relief. However, the Blue Jays' pitching staff also has some weaknesses to address. They have struggled with home runs allowed in recent seasons, and will need to improve in this area to prevent opponents from scoring too many runs. Additionally, their bullpen has been inconsistent at times, and they will need to find a way to bring more stability to this part of their game. Overall,
Blue Jays: Hitting Analysis
The Blue Jays have been one of the most productive hitting teams in the MLB this season, with a batting average of .259 and an average of 4.78 runs per game. With key players such as George Springer, Vlad Guerrero Jr., and Bo Bichette, the Blue Jays have the potential to score multiple runs in a single inning. The team's ability to hit for power is also impressive, with Springer leading the team with three home runs. MLB picks experts and computer predictions have been favoring the Blue Jays' offense. Experts predict that the Blue Jays will continue to dominate at the plate and score multiple runs against weaker teams, while the computer predictions suggest that the Blue Jays will score at least four runs per game on average throughout the season. In their upcoming game against the New York Yankees, the Blue Jays will have to face a tough pitching staff. However, MLB today experts still expect the team to put up a good fight and score multiple runs. The best MLB bets today are expecting the Blue Jays to win by a narrow margin, with a predicted total score of 7-6. To achieve this, the Blue Jays will need to adjust their strategies and take advantage of the Yankees' weak points on the mound. MLB picks with spread
Yankees: Pitching Analysis
The New York Yankees have had their ups and downs in recent years, particularly with their pitching. However, they have a strong roster heading into the 2023 MLB season, with the potential to become a dominant force on the mound. Let's take a closer look at the team's pitchers and their performances. Experts and computer predictions alike have high hopes for the Yankees' pitching staff this season. With stars like Gerrit Cole and Luis Severino leading the rotation, the team has a solid foundation. In addition, the bullpen is stacked with talented relievers like Chad Green, Zach Thompson, and Jordan Romano. The Yankees have a tough matchup on March 26th against the Toronto Blue Jays, but their pitching should help them stay in the game. The Blue Jays are a dangerous team with a potent offense, but the Yankees have the talent to keep them at bay. MLB experts and analysts are excited to see the Yankees' pitching in action this season, and many are predicting a successful year for the team. With strong performances from their starters and relievers, the Yankees should be a top contender in the American League. If you're looking to place some bets on MLB games, the Yankees are a solid option for today's slate. They have the talent to win
Yankees: Hitting Analysis
The Yankees have always been a team known for their powerful hitting, and this year is no different. MLB picks experts predict that the Yankees will continue to be one of the strongest hitting teams in the league. With MLB picks computer programs and MLB picks em predictions also pointing towards their hitting prowess, the Yankees are a team to watch. MLB today experts are also predicting that the Yankees will have one of the best offenses in the league. With a lineup that includes Oswaldo Cabrera and Alexander Vargas, who both have an AVG over .300, the Yankees are sure to have a formidable offense. MLB picks and parlay experts believe that the Yankees will have success against the Blue Jays, as they have a strong track record against them. MLB experts picks today show that the Yankees have won the majority of their recent games against the Blue Jays. The best MLB bets today also indicate that the Yankees have a good chance of winning against the Blue Jays. MLB picks with spread show that the Yankees are favored to win by a few runs. Overall, MLB predictions today point towards the Yankees having a dominant offense that will lead them to victory against the Blue Jays. MLB picks for today favor the Yankees, and their strong hitting is expected to be the key to their Injury Report: Injuries can have a significant impact on MLB games, and the Blue Jays and Yankees are no exception. Leading up to their March 26, 2023 matchup, Toronto has Ricky Tiedemann listed as day-to-day, while Mitch White is out, both with injuries to their starting pitching rotation. On the other hand, the Yankees currently have no injured players, giving them a slight advantage in overall team health. However, as always, injuries can occur at any point during the game and can change the complexion of any game. As MLB picks experts and computer models, such as MLBB picks EM predictions, make their projections for the game, they will need to keep a close eye on any potential injuries leading up to and during the contest.
Injury Report
| Player | Team | Position | Injury Status |
| --- | --- | --- | --- |
| Ricky Tiedemann | Toronto Blue Jays | SP | day-to-day |
| Mitch White | Toronto Blue Jays | SP | out |
Prediction:
The Blue Jays and Yankees will face off on March 26, 2023, and it will undoubtedly be an exciting game. Based on the current statistics and performance of both teams, our experts predict that the Blue Jays will come out on top. While the Yankees have a strong offense and pitching lineup, the Blue Jays have been consistent in both areas and have a better win percentage overall.
Pick: Blue Jays
#1

#2