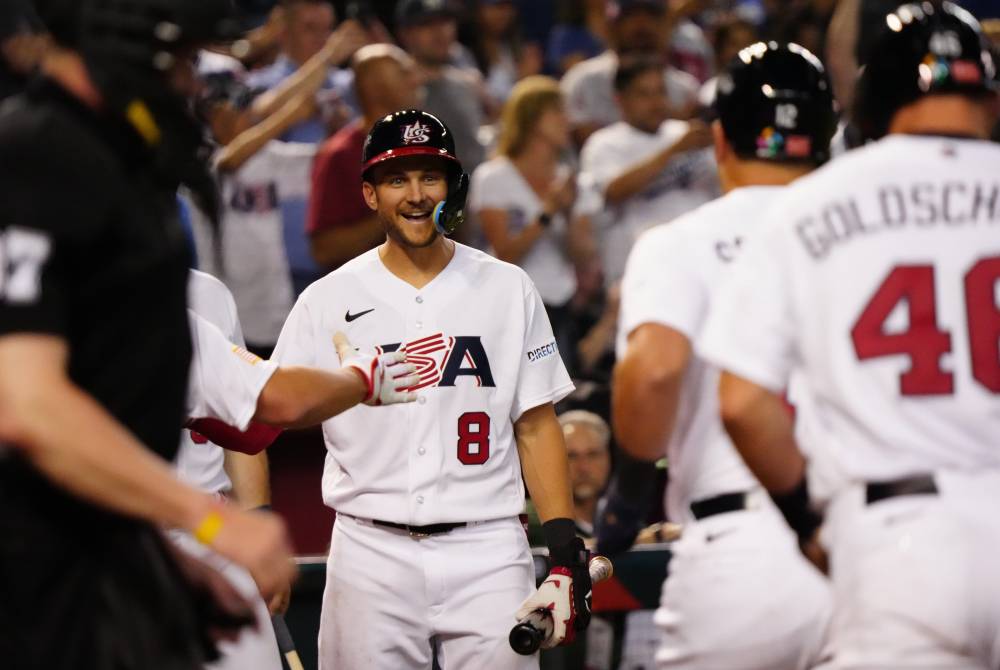 USA vs Cuba Prediction WBC Semifinal 3/19/23
Mar 19, 2023, 3:30:55 AM
Photo Credit: © Patrick Breen/The Republic / USA TODAY NETWORK
WBC: USA vs Cuba
The 2023 World Baseball Classic semifinal is set to feature an exciting matchup between the United States and Cuba. Both teams have battled their way through tough competition to make it this far and will be looking to secure their spot in the final. In this article, we'll provide an extended preview of both teams, analyze their strengths and weaknesses, and make a final prediction for the game.
USA
The United States is one of the tournament's favorites and has lived up to expectations so far, going undefeated in the preliminary round before defeating Venezuela 9-7 in the quarterfinals. They boast a deep and talented roster with several players with major league experience.
Offensively, the United States has been led by shortstop Trea Turner, who hit a grand slam to secure their victory over Venezuela. Outfielder Kyle Tucker has also been a force at the plate, hitting .333 with a home run and four RBIs. First baseman Paul Goldschmidt and third baseman Nolan Arenado have also contributed, hitting .313 and .350, respectively.
On the pitching side, the United States has yet to announce their starter for the game. However, their bullpen has been a strength of the team, with several experienced relievers available to shut down opposing hitters. In their victory over Venezuela, six different relievers combined to pitch six scoreless innings and allow just two hits.
Venezuela
Cuba has a rich baseball tradition and has produced some of the sport's greatest players. The team has a strong roster, and many of their players have extensive experience playing in international competitions. They finished at the top of their group in the preliminary round with a record of 4-1, followed by a narrow 4-3 victory over Australia in the quarterfinals.
Offensively, Cuba has a balanced lineup with several dangerous hitters. Outfielder Luis Robert has been one of the standout performers for Cuba, hitting .438 with two home runs and six RBIs in the tournament so far. Yadiel Hernandez has also been productive, hitting .357 with a home run and five RBIs. Second baseman Yordan Manduley and catcher Yosvany Alarcon have also been consistent contributors.
On the pitching side, Roenis Elias is expected to start for Cuba. He has not yet given up an earned run in the tournament, pitching four scoreless innings in his previous appearance against Japan. Reliever Raidel Martinez has also been impressive, pitching 4.1 scoreless innings with six strikeouts.
.
Prediction
Both teams have played well to reach this stage of the tournament and will be looking to advance to the final. Cuba's lineup has several dangerous hitters, and Roenis Elias has been dominant on the mound. However, the United States has a deep and talented roster, and their bullpen has been impressive throughout the tournament.
The key to the game will be how the United States handles Roenis Elias. If they can get to him early, it could be a long day for Cuba. However, if Elias can keep the United States' hitters off-balance, Cuba will have a chance to pull off the upset.
In the end, we believe that the United States will come out on top. They have too much talent and experience not to. We predict that the United States will win by at least two runs and cover the -1.5 runs spread.
Pick: USA -1.5 runs
Are you an MLB fan looking for the best baseball picks and parlays for your next game night? Look no further than KingPin.pro, the top-rated sports betting app available on both iOS and Android. With real-time odds, public betting data, and comprehensive data analysis, you'll be able to make informed decisions when placing your wbc bets.
But that's not all. KingPin.pro also offers access to expert handicappers and their baseball picks. These handicappers are experts in their field, with a proven track record of success, making their baseball fantasy picks and baseball picks tonight reliable and valuable. Users can purchase picks from handicappers for a variety of sports, including the NBA, NFL, MLB, and more.
In addition to expert picks, KingPin.pro also allows users to place their own picks and compete for a spot in the top 10 leaderboard. This is a great opportunity to test your skills against other sports bettors and potentially earn a payout if your pick makes it to the top 10.
One of the unique features of KingPin.pro is that users can view all the picks on the site, not just those from the handicappers they choose to follow. This allows users to gain more insight into the overall trends and predictions of the community and make more informed betting decisions.
Overall, KingPin.pro is a comprehensive and user-friendly platform for sports bettors looking for the best baseball parlays and baseball picks. Whether you're a seasoned bettor or new to the game, this app offers valuable insights and expert advice to help you make informed decisions and potentially earn some money. So, download KingPin.pro today and start betting like a pro!
#1

#2