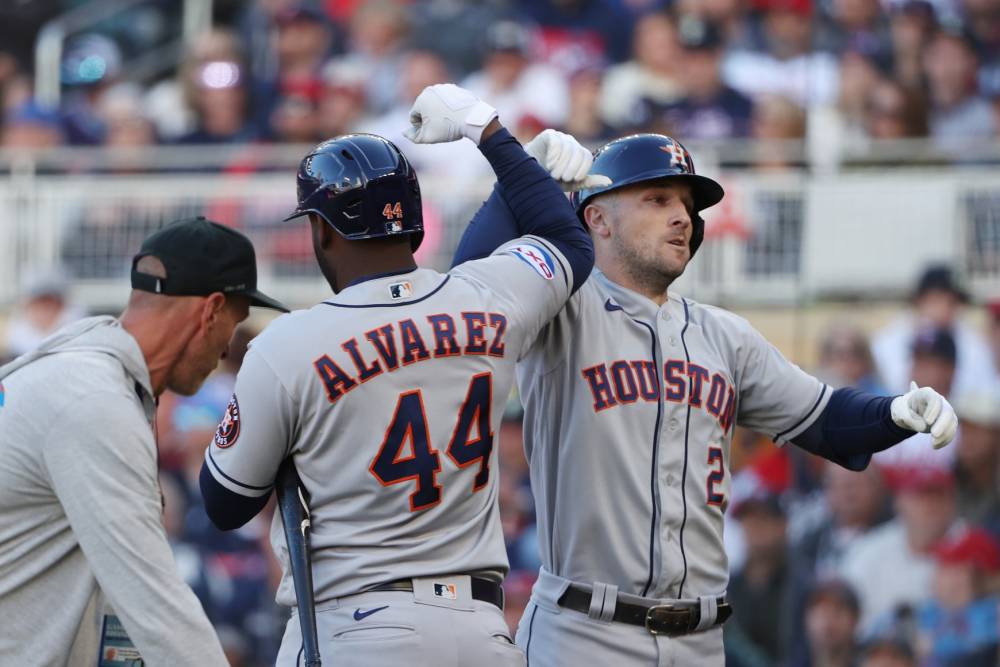 Twins vs Astros Game 4 Prediction MLB Playoffs Picks 10/11
Oct 11, 2023, 1:09:48 AM
© Jesse Johnson-USA TODAY Sports
ALDS Game 4: Astros vs. Twins - Betting on the Astros
Wednesday, October 11, 2023
Houston Astros vs. Minnesota Twins
11:07 AM ET, Target Field
The Houston Astros are in control of the ALDS series, leading 2-1 against the Minnesota Twins so prepare for a very exciting game 4. In this article we'll analyze both teams pitching and batting stats to determinate our best bet.
Recapping the First Three Games
The first three games of this ALDS series have been filled with excitement and stellar performances by the Astros. In Game 1, the Twins were defeated 6-4 despite putting up a fight. Game 2 saw the Twins taking a 6-2 victory to level the series. However, the Astros bounced back in Game 3 with a commanding 9-1 win.
One standout player for the Astros has been Yordan Alvarez, who has been on fire, hitting four home runs in three games. His incredible power at the plate has been a game-changer for Houston.
Astros
The Houston Astros had a strong regular season with a record of 90-72. Their well-rounded team excels in both offense and pitching, making them a formidable opponent. Their batting leaders include Yordan Alvarez with 31 home runs and 97 RBIs and Kyle Tucker with 29 home runs and 112 RBIs.
On the pitching front, Jose Urquidy, the Astros' probable pitcher for Game 4, is a reliable asset. While his regular-season stats may not stand out, he has the ability to control the game and provide crucial innings when needed. The Astros' bullpen is also deep, giving them an advantage in late-game situations.
José Urquidy with an ERA of 2.93 and 17 strikeouts in 3 appearances versus the Twins in his career.
Twins
On the flip side, the Minnesota Twins, with a regular-season record of 87-75, have faced challenges in this series. Their pitching staff has struggled to contain the Astros' powerful lineup, and their offense has been inconsistent.
Joe Ryan, the Twins' probable pitcher for Game 4, faces a tough task against the Astros' hitters. With limited experience in postseason play, he may find it challenging to contain a lineup that includes Yordan Alvarez and other power hitters.
Joe Ryan has a record of 1-2 with an ERA of 8.36 and 19 strikeouts in 3 appearances versus the Astros in his career.
Prediction
Here are the key reasons why betting on the Houston Astros is a strong bet for Game 4:
Superior Regular Season: The Astros had a solid regular season, demonstrating their excellence in all aspects of the game.
Yordan Alvarez's Hot Streak: Yordan Alvarez's remarkable performance in the series is a game-changer.
Pitching Depth: With a reliable starter in Jose Urquidy and a strong bullpen, the Astros have the pitching to secure a win.
Momentum: Coming off a commanding win in Game 3, the Astros have the momentum on their side.
Betting on the Astros is a wise move for sports bettors looking to capitalize on their superiority in this series. Their combination of a strong regular season and current momentum makes them a formidable force.
Pick: Astros ML
#1

#2