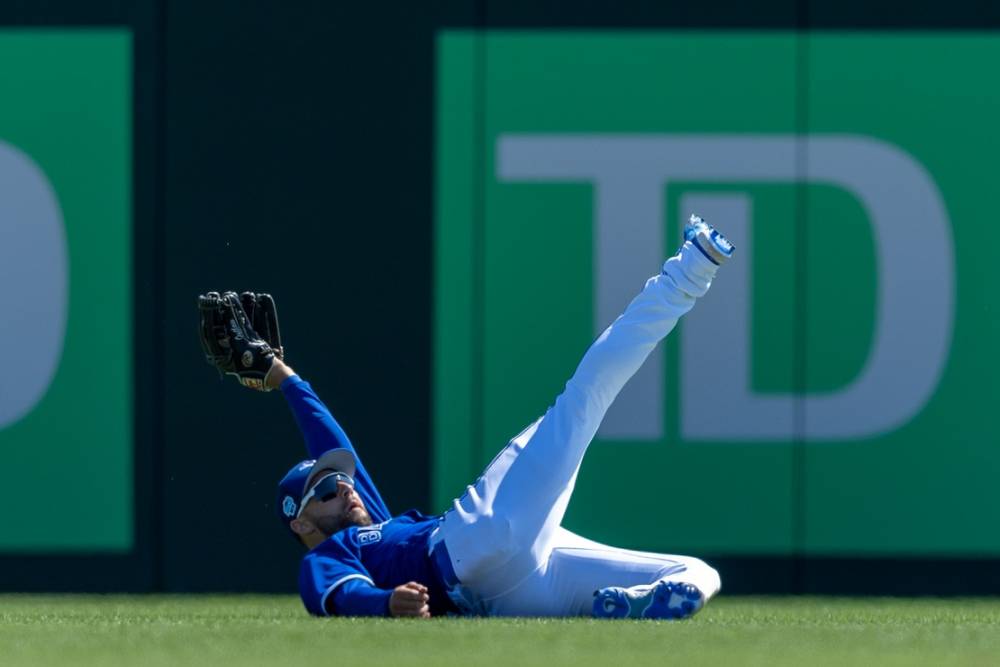 Toronto Blue Jays vs Baltimore Orioles Prediction 3/16
Mar 16, 2023, 12:08:37 AM
Photo Credit: © Nathan Ray Seebeck-USA TODAY Sports
The Toronto Blue Jays and the Baltimore Orioles are set to face off in a spring training game on March 16, 2023, at 6:05 PM at Ed Smith Stadium in Sarasota, Florida. With the Blue Jays currently sporting a 12-7 record and the Orioles at 8-9, both teams are looking to build momentum in the preseason. As a staff writer for KingPin.pro, I'll be breaking down both teams' performances and providing you with our expert MLB picks for today. Be sure to download the Kingpin.pro iOS and Android app for all the latest MLB picks and parlays.
Toronto Blue Jays
Hitting
The Toronto Blue Jays' offense has been consistently strong this spring, with a team batting average of .283 and 110 runs scored. George Springer has been a significant contributor to the Jays' offensive prowess, with a .276 AVG, 3 home runs, and 8 RBIs. Other players, like Brandon Belt, have also had an impressive showing at the plate, boasting a 1.000 AVG, 1.000 OBP, and 2.000 SLG in limited at-bats. Overall, the Blue Jays' lineup is filled with powerful hitters capable of producing runs and putting pressure on the Orioles' pitching staff.
Pitching
The Blue Jays' pitching staff has been effective this spring, with a team ERA of 4.42 and 1.44 WHIP. Although there have been a few rough outings, the team's pitchers have generally kept opposing hitters in check. Injuries to Hagen Danner, Mitch White, and Ricky Tiedemann have created some challenges for the Blue Jays, but the depth of their rotation should help them weather these setbacks. Toronto's pitchers will need to be on top of their game to contain the Orioles' potent offense.
Baltimore Orioles
Hitting
Baltimore's offense has been quite productive this spring, with a team batting average of .267 and 107 runs scored. Austin Hays has been a standout player for the Orioles, hitting .368 with 3 home runs and 7 RBIs. Additionally, Josh Lester has contributed a .387 AVG, 1 home run, and a team-leading 9 RBIs. The Orioles' lineup has a good mix of power and contact hitters, making them a formidable opponent for the Blue Jays' pitching staff.
Pitching
The Orioles' pitching staff has had its share of struggles this spring, posting a 5.84 team ERA and a 1.48 WHIP. Injuries to key players like DL Hall and Dillon Tate have further complicated matters for Baltimore. However, the Orioles have a deep pool of talent, and their pitchers will be looking to rebound in this matchup against the Blue Jays. A strong performance from their starters and relievers will be crucial to Baltimore's chances of securing a victory.
Injuries
Toronto Blue Jays:
Hagen Danner, RP: Out (Mar 13)
Mitch White, SP: Day-to-Day (Mar 14)
Ricky Tiedemann, SP: Day-to-Day (Mar 15)
Baltimore Orioles:
DL Hall, SP: Out (Mar 12)
Dillon Tate, RP: Out (Mar 13)
Ryan O'Hearn, 1B: Day-to-Day (Mar 14)
Lewin Diaz, 1B: Day-to-Day (Mar 14)
Prediction
Both the Toronto Blue Jays and Baltimore Orioles have shown their offensive prowess this spring, but the Blue Jays' pitching staff has a clear edge over the Orioles. Toronto's pitchers have shown they can limit the damage against
opposing hitters, while Baltimore's pitchers have struggled with consistency. The injuries on both sides may create challenges for the teams, but Toronto's depth should help them overcome those obstacles.
Considering the Blue Jays' potent offense and more effective pitching staff, we predict that they will come out on top in this matchup against the Orioles. The Blue Jays have the ability to capitalize on Baltimore's pitching woes and put up enough runs to secure a victory.
Pick: Toronto Blue Jays
#1

#2