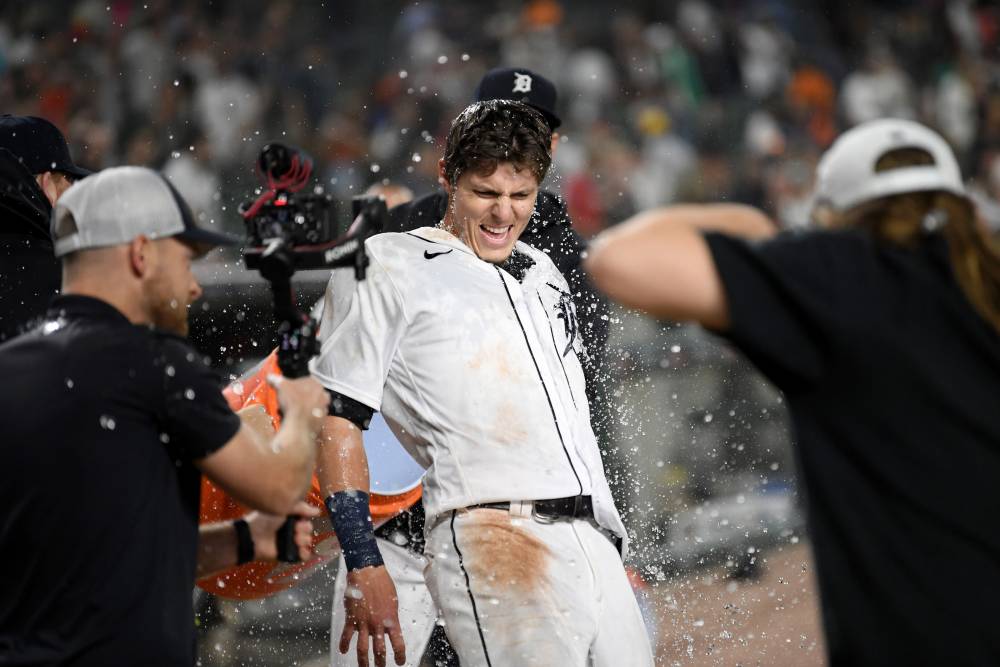 Tigers vs Giants Prediction MLB Picks Free 4/15
Apr 15, 2023, 3:38:28 AM
© Lon Horwedel-USA TODAY Sports
Game Preview: San Francisco Giants vs Detroit Tigers - April 15, 2023
The San Francisco Giants will face off against the Detroit Tigers on April 15, 2023. As the teams prepare to take the field, MLB picks experts and MLB picks computer predictions are heavily favoring the Giants to come out on top. San Francisco currently holds a record of 5-7, with a 3-3 record on the road. Their offense is led by Michael Conforto, who has hit three home runs so far this season. On the mound, Anthony DeSclafani is expected to start and he's off to a great start with a record of 1-0 and an ERA of 0.73. The Detroit Tigers, meanwhile, are struggling with a record of 3-9, including an 0-3 record at home. They have yet to name a starting pitcher for this game, but they will need their offense to step up if they hope to secure a win. Jake Rogers has been a bright spot for the team, hitting two home runs with five RBI. MLB today experts and MLB picks and parlay predictions heavily favor the Giants in this match-up, given their strong start to the season and solid pitching. The Giants also have the advantage of playing against a struggling Tigers team that has yet to find its rhythm. For the best MLB bets today, consider taking the Giants with the spread. With their strong pitching and offense, they look poised to come away with a win in this game. Only time will tell if the Tigers can turn things around and pull off the upset at home.
Giants: Pitching Analysis
The San Francisco Giants have had a bit of a rocky start to the 2023 MLB season, with a 5-7 record and a struggling offense. However, their pitching staff has been holding their own and keeping them in games. Let's take a closer look at the Giants' pitching analysis. First up is their probable pitcher for the upcoming game against the Detroit Tigers, Anthony DeSclafani. DeSclafani has had a strong start to the season, with a 1-0 record and a sparkling 0.73 ERA. He has only allowed one earned run in 12.1 innings pitched, striking out 11 batters and walking just one. DeSclafani will be a key factor in the Giants' success against the Tigers. On the other hand, the Tigers have an undecided pitcher for this game, leaving their pitching staff somewhat of a mystery. However, given the Giants' recent offensive struggles, it may not matter much who is on the mound for the Tigers. Overall, the Giants' pitching staff has a 4.46 ERA, which ranks middle of the pack in the league. Their bullpen has been particularly effective, with relievers like Tyler Rogers and Camilo Doval posting solid numbers early in the season. If the Giants can find some consistency on offense, their pitching staff should be able to keep them competitive in the NL West. As for MLB picks and predictions, both experts and computer MLB picks favor the Giants to win this game against the Tigers. However, as always with baseball, anything can happen on any given day. It will be interesting to see how these two teams match up on April 15,
Giants: Hitting Analysis
The San Francisco Giants have had a mixed start to the 2023 MLB season, with a record of 5-7 after their first 12 games. Their offense has been somewhat inconsistent, averaging 4.83 runs per game but ranking only 14th in batting average at .250. However, they do rank in the top five in total bases per game and slugging percentage, with a number of players contributing to their power hitting. One of the Giants' top hitters so far has been Michael Conforto, acquired in the offseason from the New York Mets. Conforto leads the team with three home runs and six RBIs, while also batting .225. Joc Pederson and Thairo Estrada have also been solid contributors, with Pederson driving in nine runs and Estrada batting .341 with an impressive .923 OPS. On the pitching side, the Giants have been led by Anthony DeSclafani, who has yet to allow an earned run in his first two starts of the season. In his 12.1 innings pitched, DeSclafani has given up just six hits and one walk, striking out 11. The rest of the rotation has been more inconsistent, with none of the other starters boasting an ERA under 4.00. When it comes to predictions for upcoming games, MLB picks experts and computer MLB picks and em predictions are split on whether or not the Giants will come out on top. However, MLB today experts do see the Giants having a chance to win, with MLB picks and parlay options as well. MLB experts picks today may be the way to go, as the best MLB bets today may be found with the Giants. In terms of spread betting,
Tigers: Pitching Analysis
The Detroit Tigers have had a rough start to the 2023 season, with a 3-9 record and a struggling offense. But how does their pitching stack up against other teams in the league, and what do the MLB picks experts predict for their future games? Looking at the Tigers' pitching statistics, it's clear that they have some areas to improve. Their team ERA of 6.24 is the second-worst in the league, and their WHIP of 1.443 is also among the highest. However, they have had some standout performances from individual pitchers such as Matthew Boyd and Spencer Turnbull, who have both shown potential to lead the rotation. Experts making MLB picks and predictions for the Tigers' games have been hesitant to place their trust in the struggling team. However, there may be some opportunities for bettors to find value in the underdog Tigers as they face off against weaker opponents. Some MLB picks and parlays also suggest betting on the Tigers with the spread, as they may be able to keep games closer than expected with their pitching. Overall, while the Tigers have a long way to go to become a competitive team, their pitching staff shows promise and may be worth watching as the season progresses.
Tigers: Hitting Analysis
The Detroit Tigers have struggled mightily to start the 2023 Major League Baseball season. Through 12 games, the Tigers have a record of 3-9 and have only scored 36 runs, which is the worst in the MLB. Their struggles can be attributed to their lackluster hitting performance, which ranks at or near the bottom of every major hitting statistic. According to MLB picks experts and computer MLB picks predictions, the Tigers are not expected to improve their hitting in the near future. MLB today experts suggest that the Tigers should focus on rebuilding for future years rather than making any short-term fixes. However, MLB picks and parlay enthusiasts may be more optimistic about their chances, as there are always surprises in the sport. The Tigers' best hope for improvement is to have some of their young talent step up and perform beyond their years. Thairo Estrada has been one of the few bright spots for the Tigers, batting .341 with an impressive .386 OBP and .537 SLG. Matt Vierling has also shown some potential, hitting .243 with a .300 OBP and .351 SLG. The Tigers will need more production from the rest of their lineup to support these young players and to compete with the rest of the MLB. Overall, the Tigers are facing an uphill battle to improve their hitting statistics and win more games. While the MLB picks today and MLB picks with spread may not be in their favor, they still have an opportunity to surprise the baseball world if some of their young players step up and perform beyond expectations.
Injury Report:
As with any team in the MLB, injuries can play a big role in the outcome of a game. The San Francisco Giants and Detroit Tigers are no exception. The Giants are currently dealing with a few injuries, including outfielder Mitch Haniger (10-day IL), catcher Roberto Perez (60-day IL), center fielder Bryce Johnson (7-day IL), and outfielder Austin Slater (10-day IL). Michael Conforto is also listed as day-to-day with a minor injury. On the Tigers side, relief pitcher Zack Hess is currently day-to-day, while starting pitcher Matt Manning, as well as pitchers Beau Brieske and Michael Lorenzen, are all on the 15-day IL. Outfielder Austin Meadows is also on the 10-day IL. Despite these injuries, both teams are still expected to put up a good fight. MLB picks experts and computer MLB picks and predictions have the Giants as a slight favorite with a 57.1% chance of winning, but the Tigers are not to be counted out at 42.9%. MLB today experts have also been giving their MLB picks, with some leaning towards the Giants and others towards the Tigers. Ultimately, it will come down to how well each team can perform on the field and how they are able to overcome any injuries or setbacks that may come their way during the game.
Player
Team
Position
Injury Status
Mitch Haniger
San Francisco Giants
RF
10-day IL
Roberto Perez
San Francisco Giants
C
60-day IL
Bryce Johnson
San Francisco Giants
CF
7-day IL
Austin Slater
San Francisco Giants
CF
10-day IL
Michael Conforto
San Francisco Giants
RF
day-to-day
Zack Hess
Detroit Tigers
RP
day-to-day
Matt Manning
Detroit Tigers
SP
Prediction
ESPN Analytics predicts that the Giants have a 57.1% chance of winning, while the Tigers have a 42.9% chance. The Giants have a better record on the road than the Tigers have at home, with a 3-4 away record compared to the Tigers' 1-3 home record. Additionally, Anthony DeSclafani, the Giants' starting pitcher, has been performing well with a 1-0 record and a 0.73 ERA. In contrast, the Tigers' starting pitcher is still undecided. Looking at the team stats, the Giants have a higher batting average, more home runs, and fewer strikeouts compared to the Tigers. They also have a lower ERA and WHIP, indicating that their pitching has been stronger. Based on this information, the San Francisco Giants have a higher likelihood of winning the game against the Detroit Tigers.
Pick: Giants ML
#1

#2