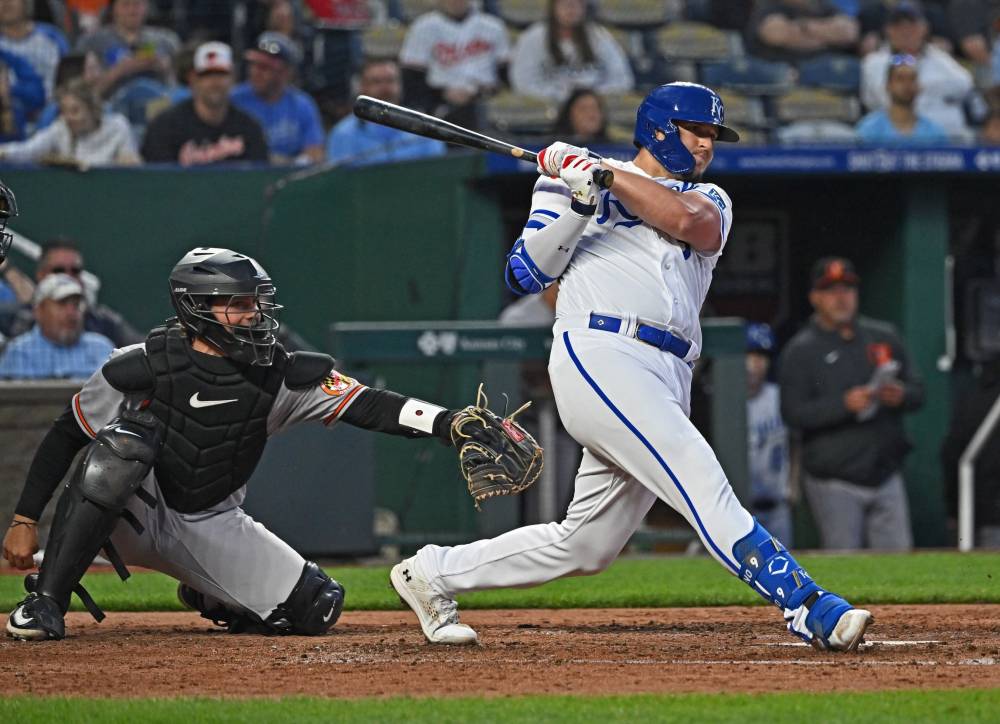 Royals vs Orioles Prediction MLB Picks Free 5/4
May 4, 2023, 8:30:17 AM
© Peter Aiken-USA TODAY Sports
Orioles vs Royals (May 4, 2023) Pregame: MLB Picks, Expert Predictions, and Analysis
On May 4, 2023, the Baltimore Orioles will go up against the Kansas City Royals at Kauffman Stadium in what promises to be an exciting game of baseball. Baseball fans and enthusiasts alike will all be waiting eagerly to see how this matchup pans out. With teams making plenty of moves in the offseason, there's no telling what surprises and upsets may occur. Expert analysts and aficionados have all weighed in with their expert predictions and analysis for this game. MLB picks from computer models, as well as picks and parlays from top MLB experts, are all indicating an edge for the Orioles in this matchup. But the Royals are not to be underestimated, and anything can happen in a game of baseball. This pregame preview will delve into the probable pitchers for each team, batting leaders, injury reports, team standings, and more. So stay tuned for our full-length prediction article for this highly anticipated game between the Orioles and Royals.
Orioles: Pitching Analysis
The Baltimore Orioles have had a solid start to the season with a franchise-best record of 20-10 and sit 4.5 games behind the division-leading Tampa Bay Rays in the American League East. While their offense has been consistent, their pitching rotation has been a point of concern for the team. The Orioles have relied heavily on their bullpen to close games, with their starting rotation struggling to consistently pitch deep into games. The probable starter for the May 4th game against the Kansas City Royals, Grayson Rodriguez, has only pitched in 4 games this season and has a 1-0 record with a 4.07 ERA. The rest of the rotation has similar numbers and has been inconsistent, making it difficult for the Orioles to string together wins. MLB picks experts and computer predictions have favored the Orioles in the upcoming game against the Royals with a 60.7% win probability. However, the Orioles will need a solid performance from their pitching rotation to secure a win. Overall, while the Orioles' pitching rotation has struggled, their bullpen has been strong and has been able to keep the team in games. If the starters can pitch deeper into games and limit runs, the Orioles have the potential to make a push for the playoffs this season.
Orioles: Hitting Analysis
The Orioles have been performing exceptionally well this season, boasting a 20-10 record and being one of the top teams in the American League East. Experts and analysts alike have been placing their MLB picks on the Orioles, with computer MLB picks and predictions favoring them in many matchups. Their hitting has been a significant factor in their success, with the team averaging 5.27 runs per game and having several standout performers at the plate. Ryan Mountcastle and Adley Rutschman have shown their power, with Mountcastle hitting 8 home runs and Rutschman maintaining a .313 batting average. The Orioles' batting average of .259 and on-base percentage of .337 rank in the top ten in the league, while their slugging percentage of .427 places them at 10th. Additionally, their stolen bases per game and stolen base percentage demonstrate their speed and aggressiveness on the base paths. Despite some struggles with their pitching, the Orioles' hitting has been a consistent source of strength and will likely continue to play a significant role in their success throughout the season. For MLB picks and parlay bets, it's worth considering the Orioles' hitting performance and their odds for upcoming matchups.
Royals: MLB Picks and Predictions
As the Baltimore Orioles and Kansas City Royals prepare to face off on May 4, 2023, MLB picks experts, MLB picks computer, and MLB picks emp predictions have all weighed in on the potential outcome of this matchup. According to MLB Today experts, the Orioles may have the upper hand in this game. Looking at the probable pitchers for this game, Grayson Rodriguez of the Orioles will be facing off against Jordan Lyles of the Royals. Rodriguez currently has a 1-0 record with a 4.07 ERA, 1.40 WHIP, and 34 strikeouts. On the other hand, Lyles has a 0-5 record with a 6.11 ERA, 1.36 WHIP, and 27 strikeouts. Based on these stats, MLB picks and parlay may favor the Orioles to win this game. MLB experts picks today and the best MLB bets today also suggest taking the Orioles to win with the spread. The Orioles have an overall record of 20-10, with an 11-6 record on the road. They are also 17-13 against the spread. Conversely, the Royals have struggled this season with an 8-23 record and a 2-13 record at home. They are 11-20 against the spread. MLB picks for today's game also take into account the current team standings. The Orioles are currently ranked third in the American League East with a 20-10 record, while the Royals are last in the American League Central with an 8-23 record. Overall, MLB picks and parlay suggest that the Orioles are the better team in this matchup and are likely to come out with a win. However, as with any sport, anything can happen on game day, so it's always important to follow MLB picks with caution.
Royals: Hitting Analysis
As the Royals gear up to face off against the Orioles on May 4th, 2023, MLB picks experts, MLB picks with spread, and MLB predictions are weighing in on who will come out on top of the matchup. According to computer MLB picks, the Royals have a 60.7% chance of winning, while the Orioles have a 39.3% chance of winning. MLB today experts are also pointing to the potential for a parlay with this game, as both teams have been inconsistent this season. However, Orioles vs. Royals (May 4, 2023) pregame analysis suggests that the Royals may have a slight edge, as they have been performing better at home with a 2-13 record. MLB picks and parlays for this game are also indicating that the Royals may be the better pick, with MLB expert picks today leaning towards the home team to come out victorious. The best MLB bets today may also be on the run line, with the Royals favored at -1.5. Overall, the MLB picks experts are predicting that the Royals will win against the Orioles on May 4th, 2023, with odds in their favor. However, anything can happen in baseball, and the Orioles may surprise fans and experts alike with an upset win.
Injury Report:
As the Baltimore Orioles take on the Kansas City Royals on May 4, 2023, both teams have a few players on the injury report. For the Orioles, there are no injured players to report. However, the Royals have four players listed: third baseman Nicky Lopez (10-day IL as of May 2), right fielder Drew Waters (10-day IL as of May 2), starting pitcher Daniel Lynch (15-day IL as of May 3), and starting pitcher Kris Bubic (60-day IL as of May 3). These injuries could impact the Royals' lineup and pitching rotation for the upcoming game. It will be important to keep an eye on any updates to these injuries as game day approaches.
| Player | Team | Position | Injury Status |
| --- | --- | --- | --- |
| Nicky Lopez | Kansas City Royals | 3B | 10-day IL - May 2 |
| Drew Waters | Kansas City Royals | RF | 10-day IL - May 2 |
| Daniel Lynch | Kansas City Royals | SP | 15-day IL - May 3 |
| Kris Bubic | Kansas City Royals | SP | 60-day IL - May 3 |
| No injured players | Baltimore Orioles | - | - |
Prediction
As the Baltimore Orioles take on the Kansas City Royals on May 4, 2023, both experts and computer models are making their MLB picks and predictions for the game. While the Royals struggle with a record of 8-23, the Orioles have been dominating with a record of 20-10. However, it's important not to always take the favorite when making MLB picks. For this game, our pick is the Kansas City Royals. Despite their struggles this season, they have the home advantage and the potential to surprise their opponents. Additionally, the Orioles could be due for a regression after their strong start.
Pick: Royals +1.5
#1

#2