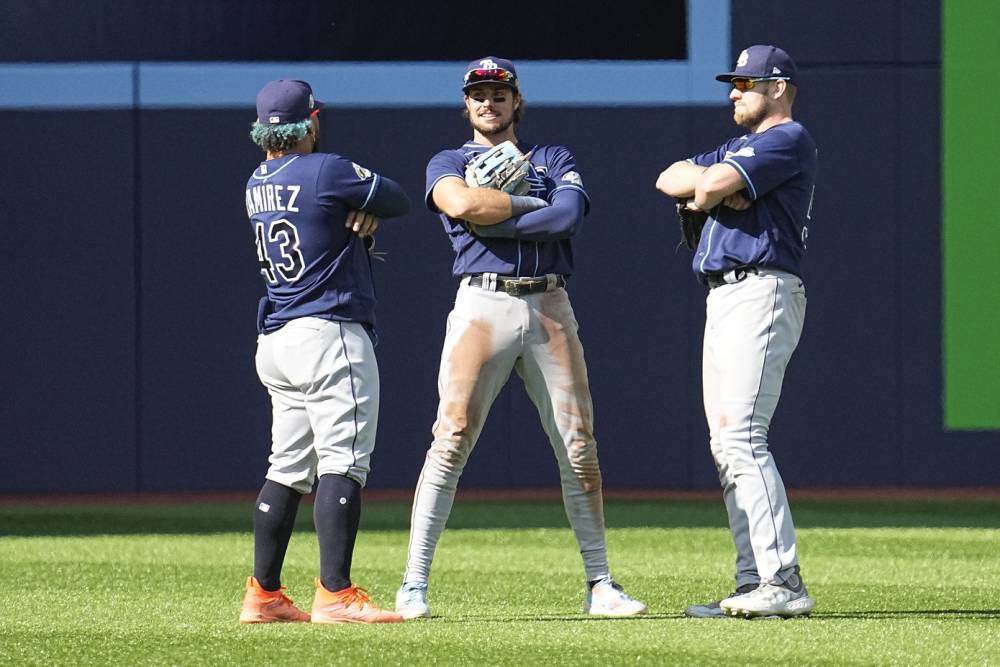 Reds vs Rays Prediction MLB Picks for Today 4/17
Apr 16, 2023, 10:53:26 PM
© John E. Sokolowski-USA TODAY Sports
MLB Game Preview: Tampa Bay Rays vs Cincinnati Reds
The Tampa Bay Rays head to Great American Ball Park to take on the Cincinnati Reds in a matchup between two teams off to opposite starts in the 2023 season. The Rays are currently on a tear with a 14-2 record, while the Reds have struggled to find their footing with a 6-9 record. MLB picks experts and MLB picks computer predictions heavily favor the Rays in this matchup, but anything can happen in baseball. The Rays come into this game with one of the best records in the league thanks to their dominant offense and pitching staff. With many MLB picks and parlay bets riding on their success, the Rays will look to continue their impressive start to the season. On the other hand, the Reds look to turn their season around and pull off an upset against one of the best teams in the league. Both teams will send out their probable pitchers in a matchup that could heavily impact the outcome of this game. Tampa Bay's Jalen Beeks will take the mound against Cincinnati's Hunter Greene, making his second start of the season. MLB picks experts and MLB picks with spread have the Rays as the favorites in this game, but with two very talented pitchers on the mound, this game could go either way. Overall, this game features two teams with different fortunes so far in the 2023 season, but both have plenty of talent on their rosters.
Rays: Pitching Analysis
The Tampa Bay Rays have had a dominant start to the 2023 MLB season, boasting a 14-2 record and ranking in the top of the league in several offensive and defensive categories. But it's their pitching that truly sets them apart. Despite having a TBD pitcher listed for their upcoming matchup against the Cincinnati Reds, the Rays' pitching staff has consistently shut down opposing lineups. With a 2.64 ERA and 1.053 WHIP, they rank second in the league in both categories. MLB Picks experts and computer predictions are heavily favoring the Rays for this matchup, with a 59.5% chance of winning according to analytics. And it's easy to see why – their pitching staff, combined with their strong offense, make them a force to be reckoned with. Despite the Reds having a solid offense themselves, ranking in the top 10 in runs per game, the Rays are simply too strong and are predicted to win by experts and pundits.
Rays: Hitting Analysis
The Tampa Bay Rays have gotten off to a blistering start in the 2023 MLB season, winning 14 out of their first 16 games. Their success has been due in large part to their potent offense. According to MLB picks experts and computer models, the Rays have one of the best hitting lineups in the league. They have been consistently putting up runs against opposing teams, with an average of 7.07 runs per game, which ranks first in the league. Their offensive firepower is evidenced by the fact that they have hit 35 total home runs, which is also the league's highest mark. The Rays' offense is led by Brandon Lowe, who has already hit five home runs and has a batting average of .310. Randy Arozarena has been dominant through the first few weeks of the season, driving in 17 runs and hitting three home runs. The Rays' depth at the plate is impressive, as they have several players who are capable of getting on base and driving in runs. Wander Franco has been solid at shortstop, with a batting average of .318 and an OBP of .366. Joey Wendle, Austin Meadows, and Mike Zunino are also off to solid starts at the plate. As far as MLB today experts and predictions, the Rays have a good chance of continuing their strong hitting performance against the Cincinnati Reds on April 17, 2023. The Reds' pitching staff has struggled early in the season
Reds: Pitching Analysis
In the game against the Tampa Bay Rays on April 17, 2023, the Cincinnati Reds are expected to start Hunter Greene on the mound. Greene, a right-handed pitcher currently ranked as the Reds' top prospect, has shown promise with his fastball that consistently clocks over 100 mph. However, he is still considered a relatively inexperienced player with only a few games played in the major leagues. On the other hand, the Rays have not indicated their probable pitcher for this game, leaving the Reds to prepare for any possible opponent. Following the experts and their MLB picks and predictions, the Reds will have to bring their best game against any opposing pitcher to come out with a victory. Looking at the Reds' overall pitching statistics, their 4.56 ERA and 1.496 WHIP contribute to their current losing record. They have struggled to keep opposing batters' hits and runs to a minimum, leading to losses in close games. Additionally, their bullpen has not provided consistent relief, further hindering their chances of a comeback. However, with the likes of Jalen Beeks, who has yet to give up a single run this season, and Garrett Cleavinger, who has shown promising numbers with 11 strikeouts and only 2 walks in 7 innings pitched, the Reds have the potential to turn their pitching game around. Based on the MLB picks by experts and computer algorithms, the Reds are currently predicted to have a 59.
Reds: Hitting Analysis
The Reds have struggled with consistency on offense this season, but there are several factors that could contribute to a turnaround in the coming weeks. MLB picks experts and computer models are predicting a rise in the team's offensive performance, with MLB today experts projecting the Reds to score over 4.5 runs per game in their next few matchups. Several players on the Reds' roster have been performing well at the plate, including Brandon Lowe, Jason Vosler, and Wander Franco. The team's top hitters have the potential to carry the offense and lead the team to a scoring surge. MLB picks and parlays experts are also predicting that the Reds will perform well against the Rays, with many analysts giving the Reds a slight edge in the matchup. Overall, while the Reds have struggled at times this season, there are several indications that the team's hitting could pick up in the near future. With top performers on the roster and experts predicting a rise in offensive performance, fans should be hopeful for a resurgence in the team's hitting game.
Injury Report:
As the Rays take on the Reds on April 17, 2023, both teams will be dealing with injuries to key players. The Tampa Bay Rays have placed Shane Baz on the 60-day injured list due to an elbow injury and Jeffrey Springs is out due to an undisclosed reason. Ryan Thompson is also on the 15-day injured list with a shoulder issue, and Johan Lopez is currently serving a suspension. Meanwhile, the Cincinnati Reds have placed Connor Overton on the 15-day injured list due to a back injury, and Luke Weaver is also on the 15-day injured list due to a strained shoulder. Kevin Newman is listed as day-to-day with a knee issue, and Joey Votto is out for 10 days due to a hamstring strain. Spencer Steer is also day-to-day with a wrist injury. These injuries could significantly impact the outcome of the game and the MLB picks of experts, as the teams will have to rely on other players to step up and fill the gaps left by their injured teammates.
| Player | Team | Position | Injury Status |
| --- | --- | --- | --- |
| Shane Baz | Tampa Bay Rays | SP | 60-day IL |
| Jeffrey Springs | Tampa Bay Rays | SP | out |
| Ryan Thompson | Tampa Bay Rays | RP | 15-day IL |
| Johan Lopez | Tampa Bay Rays | SS | Suspension |
| Connor Overton | Cincinnati Reds | SP | 15-day IL |
| Luke Weaver | Cincinnati Reds | RP | 15 |
Prediction
The Tampa Bay Rays have an impressive record of 14-2, including a 4-2 away record, which indicates their strong performance in the current season. According to ESPN Analytics, they have a 59.5% chance of winning against the Cincinnati Reds. The Rays have also been favorites in 13 of their 16 games, which is a testament to their dominance. Additionally, they have several key players such as Brandon Lowe, Wander Franco, and Randy Arozarena who have been performing exceptionally well in terms of home runs and RBIs.
On the other hand, the Cincinnati Reds have a record of 6-9 and a 5-4 home record, which means they have not been as strong as the Rays. Furthermore, according to ESPN Analytics, they have only a 40.5% chance of winning this game. Their pitching, represented by Hunter Greene, has been inconsistent with a 5.14 ERA and a 1.64 WHIP.
Taking these factors into account, it appears that the Tampa Bay Rays have a better chance of winning this game due to their impressive record, strong performances from key players.
Pick: Rays ML
Upgrade to View Prediction
#1

#2