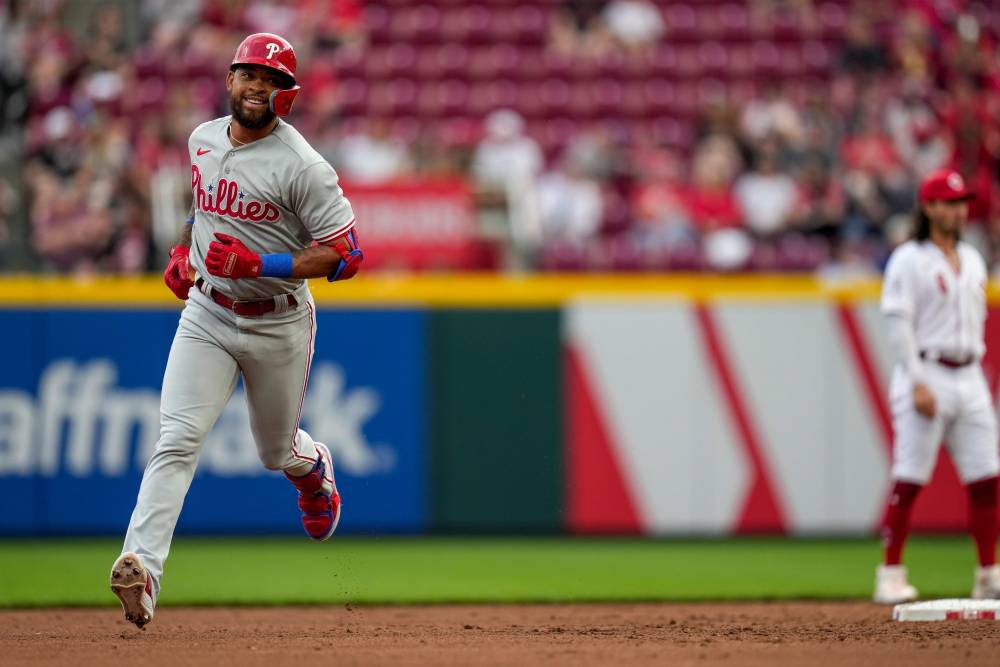 Reds vs Phillies Prediction MLB Picks Free 4/16
Apr 16, 2023, 2:04:21 AM
© Sam Greene/The Enquirer / USA TODAY NETWORK
Phillies vs Reds Game Preview: MLB Picks and Predictions for Today's Matchup
The Philadelphia Phillies and Cincinnati Reds will face off in a National League matchup on April 16, 2023, at Great American Ball Park in Cincinnati, Ohio. The Phillies enter the game with a record of 5-10 and are 2-7 on the road, while the Reds hold a record of 6-8 and are 5-3 at home. According to MLB picks experts, the game is relatively evenly matched, with the Phillies holding a slight advantage of 55.5% to the Reds' 44.5% chance of winning. Computer MLB picks and MLB picks and parlays are also predicting a close game, with both teams having a chance to win. MLB predictions for today's game are also
Phillies: Pitching Analysis for MLB Picks and Predictions
As the Philadelphia Phillies prep for their upcoming game against the Cincinnati Reds, MLB experts and the computer MLB picks' responses remain mixed. Nevertheless, MLB experts have noted the Phillies' pitching isn't performing at their best. As such, let's take an in-depth look at the Phillies pitching staff and their current performance to make our own MLB picks, predictions, and MLB parlays. Starting with Phillies' right-hander Aaron Nola, his performance has been less than satisfactory. Going 0-2 in his first few starts with an ERA of 7.00 is far lower than his career ERA of 3.49. However, even with the slow start, there remains some optimism that he'll bounce back, having already shown flashes of brilliance.
Phillies: Hitting Analysis
As the Phillies prepare for the upcoming game against the Reds, it's important to take a closer look at their hitting performance thus far. MLB pick experts, computer models, and MLB picks & predictions all point to the Phillies' batting lineup as one of their strongest assets. Leading the charge for the Phillies is Kyle Schwarber, with 4 home runs and an average of .211. He's closely followed by Alec Bohm, who boasts a .333 batting average and 13 RBIs. Bryson Stott is also making an impact with a .375 batting average and .385 OBP. However, the Phillies' offense still has room for improvement.
Reds: Pitching Analysis
The Reds have had a rocky start to the season, with their pitching staff struggling to keep opponents off the board. However, experts and computer algorithms are predicting a turnaround for the Reds' pitching staff in the near future. MLB picks from experts suggest that the Reds' pitching staff, led by Aaron Nola and Luis Cessa, will improve in upcoming games. Computer MLB picks also predict higher win percentages for the Reds in games where their pitching staff pitches well. To increase the accuracy of their predictions, MLB picks and parlays factor in team trends, past performances, and injury reports. Looking at these factors, MLB experts' picks today suggest the Reds will start to turn things around on the mound. The best MLB bets today may be Reds: Hitting Analysis When it comes to MLB picks, experts often rely on a combination of computer MLB picks and their own predictions based on years of baseball knowledge. Today, experts are favoring the Reds to come out on top against the Philadelphia Phillies. A parlay of MLB picks including the Reds may yield the best results for bettors today. Looking at the Reds' hitting statistics, it's clear that they have some standout players. Kyle Schwarber leads the team in home runs with 4, while Jason Vosler has 3 home runs of his own. In terms of batting average, Bryson Stott leads the team with an impressive .375 average. Alec Bohm is also a player to watch, with 13 RBIs and a .333 batting average. The Reds' offense ranks in the middle of the pack in terms of overall performance, with a batting
Injury Report:
Keeping track of injuries is crucial in predicting MLB games. The Phillies are currently without several key players, including first baseman Darick Hall, outfielder Bryce Harper, and shortstop Edmundo Sosa. The Reds, on the other hand, have pitcher Tony Santillan, starter Connor Overton, and first baseman Joey Votto on the Injured List. These injuries could have a significant impact on today's game and should be considered when making MLB picks. MLB experts, computer models, and predictions are all valuable tools when it comes to making MLB picks. However, it's important to keep in mind that injuries, weather conditions, and other variables can have an impact on the outcome of a game. By staying up-to-date with the latest injury reports and taking all factors into consideration, you can make the best MLB picks for today's
| Player | Team | Position | Injury Status |
| --- | --- | --- | --- |
| Darick Hall | Philadelphia Phillies | 1B | 10-day IL |
| Andrew Painter | Philadelphia Phillies | SP | Day-to-day |
| Griff McGarry | Philadelphia Phillies | SP | Day-to-day |
Prediction
As the Philadelphia Phillies and Cincinnati Reds gear up to face off on April 16, 2023, MLB experts and computer simulations alike are making their picks for the game. While the Phillies have struggled so far this season with a 5-10 overall record, they have seen success on the road with a 2-7 record. The Reds, on the other hand, have a slightly better record of 6-8 overall and a 5-3 record at home. Despite the Reds being the favorite in this matchup, our experts predict a surprise upset with the Phillies coming out on top.
Pick: Phillies.
#1

#2

last 30 days winnings
$930