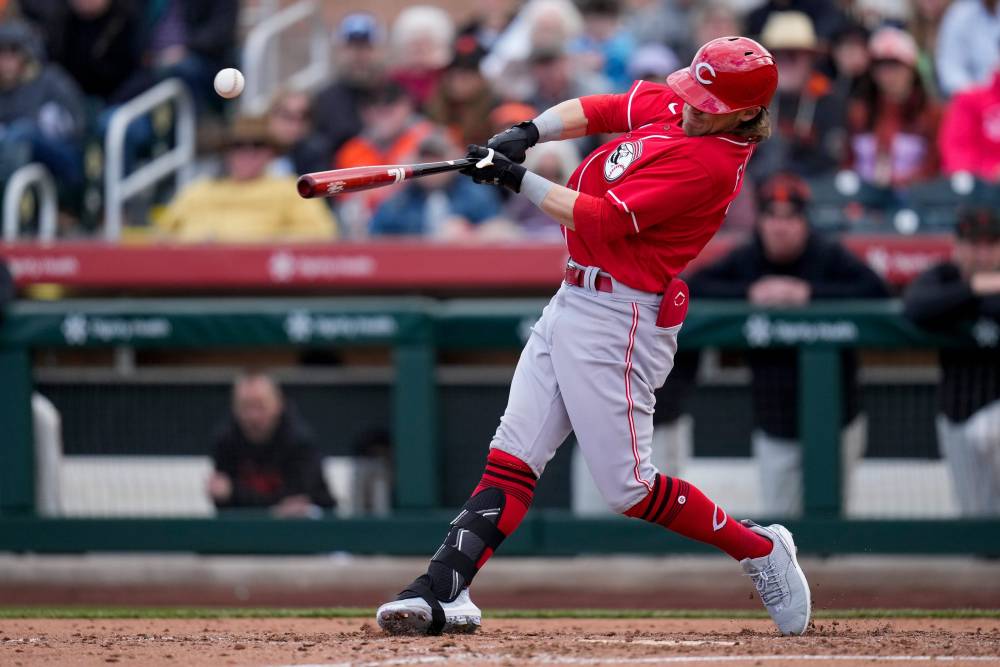 Reds vs Padres Prediction MLB Picks 03/22
Mar 22, 2023, 9:10:18 AM
Photo Credit: © Sam Greene/The Enquirer / USA TODAY NETWORK
MLB Spring Training: Reds vs Padres
The Cincinnati Reds will take on the San Diego Padres in a spring training game on March 22, 2023, at 6:05 PM. The game will be held at Goodyear Ballpark in Goodyear, Arizona, and promises to be a thrilling match between two talented teams. In this article, we will provide a detailed review of each team's offense, defense, and injuries and make our MLB predictions and picks for today's game.
San Diego Padres
The San Diego Padres have a lot of potential in their lineup, with stars like Fernando Tatis Jr., Manny Machado, and Eric Hosmer. They also have a strong pitching rotation led by Yu Darvish and Blake Snell. However, the Padres have been struggling to find their rhythm in Spring Training, with a record of 10-12, 5-7 at home.
Offense:
The Padres have a strong batting average of .275, with 131 hits and 21 home runs. Taylor Kohlwey has been their standout player with 10 RBIs and a batting average of .367.
Defense:
The Padres' defense has been decent in Spring Training, with an OBA of .255. They have also recorded 84 walks and 192 strikeouts.
Injuries:
The Padres have a few players listed as day-to-day, including Juan Soto, Austin Nola, and Drew Pomeranz. However, their absence is not expected to have a significant impact on the team's performance.
Cincinnati Reds
Offense:
The Reds have been impressive on offense this spring training, with a .275 batting average, 149 runs, and 29 home runs. Christian Encarnacion-Strand has been leading the team with a .577 batting average, 4 home runs, and 13 RBIs, while Matt Reynolds has a perfect 1.000 batting average.
Defense:
The Reds have been struggling with their defense, with a 6.04 ERA, 89 walks, and 221 strikeouts. The Reds have some work to do on their pitching and defense.
Injuries:
The Reds also have some injuries, with Luke Weaver (RP) and Matt Reynolds (2B) out of the game. These injuries could impact the performance of the Reds.
Prediction
Based on our analysis of both teams' offense, defense, and injuries, we predict that the Reds will win today's game. While the Padres have some strong players, their pitching staff has been struggling lately, and their injuries could limit their performance. In contrast, the Reds have been strong on offense, with Encarnacion-Strand leading the charge, and they have a slightly better defense than the Padres. We also believe that the Reds are more motivated to win, given that they are playing at home and have a better record overall.me.
Pick: Padres
Are you an MLB fan looking for the best baseball picks and parlays for your next game? KingPin.pro is a top-rated mobile app available on iOS and Android devices that provides free MLB picks for today. It also provides expert picks, and users can use the app to compare odds from different sportsbooks. Whether you are looking for free MLB picks or want to use expert predictions, KingPin.pro is the ideal app for you.
In addition to expert picks, KingPin.pro also allows users to place their own picks and compete for a spot in the top 10 leaderboard. This is a great opportunity to test your skills against other sports bettors and potentially earn a payout if your pick makes it to the top 10.
One of the unique features of KingPin.pro is that users can view all the picks on the site, not just those from the handicappers they choose to follow. This allows users to gain more insight into the overall trends and predictions of the community and make more informed betting decisions.
Overall, KingPin.pro is a comprehensive and user-friendly platform for sports bettors looking for the best baseball parlays and baseball picks. Whether you're a seasoned bettor or new to the game, this app offers valuable insights and expert advice to help you make informed decisions and potentially earn some money. So, download KingPin.pro today and start betting like a pro!
#1

#2