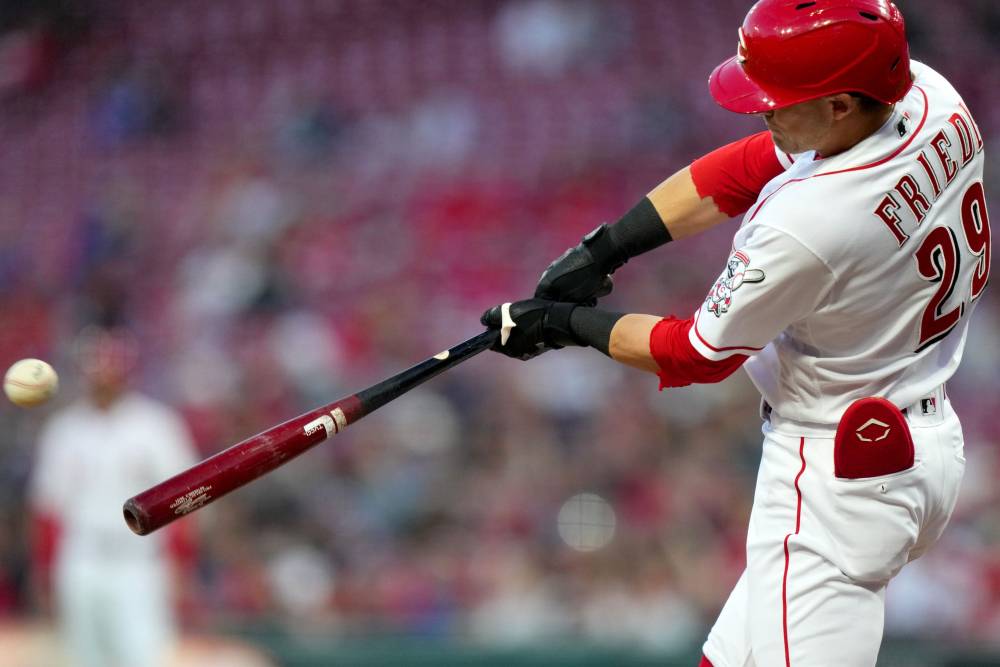 Reds vs Cubs Prediction MLB Picks Today 4/5
Apr 4, 2023, 7:26:33 PM
© Kareem Elgazzar/The Enquirer / USA TODAY NETWORK
Cubs vs Reds: MLB Game Preview - April 5, 2023
As the Cubs take on the Reds in the second game of their series, experts are weighing in with their MLB picks and predictions. The Reds have started the season strong with a 3-1 record, while the Cubs have struggled at 1-3. With computer algorithms and experienced analysts offering their MLB picks and parlay bets, it's anyone's game. Both teams will be looking to their pitching staff to make a difference, with Marcus Stroman taking the mound for the Cubs and Hunter Greene for the Reds. Will the Reds continue their winning streak, or will the Cubs turn things around? Find out in this in-depth preview and prediction for the game.
Cubs: Pitching Analysis
The Chicago Cubs have had a rocky start to the season, with a record of 1-3. Their pitching staff has been a major issue, with a team ERA of 4.63 (#17 in MLB). However, there is some hope for improvement as they face off against the Cincinnati Reds on April 5th. The Cubs will send Marcus Stroman to the mound, who has yet to give up an earned run this season with a WHIP of 1.00. He will be facing off against Reds rookie Hunter Greene, who has had a rough start with an ERA of 8.10 and a WHIP of 2.40. MLB picks experts and computer models are split on this matchup, with a slight majority leaning towards the Reds at home. However, Cubs fans can take solace in the fact that Stroman has been a very effective pitcher so far this season and may be able to shut down the Reds offense. In order for the Cubs to have a chance at winning, they will need their offense to improve as well. Patrick Wisdom leads the team with 2 home runs and a .273 batting average, but the team as a whole has only scored 4 runs per game (#17 in MLB). Overall, the Cubs pitching staff will need to step up and the offense will need to provide more run support if they hope to turn their season around. The Reds will provide a tough test, but the Cubs have the talent to come away with a win if they execute on both sides of the ball.
Cubs: Hitting Analysis
The Chicago Cubs have had a rough start to the 2023 MLB season, with a record of 1-3 heading into their game against the Cincinnati Reds. While the team has struggled overall, their hitting has been a bright spot. Experts and computer MLB picks and predictions have recognized this, with many MLB today experts and MLB picks sites favoring the Cubs to improve their record with solid hitting performances. Patrick Wisdom has been a standout hitter for the Cubs, hitting two home runs in the first four games of the season. He leads the team in home runs and is second in RBIs with four. Jason Vosler has also been a reliable contributor with a .364 batting average and six RBIs. The Cubs will need continued production from these two and the rest of the lineup to improve their record. Despite their struggles, the Cubs have been hitting well with a team batting average of .241 and an on-base percentage of .311. Their slugging percentage of .368 is also respectable. In comparison, the Reds' pitching staff has an ERA of 3.50, which ranks them ninth in the league. The Cubs will need to continue their hitting success to challenge the Reds' pitching in their upcoming series. MLB picks and parlays have the Cubs as the favorites in the series against the Reds, with some MLB expert picks today even predicting a sweep. However, the Cubs will need to be consistent at the plate to make these predictions a reality. If they can continue their production at the plate, they will have a good chance to improve their record and climb the standings in the National League Central.
Reds: Pitching Analysis
As the Cincinnati Reds gear up for the 2023 MLB season, experts and computer picks alike are looking towards their pitching staff for predictions and MLB picks. With a current record of 3-1, the Reds have already shown promise on the mound. Starting pitcher Hunter Greene has been a standout thus far, with an ERA of 8.10 and a WHIP of 3.15. While those numbers may not be impressive on the surface, baseball experts predict that he will improve throughout the season and become a key player for the Reds. Marcus Stroman, who has a perfect 1-0 record with a 0.00 ERA and a WHIP of 1.00, is another force on the mound for Cincinnati. Predictions suggest that he will continue to perform at a high level and help lead the team to victory. Overall, the Reds' pitching staff has been given strong MLB picks and predictions for the 2023 season by MLB experts and computer picks. With players like Greene and Stroman leading the way, the team has a good chance of making a deep run in the playoffs. Fans and bettors alike should keep an eye on the Reds' pitching performances as the season progresses.
Reds: Hitting Analysis
As the Cincinnati Reds continue their 2023 MLB season, experts and computers alike are making their predictions for upcoming games. Today, we take a closer look at the Reds' hitting analysis and some of the factors that could contribute to their success. Based on MLB picks and parlay forecasts, the Reds are currently favored in their upcoming matchup against the Chicago Cubs. With a 3-1 record at home, the Reds' offense has been on a roll, averaging 15.75 total bases per game and a 4.75 RBI/game average. Leading the pack is Jason Vosler with an impressive .364 batting average and six RBIs. However, the Cubs are not a team to be counted out, with a lineup featuring Patrick Wisdom and Cody Bellinger, who has, so far, tallied four RBIs and one home run. The game could come down to a battle of the pitchers, with Marcus Stroman taking the mound for the Cubs and Hunter Greene representing the Reds. Looking at the odds and spreads, both teams are evenly matched, leaving room for plenty of surprises in the game. Whether the game turns into a high-scoring affair or a pitching duel, one thing is for sure: the Reds' hitting analysis shows they will not go down without a fight. Make sure to tune in to see who comes out on top.
Injury Report
Heading into today's game, both the Chicago Cubs and Cincinnati Reds have players listed on the injury report. For the Cubs, relief pitcher Jordan Holloway and third baseman Patrick Wisdom are both day-to-day. Wisdom's absence could be a big blow to their offense, as he leads the team in home runs with three. As for the Reds, they have a few more players on the report. Third baseman Nick Senzel is on the 10-day IL, while relief pitchers Tony Santillan and Luke Weaver are on the 15-day IL. In addition, third baseman Christian Encarnacion-Strand is listed as day-to-day, and shortstop Jose Barrero is also day-to-day. These injuries could certainly impact the outcome of today's game, and it will be important to keep an eye on any changes to these statuses as game time approaches. Both expert MLB picks and computer MLB picks and predictions will likely take these injuries into account when making their MLB picks and parlays. It's also worth noting that the Cubs are just 1-3 overall and 0-2 as favorites, while the Reds are off to a strong start at 3-1 overall and as both favorites and underdogs. Overall, the injury report adds another layer of uncertainty to this matchup.
Player
Team
Position
Injury Status
Jordan Holloway
Chicago Cubs
RP
day-to-day
Patrick Wisdom
Chicago Cubs
3B
day-to-day
Nick Senzel
Cincinnati Reds
3B
10-day IL
Tony Santillan
Cincinnati Reds
RP
15-day IL
Luke Weaver
Cincinnati Reds
RP
15-day IL
Christian Encarnacion-Strand
Cincinnati Reds
3B
day-to-day
Jose Barrero</td
Prediction for MLB Picks and Parlay: Cubs vs. Reds
Based on the analysis provided, the Cincinnati Reds seem to have an edge in this matchup. Their offense and defense appear to be slightly stronger than the Chicago Cubs, and their current record is slightly better. However, this is baseball and anything can happen on any given day. While the Reds may be the favorites, I think the Cubs have a chance to pull off the upset in this game. Marcus Stroman has been pitching well, with a 1-0 record and 0.00 ERA. If he can continue to pitch at a high level, the Cubs may be able to squeak out a win. Remember, this is just a prediction and should not be taken as a guarantee. Baseball is an unpredictable sport and anything can happen on any given day. It's always important to do your own research and analysis before making any bets or picks.
Pick: Chicago Cubs
Upgrade to View Prediction
#1

#2