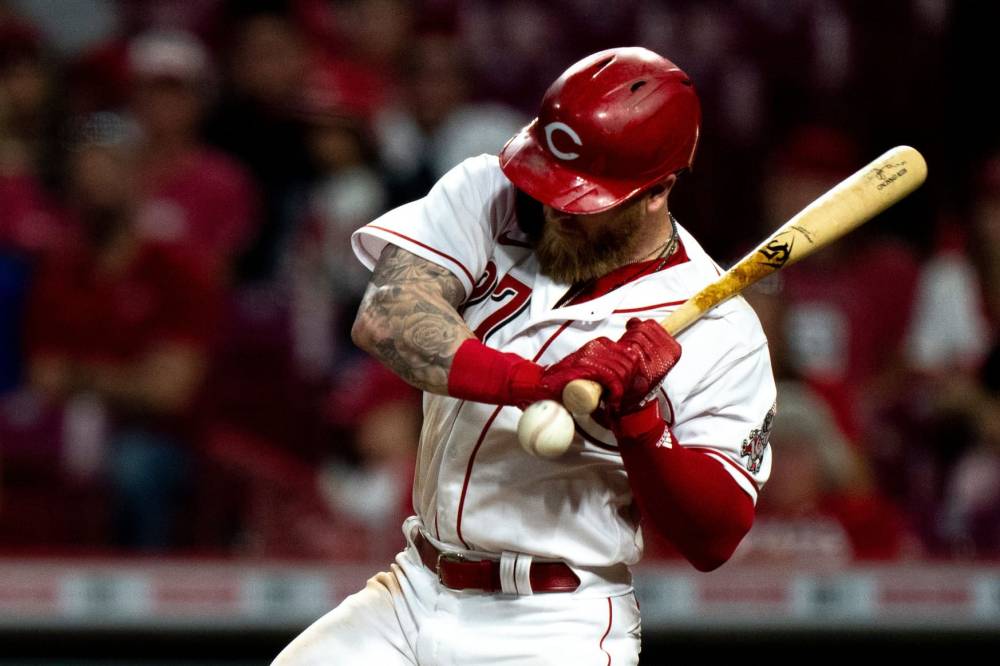 Reds vs Cubs MLB Betting Tips 4/3
Apr 3, 2023, 12:41:42 AM
© Albert Cesare/The Enquirer / USA TODAY NETWORK
MLB Game Preview: Cubs vs Reds
The Chicago Cubs will travel to Great American Ball Park to take on the Cincinnati Reds in an early season NL Central divisional matchup. MLB picks experts and computer predictions have the Reds as slight favorites with a 56.4% chance of winning. However, the Cubs have had recent success against the Reds, winning two out of three in their last series. The Cubs will send left-hander Drew Smyly to the mound, while the Reds will counter with right-hander Connor Overton. Both pitchers will look to build early season momentum against two teams that have struggled offensively thus far. MLB picks and parlay experts are predicting a low-scoring game, with an over/under of 8.5. The Cubs offense has struggled to start the season, averaging just 2.5 runs per game, while the Reds have been slightly better, averaging 5 runs per game. It will be interesting to see which team's offense can break out and provide much-needed run support for their starting pitcher. For the Cubs, Ian Happ and Kevin Newman will look to lead the charge, while the Reds will rely on Jonathan India and Jason Vosler. Both teams will be missing key players due to injury, with the Reds' Joey Votto and Nick Senzel on the 10-day IL, and the Cubs currently without any injured players. Overall, the Cubs vs Reds matchup has the makings of a closely contested game. MLB picks with spread and MLB predictions today have the Reds winning by a slim margin, but anything can happen in baseball. Tune in to find out which team will come out
Cubs: Pitching Analysis
As the Chicago Cubs look ahead to the 2023 season, their pitching staff will be a key factor in their success. MLB picks experts and computer models alike have made their predictions, but what do the numbers actually say about the Cubs' pitchers? On the mound for the season opener against the Cincinnati Reds will be left-handed pitcher Drew Smyly. Smyly had a rough 2022 season, ending with a 4-8 record and a 5.35 ERA. However, he has shown promise in spring training, giving up only four earned runs in 13 innings pitched. The Cubs will need Smyly to continue this success against a strong Reds lineup. If Smyly struggles, the Cubs have a few options in their bullpen, including right-handed pitchers Michael Rucker and Mark Leiter Jr. Both have had solid spring training performances and will be ready to step in if needed. On the offensive side of the ball, the Cubs will be relying on players like Ian Happ and Kevin Newman to provide some fireworks. Happ hit one home run in spring training and will need to carry that momentum into the regular season. Newman has also shown promise, hitting a home run and two RBIs in his limited spring training appearances. Ultimately, the Cubs' success in their season opener and throughout the season will depend on their pitching. MLB picks and experts have made their predictions, but it will be up to the Cubs' pitchers to make those predictions a reality.
Cubs: Hitting Analysis
The Cubs are entering the new season with some changes in their lineup, including the addition of outfielder Joc Pederson and the departure of infielder Kyle Schwarber. While some experts have mixed opinions on whether these changes will improve the Cubs' offensive performance, MLB picks and computer predictions suggest that the team will likely have an average hitting season. According to MLB today experts, the Cubs' lineup has some solid hitters, such as third baseman Kris Bryant and shortstop Javier Baez. However, the team also has some weaker spots, such as catcher and second base. Additionally, the Cubs struggled with hitting during the shortened 2020 season, which makes it hard to predict their performance for the upcoming season. MLB picks and parlays also suggest that the Cubs might struggle with consistency in their hitting performance. While the team has the potential to score big, they might have trouble sustaining their momentum throughout the season. Moreover, the team's hitting could be affected by injuries or slumps, which could further impact their performance. Overall, while the Cubs have some promising hitters in their lineup, their hitting performance could be affected by various factors such as injuries, slumps, and consistency. MLB expert picks and computer predictions suggest that the team will likely have an average hitting season, but it remains to be seen how well they will perform on the field.
Reds: Pitching Analysis
The Cincinnati Reds have a solid pitching staff that has the potential to make them contenders this season. Both the MLB Picks Experts and the MLB Picks Computer have favorably predicted their success this season. With a rotation that includes promising young arms like Hunter Greene and potential late-inning weapons like Fernando Cruz, the Reds have the tools to win close games. MLB Picks & Predictions Today from experts suggest that the Reds will be one of the better pitching teams in the league this season. They also look to have a strong bullpen that is capable of closing out wins when called upon. This season, the Reds are expected to have a solid pitching staff with plenty of potential. With Connor Overton and Drew Smyly anchoring the rotation, the Reds should be able to consistently put themselves in a position to win games. The Reds' pitching staff will be one of their biggest strengths this season, and MLB Picks with spread suggest that they are poised to make a serious push towards the playoffs. If they can stay healthy and continue to receive strong performances from their young starters, the Reds should be able to compete with the best teams in the league.
Reds: Hitting Analysis
The Reds have had a solid start to the season, winning two out of their first three games. Their offense has been a key factor in those wins, averaging five runs per game. Experts and computer predictions have favored the Reds in their upcoming games, including today's matchup against the Cubs. The Reds' batting lineup has been impressive thus far, with several players making significant contributions. Ian Happ leads the Cubs with one home run and a .500 batting average, but the Reds' Kevin Newman and Jonathan India are not far behind with one home run and a .286 and .455 batting average, respectively. Additionally, the Reds have been successful in driving in runs, with Jason Vosler leading the team with three RBIs and Yan Gomes contributing one RBI. Looking ahead, the Reds will need to continue this offensive success if they want to remain competitive in the National League Central division. With the support of MLB picks and parlays experts, they have the potential to make a strong showing in the upcoming games.
Injury Report:
As of April 3, 2023, the Chicago Cubs have no injured players, while the Cincinnati Reds have several players on the injury report. Shortstop Elly De La Cruz is day-to-day, while first baseman Joey Votto and third baseman Nick Senzel are on 10-day IL. Pitchers Tony Santillan and Luke Weaver are on 15-day IL. These injuries may have an impact on the Reds' performance, and it is important for MLB picks experts to take them into consideration when making MLB picks computer predictions for today. However, the Reds still have a solid roster to work with and MLB experts picks today may still favor their chances. MLB picks and parlays may also offer good opportunities for betting, taking into account the odds and spread levels. It is important for bettors to analyze the MLB picks odds and MLB picks with spread to make informed decisions and achieve the best MLB bets today.
| Player | Team | Position | Injury Status |
| --- | --- | --- | --- |
| Noinjuredplayers | Chicago Cubs | N/A | N/A |
| EllyDeLaCruz | Cincinnati Reds | SS | day-to-day (Mar 31) |
| JoeyVotto | Cincinnati Reds | 1B | 10-day IL (Apr 1) |
| NickSenzel | Cincinnati Reds | 3B | 10-day IL (Apr 2) |
| TonySantillan | Cincinnati Reds | RP | 15-day IL (Apr 2) |
| LukeWeaver | Cincinnati Reds | RP | 15-day IL (Apr 2) |
Prediction
After analyzing the previous statistics and current rosters of both teams, it is evident that the Cubs and the Reds will have a close game. However, the computer-generated predictions favor the Reds with a 56.4% chance of winning. Our MLB picks experts also suggest that the Reds will have the upper hand in this match. Despite being the underdogs at home, they have shown impressive offense and defense value ranks that could potentially give them the win over the Cubs. Therefore, our pick for this game is the Cincinnati Reds. Although it may be risky to bet against the Cubs, taking the underdog team can lead to a potentially profitable payout. Download the KingPin Pro app for a potentially profitable game with an over/under of 8.5 runs pick.
Pick: Reds
#1

#2