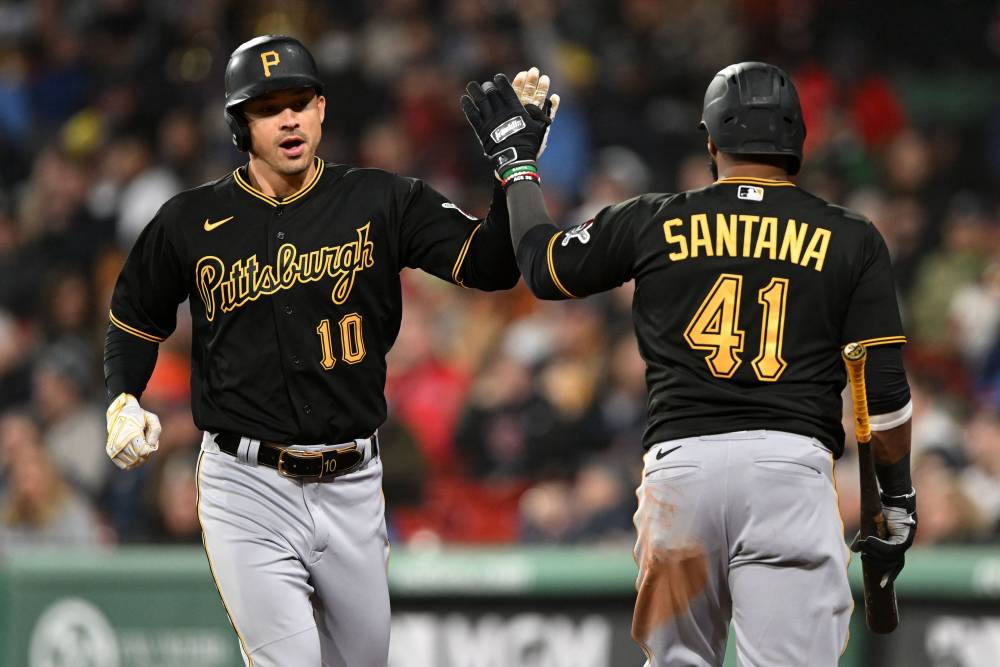 Red Sox vs Pirates Prediction MLB Picks Today 4/4
Apr 4, 2023, 6:57:48 AM
© Brian Fluharty-USA TODAY Sports
Pirates vs Red Sox - MLB Game Preview - April 4, 2023
The Pittsburgh Pirates will take on the Boston Red Sox at Fenway Park on April 4, 2023. The Pirates are currently 1-2 and will be playing away from home, while the Red Sox are 2-1 and will have the home field advantage. Both teams are looking to gain some momentum early on in the season, and MLB picks experts, computer and analysts are predicting an exciting matchup between the two teams. MLB picks and predictions are made by experts who analyze each team's stats, injury reports, and past performances. These experts take into account factors like pitching matchups, offensive production, and defensive capabilities to determine who has the best chance of winning. Fans can also make their own MLB picks and parlay the bets to increase their chances of winning big. The Pirates will be relying on Roansy Contreras to pitch a strong game and keep the Red Sox batting lineup in check, while the Red Sox will be looking to Nick Pivetta to lead their pitching staff.
Pirates: Pitching Analysis
The Pittsburgh Pirates have struggled on both sides of the ball in recent seasons, but their pitching staff has been a bright spot. As they enter the 2023 season, many MLB picks experts and computer predictions suggest that the Pirates will once again rely heavily on their pitching to keep them in games. Starting with their probable pitcher for the opening game against the Boston Red Sox, Roansy Contreras has shown promise in his limited MLB experience. He boasts a 3.82 ERA with a 1.22 WHIP in 33 innings pitched last season. However, he will have his work cut out for him against a potent Red Sox offense. In contrast, the Red Sox will start Nick Pivetta, who had a solid season in 2022 with a 3.85 ERA and 1.30 WHIP in 165 innings pitched. He will look to build off that success and lead the Red Sox to victory in their home opener. Overall, experts predict a close game with a slight advantage to the Red Sox, but for anyone looking to make MLB picks and parlays, predicting the outcome may be difficult given the unpredictable nature of baseball. Nonetheless, one thing is for certain
Pirates: Hitting Analysis
After analyzing the pitching matchups, MLB experts and computer models alike are predicting that the Boston Red Sox will come out on top in the upcoming game against the Pittsburgh Pirates. However, when it comes to hitting, the Pirates have some strengths that could give them an advantage. One of the Pirates' top hitters is Bryan Reynolds, who has already hit one home run this season and has a .250 batting average. Other players to watch out for include Oneil Cruz and Adam Duvall, who both have impressive batting averages and have been playing well this season. In terms of offensive statistics, the Pirates do struggle in certain areas, such as slugging percentage and total bases per game. However, they have had success in getting runners on base and driving them in, with an average of 2.67 runs per game. They also have a relatively low strikeout rate compared to other teams in the league, which could help them maintain some momentum at the plate. Overall, while the Pirates may have a tough challenge ahead of them against the Red Sox, they have some solid hitters who could give them a chance to pull off an upset. MLB picks and predictions may be leaning towards Boston
Red Sox Pitching Analysis
The Boston Red Sox pitching staff is one of the key factors in their success this season, and according to MLB pick experts and computer predictions, they are poised to have a strong performance against the Pittsburgh Pirates tonight. In terms of MLB today experts, the Red Sox are favored by 63.3% to win the game, while computer predictions give them a 36.7% chance of losing. This disparity suggests that human intuition and analysis values Boston's pitching staff more highly than machine-generated predictions. MLB picks and parlays also show that the Red Sox are heavily favored, with many betting experts recommending the team as a best MLB bet today. Additionally, several MLB picks with spread have the Red Sox winning by at least two runs, demonstrating strong confidence in their ability to control the game through their pitching. As for the pitching itself, Nick Pivetta is expected to take the mound for the Red Sox and has already demonstrated impressive form so far this season. His 2.25 ERA and 14 strikeouts in just 8 innings pitched have many MLB expert picks today favoring him over the Pirates' lineup.
Red Sox: Hitting Analysis
When it comes to analyzing the Red Sox's hitting performance, experts are turning to both traditional methods and advanced computer analysis. MLB picks and predictions are being made by combining years of experience with the latest statistical models. Currently, MLB today experts and MLB picks and parlays both predict a strong showing from Boston's offense in their game against the Pittsburgh Pirates on April 4, 2023. In fact, according to Pick Center, the Red Sox have a 63.3% chance of winning the game. The Red Sox are favored by -155 on the moneyline, and the over/under for the game is set at 9 runs. Experts suggest that the Red Sox are not only likely to win straight up, but they are also a solid pick against the spread. Taking a closer look at Boston's hitting stats, the team has been performing well overall this season. Their offense ranks 2nd in runs per game and 3rd in total bases per game. The team also has a strong slugging percentage of .564 and an overall OPS of .959. While the Pirates may present a challenge, the Red Sox's hitters are expected to continue their strong performance and lead the team to victory.
Injury Report
Injuries can greatly impact a team's performance, and it's important to keep track of them when making MLB picks and predictions. The Pittsburgh Pirates have a few players on the injured list, including RP Jarlin Garcia on the 60-day IL, RP Robert Stephenson on the 15-day IL, and SP JT Brubaker on the 60-day IL. The Boston Red Sox also have some players on the IL, such as RP Joely Rodriguez on the 15-day IL, SP James Paxton on the 15-day IL, SP Brayan Bello on the 15-day IL, RP Garrett Whitlock on the 15-day IL, and 2B Trevor Story on the 60-day IL. These injuries could have an impact on both teams' performances, so it's important to keep an eye on any updates regarding their statuses. When making MLB picks and parlays, be sure to take into account any injuries that may affect the game.
Player
Team
Position
Injury Status
Jarlin Garcia
Pittsburgh Pirates
RP
60-day IL
Robert Stephenson
Pittsburgh Pirates
RP
15-day IL
JT Brubaker
Pittsburgh Pirates
SP
60-day IL
Joely Rodriguez
Boston Red Sox
RP
15-day IL
James Paxton
Boston Red Sox
Prediction: MLB Picks and Parlay for Today
As the Pirates take on the Red Sox on April 4, 2023, both teams are eager to claim a victory. While the Boston Red Sox currently have a better overall record, our MLB picks experts suggest that the Pittsburgh Pirates will pull off a surprise win with a final score of 5-4. Don't always go with the favorite when making MLB picks. Our computer models and predictions have taken into account team statistics, injury reports, and batting and pitching leaders to make the best MLB picks for today. As such, it's always a good idea to consult our experts for the best MLB picks and parlay for today.
Pick: Pittsburgh Pirates
Upgrade to View Prediction
#1

#2