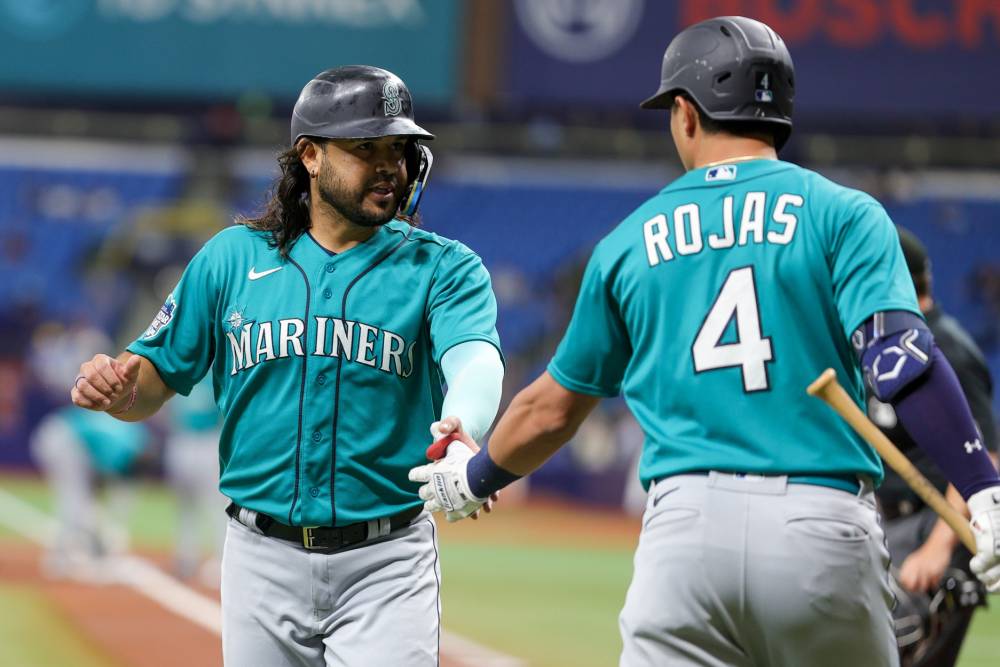 Rays vs Mariners Prediction MLB Picks Free 9/8
Sep 8, 2023, 12:33:47 AM
© Nathan Ray Seebeck-USA TODAY Sports
Mariners vs Rays: MLB Predictions, Picks, and Expert Analysis
Prepare for an exciting clash as the Seattle Mariners take on the Tampa Bay Rays at the renowned Tropicana Field. In this MLB showdown, our expert analysis will guide you through the game, and we'll explain our final prediction.
Game Information:
Seattle Mariners:
The Seattle Mariners have been a formidable force this season, posting an impressive 78-61 record. Their road record of 39-32 showcases their ability to perform well away from home, and they're looking to maintain their strong momentum.
Situated in the competitive American League West, the Mariners are in a tight race for the division title. Every game counts, and this matchup against the Rays presents an opportunity to make a statement.
Batting Strengths:
The Mariners' lineup features Julio Rodriguez and Isaac Paredes, who have combined for 55 home runs and 180 RBIs this season. Their ability to generate runs has been instrumental in the Mariners' success.
Pitching Matchup:
George Kirby takes the mound for the Mariners, sporting a 10-9 record and a solid 3.39 ERA. While he has been reliable, his performance will play a crucial role in this game.
Tampa Bay Rays:
The Tampa Bay Rays have also had a stellar season, with an 85-55 record and an impressive 47-24 record at home. They are a force to be reckoned with in the American League, and they aim to continue their winning ways.
Leading the American League East, the Rays are in pursuit of securing their division title. Facing the Mariners, they hope to maintain their dominance.
Batting Overview:
Yandy Diaz and Taj Bradley have been standout players for the Rays, contributing significantly to the team's offense. Their ability to get on base and drive in runs has been a key factor in the Rays' success.
Pitching Excellence:
Taj Bradley, who also pitches for the Rays, has posted a 5-7 record with a 5.42 ERA. While he has had some struggles, the Mariners' lineup provides an opportunity for him to perform well.
Prediction
Now, let's dive into why the over of 8 runs is the best bet for this thrilling matchup. When you have two potent offenses like the Mariners and the Rays, along with pitchers who occasionally struggle to keep runs off the board, it sets the stage for a high-scoring affair.
Both teams feature standout hitters, such as Julio Rodriguez and Yandy Diaz for the Mariners, and Taj Bradley for the Rays. This combination of offensive firepower suggests that both teams are likely to contribute significantly to the run count.
Furthermore, when we consider the pitching matchup, there's potential for runs to be scored. While George Kirby and Taj Bradley have their strengths, they've also had moments of vulnerability this season. This creates opportunities for batters to capitalize and put runs on the board.
Overall, the conditions are favorable for a high-scoring game, making the over of 8 runs an attractive betting option.
Anticipate an offensive showcase as the Seattle Mariners and the Tampa Bay Rays go head-to-head. With hitters like Julio Rodriguez, Yandy Diaz, and Taj Bradley on display, runs are likely to come in abundance. While both teams have solid pitching, the strength of their batting lineups should prevail.
Pick: Over 8 runs
#1

last 30 days winnings
$1,040
#2

last 30 days winnings
$5,730
Yesterday winnings
($430)