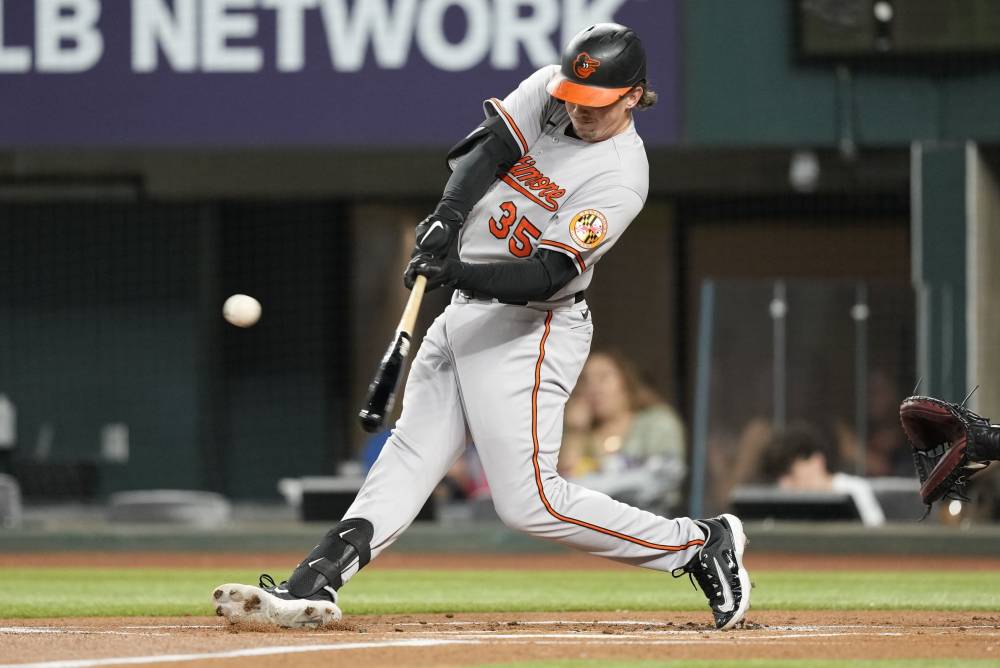 Rangers vs Orioles Prediction MLB Picks and Parlays 4/5
Apr 4, 2023, 10:26:05 PM
© Jim Cowsert-USA TODAY Sports
Orioles vs Rangers MLB Game Preview: Experts Predictions and Picks for Today
On April 5, 2023, the Baltimore Orioles will face off against the Texas Rangers at Globe Life Field in Arlington, Texas. Both teams have had an even start to their season, with the Orioles standing at a 2-2 record and the Rangers at 3-1. MLB picks experts and computers have analyzed the matchup, with the Rangers being given a 70.8% chance of winning according to analytics. However, anything can happen in baseball and the Orioles will be looking to prove everyone wrong with an upset victory. MLB picks and parlays experts have also provided their predictions for the game, with many leaning towards the Rangers. The betting odds also have the Rangers as the favorites, with a moneyline of -190 compared to the Orioles' +158. But baseball is a game of surprises and upsets. Injuries and pitching matchups can also play a role in changing the outcome of the game. The probable pitchers for this game are currently undecided for the Orioles and Jacob deGrom for the Rangers. Stay tuned for a full-length prediction article that will analyze the matchup in-depth and provide expert insight and picks for the game. Who will come out on top? Only time will tell.
Orioles: Pitching Analysis
The Baltimore Orioles will need to rely on their pitching if they hope to make any noise in the upcoming MLB season. With a record of 2-2, the Orioles have had mixed results so far. Experts and computer MLB picks and predictions have varied in their opinions on the team's pitching staff, but one thing is for sure, the Orioles need their pitchers to step up. Their probable pitchers remain undecided for their upcoming matchup against the Texas Rangers, while the Rangers will have Jacob deGrom on the mound. The Orioles will need to put forth a strong effort, especially with the Rangers offense producing an average of 7.25 runs per game. Many MLB experts have picked the Rangers to come out on top in this matchup, but the Orioles will have a chance to prove them wrong. The best MLB bets today will be those who keep an eye on the Orioles' pitching performance against a formidable Rangers lineup. With an ERA of 6.23, the Orioles pitching has struggled early on. They will need to improve if they hope to make a run in the competitive American League. Watch for the Orioles to make some changes and adjustments in their game plan, with the hope of turning their pitching performance around.
Orioles: Hitting Analysis
As the Orioles gear up for the 2023 season, experts and computer-based MLB picks and predictions are suggesting that their hitting game could greatly improve. Despite a 2-2 start to the season, the Orioles have shown promising offensive stats, ranking in the top 10 in runs/game and total bases/game. The team's batting average is also impressive, sitting at .298, which ranks them third in the league. With the likes of Cedric Mullins and Austin Hays leading the way, the Orioles have the power and consistency to compete with the best teams in their division. Furthermore, the Orioles have been successful at creating RBI opportunities, with an average of six runs scored per game. They have also been effective at drawing walks, averaging 4.75 per game, indicating that their batters are able to read pitches and capitalize on mistakes. As for the season series against the Texas Rangers, the Orioles have a chance to continue their strong start at the plate. With a profitable run line performance and a decent MoneyLine+ of +158, the Orioles present an attractive option for betters. In short, the Orioles have a lot of potential this season, especially in terms of their hitting game. With key players leading the charge, and a favorable matchup against the Rangers, the Orioles could easily surpass expectations this season.
Rangers: Pitching Analysis
The Rangers have a solid pitching staff that has impressed both MLB picks experts and MLB picks computer predictions. Their starting rotation is led by Jacob deGrom, who is coming off a dominant season in which he won the Cy Young award. deGrom is one of the best pitchers in the league and is a favorite among both MLB today experts and MLB picks and parlay enthusiasts. The Rangers also have a strong bullpen, which is anchored by Ian Kennedy and Jose Leclerc. Kennedy is a reliable closer who has a lot of experience in high-pressure situations, making him a popular choice among MLB expert picks today. Leclerc is a hard-throwing reliever who has the ability to shut down opposing hitters and rack up strikeouts. When it comes to MLB picks with spread, the Rangers have been a popular choice among bettors thanks to their solid pitching staff. Their odds to win the World Series have also improved due to their pitching depth and solid performance thus far in the season. Overall, the Rangers' pitching staff is one of the best in the league and is a key factor in their success this season. MLB picks and parlays experts are predicting big things for this team, and it will be exciting to see how they perform as the season progresses.
Rangers: Hitting Analysis
When it comes to MLB picks, experts and computer models are constantly used to make predictions and win bets. In terms of hitting analysis, the Texas Rangers are a team with a lot of potential. With an offense value rank of 10 and a win percentage of 0.750, the Rangers are off to a strong start this season. Their batting average of 0.275 and total bases per game of 14.50 may not be the best in the league, but their run differential of +16.0 is a sign that they have a solid offense. Their home runs per game of 1.50 and RBIs per game of 6.75 are also impressive. In terms of their defense value rank, the Rangers are sitting at #1 for stolen bases per game, but their errors per game at #1 could use some improvement. Overall, the Rangers have a lot of potential for hitting and are definitely a team to watch for when making MLB picks and predictions. Injury Report Injuries can greatly impact the outcome of games and should always be taken into consideration when making MLB picks. Both the Baltimore Orioles and Texas Rangers have players listed on their injury reports. For the Orioles, catcher James McCann is currently on the 10-day injured list, while pitcher Kyle Bradish is listed as day-to-day. The Rangers' injury report includes relief pitcher Kyle Funkhouser, third baseman Ryan Dorow, and pitcher Avery Weems, all listed as day-to-day, as well as outfielder Leody Taveras on the 10-day injured list and shortstop Josh Smith listed as day-to-day. MLB pick experts and computer MLB picks will take these injuries into account when making their predictions for today's game. It's important for bettors to also factor in injury updates and monitor them throughout the season to make the best MLB picks and parlays. With the right information, bettors can make informed decisions and increase their chances of success.
Player
Team
Position
Injury Status
James McCann
Baltimore Orioles
C
10-day IL
Kyle Bradish
Baltimore Orioles
SP
day-to-day
Kyle Funkhouser
Texas Rangers
RP
day-to-day
Ryan Dorow
Texas Rangers
3B
day-to-day
Avery Weems
Texas Rangers
RP
day-to-day
Leody Taveras
Texas Rangers
CF
10-day IL
Josh Smith
Texas Rangers
Prediction:
After analyzing the MLB picks and predictions from experts and computer models, we believe that the Baltimore Orioles will come out as the victors in their game against the Texas Rangers on April 5, 2023. While the Rangers have a strong offense, the Orioles' pitching and defense will prove to be too much for them to handle. Therefore, our pick is the Baltimore Orioles. It's important to note that when making MLB picks, it's essential to not always go with the favorite. While the Rangers may have a slightly better record, the Orioles have shown their ability to pull off upsets and surprise wins. Be sure to consider all factors before making your MLB picks and parlays. As always, we encourage you to keep up with the latest MLB picks and predictions from experts and computer models, as well as MLB picks with spread and odds, to ensure you are making the best picks possible.
Pick: Orioles
#1

last 30 days winnings
$43,820
#2

last 30 days winnings
$21,770
Yesterday winnings
($1,390)