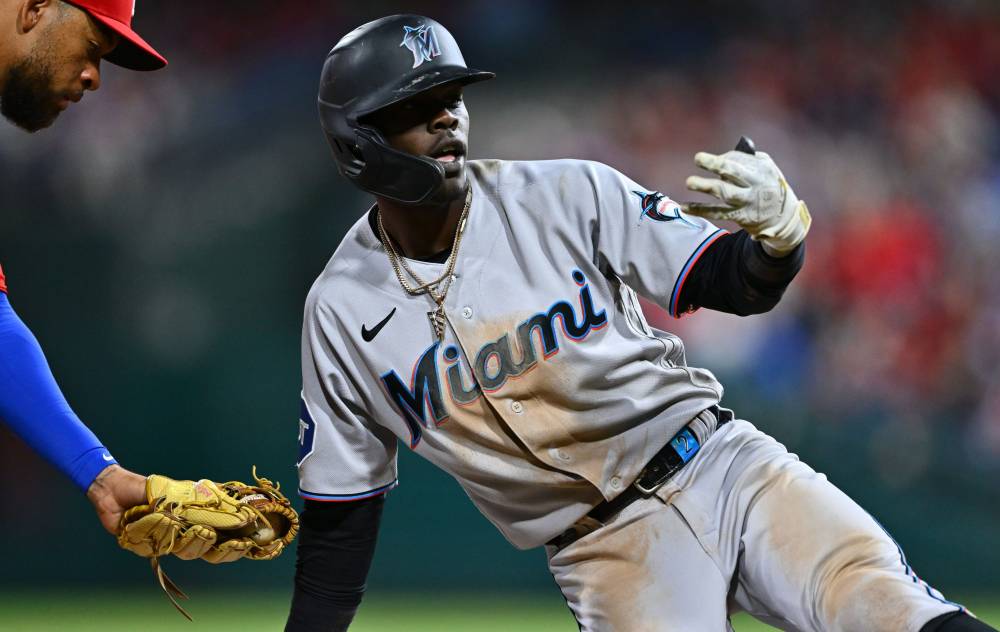 Phillies vs Marlins Prediction MLB Picks Free 4/12
Apr 12, 2023, 3:44:13 AM
© Kyle Ross-USA TODAY Sports
Marlins vs Phillies - MLB Game Preview - April 12, 2023
The Miami Marlins will face off against the Philadelphia Phillies in Citizens Bank Park on April 12, 2023, at 4:05 PM Eastern Time. This National League East matchup will see the Marlins with a 4-7 win-loss record and a 1-3 record away from home, taking on the Phillies with a 4-6 record and a 3-1 record at home. According to MLB picks experts, MLB picks computer, and MLB picks EMP predictions, the Philadelphia Phillies are favored to win the match with a 67.6% chance of winning, while the Miami Marlins have a 32.4% chance of causing an upset. With exclusive PickCenter analysis available only to subscribers, this game preview article will give readers a glimpse of what to expect from the game, including pitching matchups, betting odds, injury news, and team and player stats. Stay tuned for a full-length prediction article with more in-depth analysis and expert picks for this game.
Marlins: Pitching Analysis
The Miami Marlins have had a rocky start to the 2023 MLB season, currently sitting at 4-7 and struggling to find consistency on both sides of the ball. One area that has been a particular concern for the team is their pitching staff, which has struggled to keep opposing batters at bay. Despite some early struggles, there are reasons for Marlins fans to be optimistic about the team's pitching staff. One of the brightest spots has been the emergence of right-hander Edward Cabrera, who has shown flashes of brilliance in his first few starts of the season. Cabrera has a 0-1 record with a 5.40 ERA, but has displayed his impressive stuff with 13 strikeouts in just 10 innings pitched. The Marlins will need Cabrera and the rest of their pitchers to step up if they want to turn things around and make a run at the playoffs this season. However, they will face a tough test in their upcoming matchup against the Philadelphia Phillies, who are coming off a dominant 15-3 victory over the Marlins in their last meeting. MLB picks experts and computer MLB picks and em predictions
Marlins: Hitting Analysis
When it comes to predicting the outcome of a baseball game, there are a variety of methods experts use. Some rely on computer algorithms to generate predictions, while others use their own experience and intuition. Regardless of the method, one thing is for certain: the Miami Marlins will need to improve their hitting if they hope to win more games this season. As of April 12th, the Marlins are batting .233 as a team, which ranks them 22nd in the league. Their on-base percentage is .298, which is also 26th in the league. While they have hit 11 home runs so far this season, they rank 14th in the league in that category. The Marlins have some bright spots on offense, including Jorge Soler who leads the team with three home runs and eight RBIs. However, they also have some players who need to step up, such as Isan Diaz who is batting just .118 and Miguel Rojas who is currently on the injured list. If the Marlins want to improve offensively, they will need to find a way to increase their batting average and on-base percentage. They also need to be more consistent when it comes
Phillies: Pitching Analysis
The Philadelphia Phillies have made some moves to bolster their pitching staff for the upcoming season. With the help of MLB picks experts, MLB picks computer predictions, and MLB today experts, we can analyze the Philadelphia Phillies' pitching stats for this year's games. The Phillies have a strong starting rotation, led by right-handed pitcher Zack Wheeler. His 15-5 record and 2.92 ERA from last season promise a bright future for the team. Behind him is Aaron Nola, who has consistently delivered strong performances for the team. The bullpen also looks promising, with reliable relievers like Bailey Falter, Jose Alvarado, and Connor Brogdon. The addition of Craig Kimbrel, who was acquired in a trade with the Chicago Cubs, adds even more depth to the bullpen and should greatly benefit the team. Based on MLB picks and parlays, the Phillies are expected to perform well this season, with many experts predicting a playoff berth. However, as with any team, injuries and unexpected fluctuations in performance can greatly affect their chances. Overall, the Philadelphia Phillies have a solid pitching staff and should be a strong contender in their division.
Phillies: Hitting Analysis
When it comes to hitting, the Phillies have been hot and cold so far this season. They have shown moments of offensive brilliance, but also have struggled to generate consistent run production. The team's success at the plate will be crucial to their playoff hopes, and MLB picks experts and computer models will be closely monitoring their performance. The Phillies have a deep lineup, with plenty of power and speed. Alec Bohm has been a standout performer early in the season, with 3 home runs and a .351 batting average. Jorge Soler has also provided a spark, hitting 3 homers for the Marlins. However, the team has also had some notable struggles, with Rhys Hoskins and Bryce Harper both hitting below .200. MLB picks and parlay experts will be looking for the team to improve their consistency at the plate, particularly in key situations. The Phillies have struggled with runners in scoring position, hitting just .233 in those situations. They will need to improve on this if they hope to make a postseason run. Overall, the Phillies have the potential to be an elite hitting team, and MLB experts picks today show that they have the talent to
Injury Report
As with any sport, injuries are always a concern for both players and fans. In the case of MLB, injuries can greatly impact a team's performance and change the trajectory of a season. Here is the latest injury report for the Miami Marlins and Philadelphia Phillies. For the Miami Marlins, Joey Wendle (SS), Tommy Nance (RP), and Steven Okert (RP) are all currently on the 10-day injured list as of April 10th. Avisail Garcia (RF) is listed as day-to-day as of April 11th. Johnny Cueto (SP) of the San Francisco Giants, who the Marlins will face in their upcoming series, is also on the 15-day injured list. As for the Philadelphia Phillies, Darick Hall (1B) is on the 10-day injured list as of April 7th. Ranger Suarez (SP) is also on the 15-day injured list as of April 11th. Injuries are always something to keep an eye on when making MLB picks, as they can greatly impact a team's performance.
Player
Team
Position
Injury Status
Joey Wendle
Miami Marlins
SS
10-day IL
Tommy Nance
Miami Marlins
RP
15-day IL
Steven Okert
Miami Marlins
RP
15-day IL
Avisail Garcia
Miami Marlins
RF
day-to-day
Johnny Cueto
Miami Marlins
Prediction
As the Miami Marlins face off against the Philadelphia Phillies on April 12, 2023, MLB experts and computer algorithms alike are buzzing with predictions for the game. With the Marlins sitting at a 4-7 record and the Phillies at 4-6, both teams are looking for a win to stay competitive in the National League East standings. While the analytics give the Phillies a 67.6% chance of winning, don't count out the underdog Marlins just yet. In fact, today's pick is for the Marlins to come out on top. With Edward Cabrera on the mound for Miami, his dominant pitching performance will be the key to securing a win against the Phillies' Zack Wheeler. Of course, as with any game, there are a multitude of factors that could impact the outcome. The weather in Philadelphia is predicted to be sunny and warm, which could affect the ball's movement and benefit hitters. And both teams are dealing with various injuries to key players, which could impact their performance.
Pick: Marlins ML
#1

last 30 days winnings
$45,190
Yesterday winnings
$1,950
#2

last 30 days winnings
$32,140
Yesterday winnings
$2,480