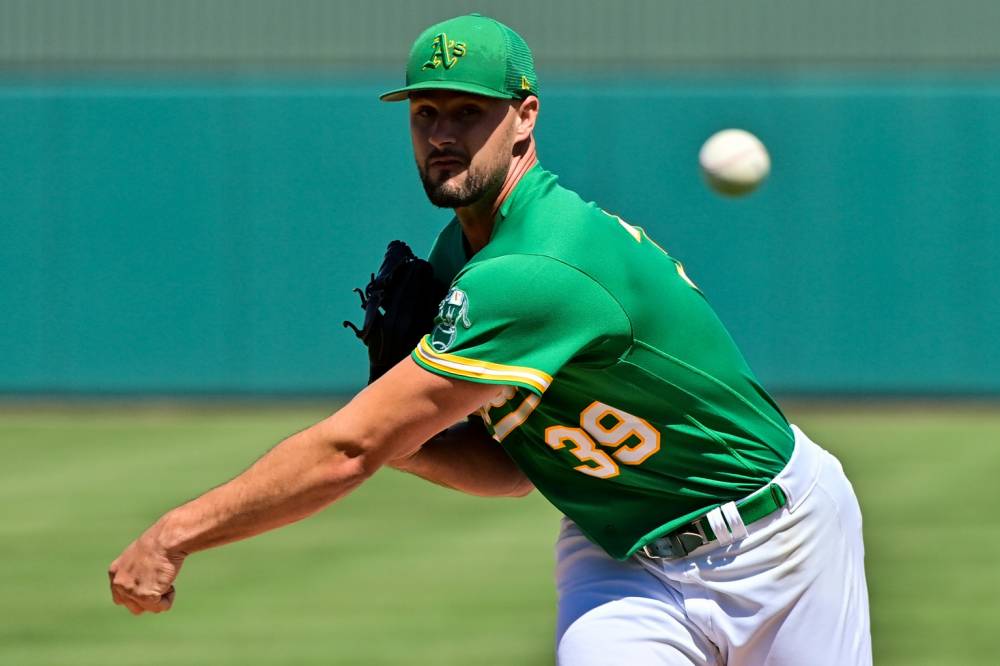 Orioles vs Athletics Prediction MLB Picks Today 4/11
Apr 10, 2023, 7:29:48 PM
© Matt Kartozian-USA TODAY Sports
Athletics vs Orioles: MLB Game Preview - April 11th, 2023
As the MLB season continues, the Oakland Athletics will face off against the Baltimore Orioles on April 11th, 2023. Both teams have struggled in the early part of the season, with the Athletics posting a 2-7 record and the Orioles standing at 4-5. MLB picks experts, MLB picks computer predictions, and today's MLB experts picks have picked the Orioles as the favorites for this matchup. However, the Athletics will look to turn the tide in their favor and come out with a win. In this article, we will provide a full-length prediction for this important game, including MLB picks and parlays, the best MLB bets today, MLB picks with spread, and more.
Athletics: Pitching Analysis
Baseball is a game of statistics and predictions, and nowhere is this more apparent than in the realm of pitching. MLB experts, computer algorithms, and sports enthusiasts alike make MLB picks and predictions based on their analysis of pitching performances. Today, we take a look at the pitching matchup between the Oakland Athletics and Baltimore Orioles on April 11, 2023. According to the analytics, the Orioles have a 63.3% chance of winning, while the Athletics hold a 36.7% chance of taking home the victory. However, analytics alone do not determine the outcome of a game. Both teams have formidable pitchers on their rosters. Oakland's Kyle Muller boasts a 0.00 ERA and 0.28 WHIP in 2023, while Baltimore's Grayson Rodriguez has a 3.60 ERA and 1.00 WHIP. It remains to be seen who will come out on top in this pitching duel, but experts and fans alike will be eagerly watching to see how these talented pitchers perform.
Athletics Hitting Analysis
When the Oakland Athletics take on the Baltimore Orioles on April 11, 2023, the Athletics will be looking to improve their hitting performance. Currently sitting with a record of 2-7, and a 0-3 away record, they'll be relying on their hitters to propel them to a win against the 4-5 Orioles. MLB picks experts and MLB picks computer predictions are indicating a 63.3% chance of the Orioles coming out on top in this matchup. But, the Athletics have the potential to turn things around with strong offensive performances. According to MLB Today experts, the Athletics will need to focus on improving their batting average, on-base percentage, and slugging percentage. As of now, they have a team batting average of .192, ranking 29th in the league, and an on-base percentage of .265, ranked 28th in the league. In addition, the Athletics will need to take advantage of their opportunities with runners in scoring position. Jace Peterson, leads the team with 5 RBIs and a .120 batting average.
Orioles: Pitching Analysis
When it comes to the Orioles' pitching rotation, the experts and computer MLB picks and predictions don't give them much hope. With a record of 4-5 so far in the season, the team has struggled to find consistency on the mound. Kyle Muller, the Orioles' left-handed starting pitcher, has yet to record a win and has an ERA of 2.53. Conversely, Grayson Rodriguez, the team's right-handed starting pitcher, also hasn't recorded a win but has a slightly better ERA of 3.60. In terms of bullpen support, the Orioles have a mix of reliable options and struggling pitchers. Jeurys Familia and Trevor May have both been consistent in relief, but Dany Jimenez and Shintaro Fujinami have yet to find their footing in the bullpen. Despite their pitching woes, the Orioles have managed to stay competitive in their games, thanks to their offense. The team ranks 11th in runs/game and 16th in total bases/game. However, if they hope to contend throughout the season, the Orioles will need to
Orioles: Hitting Analysis
The Orioles are in need of some serious firepower in their lineup if they hope to turn around their recent struggles. Despite some bright spots like center fielder Cedric Mullins, the team is currently ranked in the bottom third of the league in most offensive categories. MLB picks experts and MLB picks computer predictions have taken note, with many predicting the Orioles will finish near the bottom of the division this season. However, there is still hope for the team to improve their hitting and surprise some people. MLB Today experts suggest that the team needs to focus on getting more production from their corner infielders and designated hitter position. The likes of Trey Mancini and Ryan Mountcastle have shown promise, but need to improve their consistency at the plate. Additionally, the team could benefit from adding a veteran bat to their lineup. MLB picks and parlay options for today may not favor the Orioles, but with some strategic moves and players stepping up, they could prove the experts wrong. It all starts with their hitting – if they can get more run support for their pitching staff, they may be able to climb the standings
Injury Report
As the MLB season progresses, injuries are bound to occur. It is important for MLB picks experts, MLB picks computer programs, and MLB picks emp predictions to keep an eye on the injury report to adjust their MLB picks accordingly. Today, April 11, 2023, the Oakland Athletics are dealing with a few injuries. Pitchers Paul Blackburn and Drew Rucinski are on the 15-day Injured List, while outfielder Seth Brown is on the 10-day IL. On the Baltimore Orioles side, relief pitcher Mychal Givens has been on the 15-day IL since April 7th. Starting pitcher John Means is on the 60-day IL, while pitcher Kyle Bradish is on the 15-day IL. Injuries can greatly impact the outcome of a game, and it is crucial for MLB today experts to take them into consideration when making their MLB picks and parlay bets. It is important to stay up-to-date with the latest injury report to make informed MLB expert picks today and find the best MLB bets today.
| Player | Team | Position | Injury Status |
| --- | --- | --- | --- |
| Paul Blackburn | Oakland Athletics | SP | 15-day IL |
| Drew Rucinski | Oakland Athletics | RP | 15-day IL |
| Seth Brown | Oakland Athletics | LF | 10-day IL |
| Mychal Givens | Baltimore Orioles | RP | 15-day IL |
Prediction:
Based on the analytics and expert opinions, today's MLB pick is the Oakland Athletics over the Baltimore Orioles. While the Athletics have had a tough start to the season, they have the talent to turn things around and Grayson Rodriguez is making his MLB debut for the Orioles. The A's have a higher win percentage in close games and a strong offense led by Ramon Laureano. The pick is Oakland Athletics. Remember, when making MLB picks, it's important to consider both expert opinions and computer predictions, along with your own research and gut instincts. Don't always follow the favorites and be smart with your bets. Good luck!
Pick: Athletics ML
Upgrade to View Prediction
#1

#2