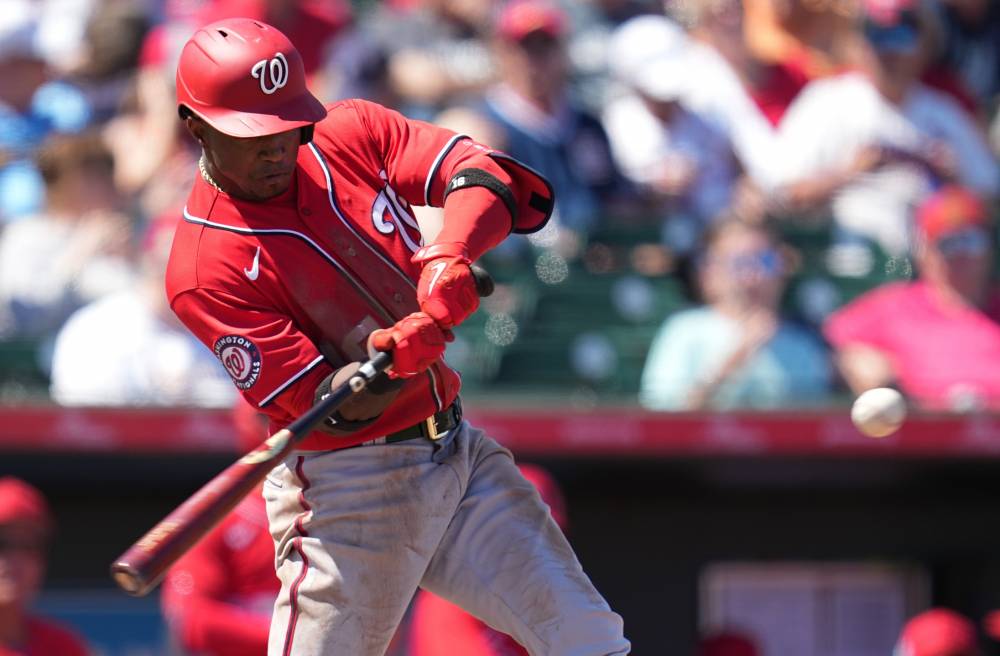 Nationals vs Yankees Prediction MLB Picks 03/22
Mar 22, 2023, 4:11:47 AM
Photo Credit: © Jim Rassol-USA TODAY Sports
MLB Spring Training: Nationals vs Yankees
The New York Yankees and Washington Nationals will face off in a Spring Training game on March 22, 2023, at The Ballpark of the Palm Beaches in Palm Beach, Florida. Both teams are looking to fine-tune their skills and strategies before the start of the regular season. KingPin.pro, a leading sports betting and prediction app available for iOS and Android, has analyzed both teams' performance and injury reports to provide expert MLB predictions and picks for today's game. Let's dive into a comprehensive review of the Yankees and Nationals' offense, defense, and injuries to understand why the Nationals are likely to win.
New York Yankees
The Yankees have had a shaky Spring Training season, with a record of 10-14 and 4-6 on the away games. However, their batting leaders, Jasson Dominguez, and Mickey Gasper, have been impressive, with 4 HR and a .455 AVG, and .714 AVG, respectively. The Yankees' pitching leaders, on the other hand, have struggled, with an ERA of 5.40 and a WHIP of 1.33. They have walked 68 and struck out 231 batters, with an OBA of .260.
Defensively, the Yankees have not reported any injuries, which is a positive sign for the team. However, their overall performance in Spring Training has been below average, and they have a tough game ahead of them against the Nationals.
Washington Nationals
The Nationals have performed comparatively better than the Yankees, with a record of 11-9 and 6-4 on the home games. Their batting leaders, Andres Chaparro and Luis Garcia, have been consistent, with 11 RBI and 4 HR, and 7 RBI and 2 HR, respectively. Cody Wilson has a perfect batting average of 1.000, with 1.000 OBP and 2.000 SLG. However, their pitching leaders, including Stephen Strasburg, have suffered injuries and are out of the game on March 22.
Defensively, the Nationals have reported three injuries, including Carter Kieboom, Victor Arano, and Stephen Strasburg. While Kieboom and Arano's absence may not affect the team's overall performance significantly, Strasburg's absence is a huge setback for the Nationals. Strasburg, a three-time All-Star, has a career ERA of 3.19 and 1,604 strikeouts.
.
Prediction
Despite Strasburg's absence, the Nationals have a strong chance of winning against the Yankees. The Nationals have a better overall record in Spring Training and have been consistent in their performance. The Yankees, on the other hand, have struggled both offensively and defensively, with a higher ERA and WHIP than the Nationals.
The Nationals' offensive lineup has been consistent, with Chaparro, Garcia, and Wilson leading the team. The Yankees have relied heavily on Dominguez and Gasper, and if the Nationals can neutralize their performance, they can limit the Yankees' runs. The Yankees' pitching leaders have struggled to maintain a consistent performance, while the Nationals' pitching leaders have performed comparatively better.
Additionally, the absence of Strasburg may have a psychological impact on the Nationals, and the team may come together to play with extra motivation and energy. The Nationals have other talented pitchers such as Max Scherzer and Patrick Corbin, who can lead the team to victory.
Moreover, the Yankees' lack of consistency in their performance may create an opportunity for the Nationals to take advantage of their weaknesses. The Nationals have a better chance of exploiting the Yankees' pitching and defense and scoring more runs.
Pick: Nationals
Are you an MLB fan looking for the best baseball picks and parlays for your next game? KingPin.pro is a top-rated mobile app available on iOS and Android devices that provides free MLB picks for today. It also provides expert picks, and users can use the app to compare odds from different sportsbooks. Whether you are looking for free MLB picks or want to use expert predictions, KingPin.pro is the ideal app for you.
In addition to expert picks, KingPin.pro also allows users to place their own picks and compete for a spot in the top 10 leaderboard. This is a great opportunity to test your skills against other sports bettors and potentially earn a payout if your pick makes it to the top 10.
One of the unique features of KingPin.pro is that users can view all the picks on the site, not just those from the handicappers they choose to follow. This allows users to gain more insight into the overall trends and predictions of the community and make more informed betting decisions.
Overall, KingPin.pro is a comprehensive and user-friendly platform for sports bettors looking for the best baseball parlays and baseball picks. Whether you're a seasoned bettor or new to the game, this app offers valuable insights and expert advice to help you make informed decisions and potentially earn some money. So, download KingPin.pro today and start betting like a pro!
#1

#2