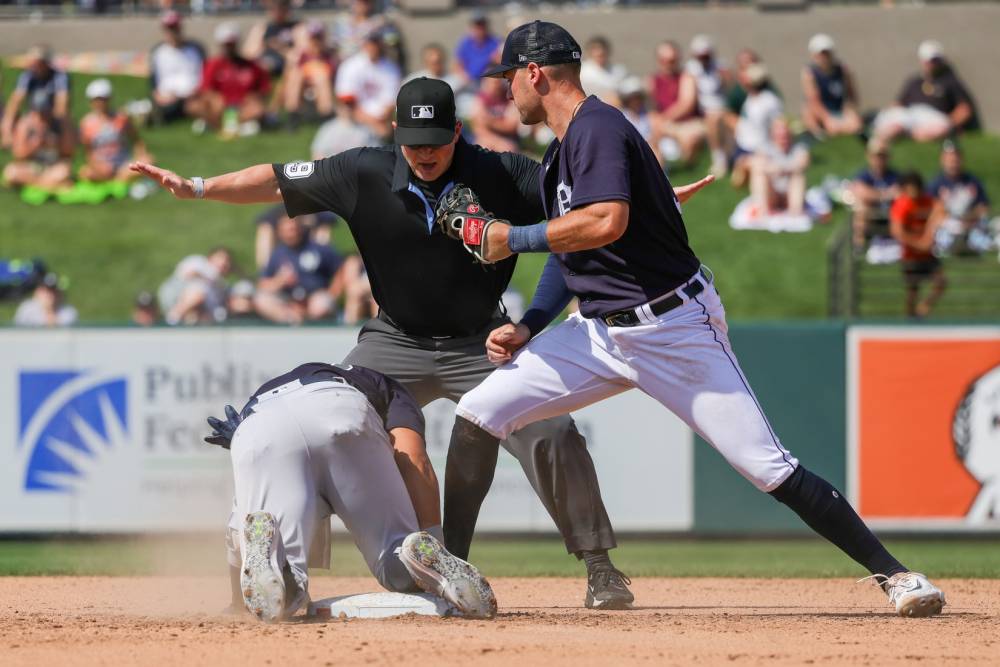 MLB Picks and Predictions Yankees vs Tigers 3/17
Mar 16, 2023, 9:53:40 PM
© Mike Watters-USA TODAY Sports
Baseball fans are in for a treat as the New York Yankees take on the Detroit Tigers on March 17, 2023, at 1:05 PM at the Publix Field at Joker Marchant Stadium. As two of the most iconic teams in MLB history, this matchup promises to be a thrilling game for all spectators. In this article, we will provide a breakdown of each team's hitting and pitching stats, as well as the latest injury reports and predictions.
New York Yankees
The Yankees are off to a rough start this season with a 9-10 record, but they are hoping to turn things around against the Tigers. The team's top hitter, Jasson Dominguez, has been impressive so far, with four home runs and a .429 batting average. The young outfielder has been touted as one of the Yankees' top prospects, and he is proving why with his excellent performance at the plate.
On the pitching side, the Yankees have struggled to find consistency this season. As a team, they have a 5.06 ERA and a WHIP of 1.31. However, they have a few standout performers, such as Luis Severino, who has been the team's most effective pitcher thus far. Severino has a 2.70 ERA in 13.1 innings pitched, and he will be looking to continue his good form against the Tigers.
Detroit Tigers
The Tigers are off to a better start than the Yankees with an 11-9 record, and they will look to continue their success against their historic rivals. The team's top hitter, Parker Meadows, has been on fire, with four home runs and a .300 batting average. The young outfielder is also one of the Tigers' top prospects, and he is showing why he has so much potential.
The Tigers' pitching staff has also performed well this season, with an ERA of 6.02 and a WHIP of 1.59. While those numbers might not seem impressive, they are better than the Yankees' pitching stats. One pitcher to keep an eye on is Casey Mize, who has a 3.12 ERA in 17.1 innings pitched. Mize is a former number one overall pick, and he is starting to live up to his potential.
Injuries:
The Yankees do not have any injured players, which is good news for the team as they try to get back on track. Meanwhile, the Tigers have a few players listed as day-to-day, including Tyler Nevin and Tarik Skubal. Both players are important to the team's success, and their absence could be felt if they are unable to play.
Prediction:
Based on the current stats and performance of both teams, the Tigers seem to have the upper hand in this matchup. While the Yankees have a solid hitter in Dominguez, their pitching staff has struggled this season, giving the Tigers an advantage. Additionally, the Tigers have been playing better than the Yankees this season, and they will have the home advantage, which could give them an extra boost.
In terms of previous meetings between the two teams, the Yankees and the Tigers have played each other 2,238 times, with the Yankees winning 1,217 games and the Tigers winning 1,018 games. However, in recent years, the Tigers have had the upper hand, winning six of the last ten games played between the two teams.
Ultimately, we predict that the Tigers will come out on top in this matchup with a final score of 5-3. While the Yankees have a few standout performers, they have struggled as a team this season, and their pitching staff has been unreliable. The Tigers, on the other hand, have been playing better overall, and they have a few players who are capable of making a difference in this game.
Pick: Detroit Tigers
In conclusion, this matchup between the New York Yankees and the Detroit Tigers is sure to be an exciting game for baseball fans. If you're looking for more MLB picks and predictions, be sure to check out the KingPin.pro iOS and Android app, which offers expert analysis and coverage of all the latest baseball news. With the season just getting started, there will be plenty of opportunities to make some smart bets and follow your favorite teams throughout the year.
#1

#2