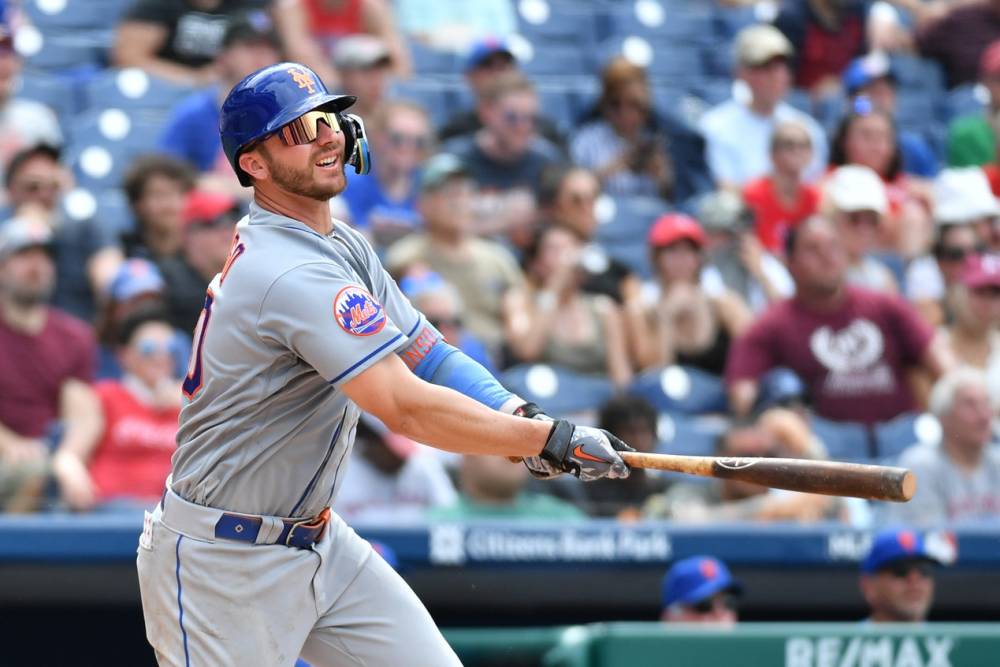 MLB Home Run Derby 2023 Predictions and Best Bets
Jul 10, 2023, 8:09:40 PM
© Eric Hartline-USA TODAY Sports
MLB Home Run Derby 2023: Favorites and Best Bets
The MLB Home Run Derby is one of the most anticipated events of the All-Star break, and this year's contest promises to be a thrilling showdown among some of the league's premier power hitters. With the competition set to take place tonight at T-Mobile Park in Seattle, let's take a closer look at each participant's performance in the first half of the season and make predictions for the player versus player matchups.
Pete Alonso (+300) vs. Julio Rodriguez (+500)
In the opening round, two-time champion Pete Alonso will face off against last year's runner-up Julio Rodriguez. Alonso, who won the derby in 2019 and 2021, has been a consistent power threat throughout his career. However, his numbers have dipped since returning from a wrist injury in June. On the other hand, Rodriguez, known for his prodigious power, put on a show in last year's contest, smashing 81 home runs. With Rodriguez boasting a higher average exit velocity and hard-hit rate, he has the potential to upset the contest favorite.
Prediction: Julio Rodriguez over Pete Alonso.
Vladimir Guerrero Jr. (+350) vs. Mookie Betts (+1200)
In a highly anticipated matchup, Vladimir Guerrero Jr., who reached the finals in his first Home Run Derby appearance in 2019, will take on Mookie Betts. Guerrero has been one of the most prolific home run hitters in the league this season, leading the majors in home runs. However, Betts shouldn't be overlooked. Despite his smaller stature, Betts possesses impressive power, ranking among the top hitters in average exit velocity and barrel rate. If Betts can get past Guerrero in the opening round, he could be a strong contender for the title.
Prediction: Mookie Betts over Vladimir Guerrero Jr.
Luis Robert Jr. (+400) vs. Adley Rutschman (+2000)
Luis Robert Jr. squares off against Adley Rutschman in what promises to be an intriguing matchup. Robert boasts the second-highest barrel rate among all participants, indicating his ability to consistently make solid contact. Rutschman, the only potential left-handed hitter in the field, could benefit from T-Mobile Park's dimensions, which favor lefties. With Rutschman's ability to spray the ball and the advantage for lefties in Seattle, he has a chance to make a deep run.
Prediction: Adley Rutschman over Luis Robert Jr.
Adolis Garcia (+700) vs. Randy Arozarena (+950)
In this matchup, two powerful hitters face off against each other. Adolis Garcia has been one of the most potent home run threats in the league this season, leading the Derby participants in barrel rate and expected home runs. With his ability to consistently hit the ball hard, Garcia offers great value as a contender. However, Randy Arozarena shouldn't be underestimated. Arozarena has shown a knack for performing well in high-pressure situations, such as his impressive playoff run in 2020. With his recent success against the Seattle Mariners and a familiar pitcher in Rangers third base coach Tony Beasley, Arozarena has the potential to advance.
Prediction: Randy Arozarena over Adolis Garcia.
Final Prediction:
While the favorites in the contest, such as Guerrero and Alonso, are rightfully garnering attention, Mookie Betts presents an intriguing option with his odds of +1200. Betts may not have the size of some of the other participants, but his Statcast data indicates his ability to hit the ball with power consistently. With his impressive numbers in average exit velocity, barrel rate, and expected slugging percentage, Betts possesses the tools to excel in the Home Run Derby. Additionally, the favorable wind conditions at T-Mobile Park, particularly for right-handed pull hitters like Betts, further enhance his chances. Despite facing a tough opponent in Guerrero in the first round, Betts has the potential to make a deep run in the contest and emerge as the ultimate home run hitter. Betting on Betts at +1200 presents an excellent opportunity to capitalize on his underrated power.
Mookie Betts Offers Great Odds to Win the Home Run Derby at +1200
#1

last 30 days winnings
$10,620
Yesterday winnings
$1,370
#2

last 30 days winnings
($900)