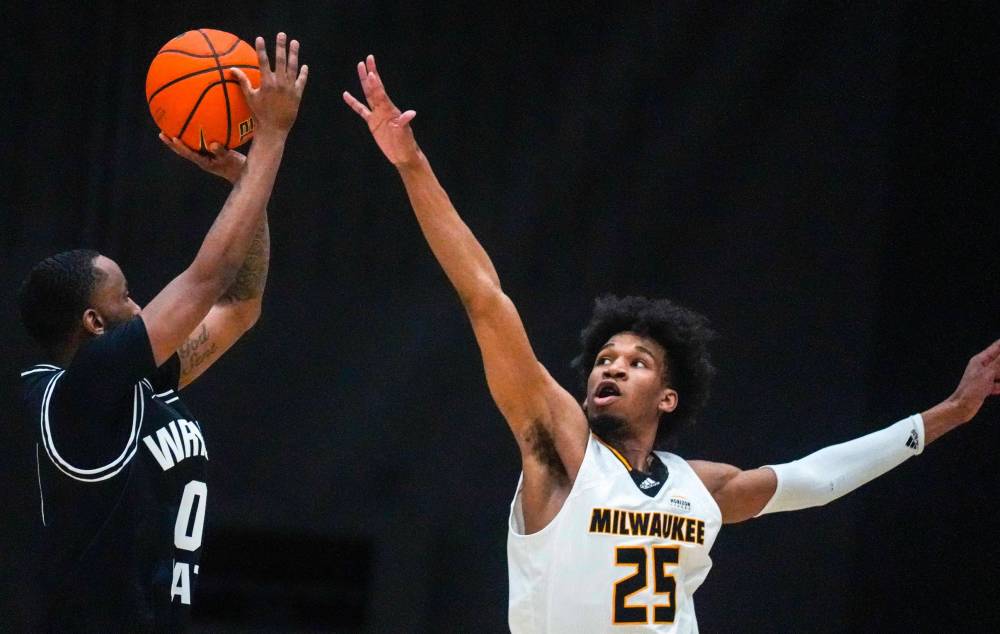 Milwaukee vs Charlotte CBI Matchup Preview and Prediction
Mar 20, 2023, 4:29:47 PM
© Ebony Cox / Milwaukee Journal Sentinel / USA TODAY NETWORK
Game Preview: Milwaukee vs Charlotte CBI Matchup Prediction
The Charlotte 49ers and the Milwaukee Panthers are set to face off in an exciting College Basketball Invitational tournament match-up. This game will take place on Monday, March 20, 2023, at Daytona Beach, Florida, and will surely be a must-watch for basketball fans worldwide. Experts and computer models from various NBA picks and prediction platforms have given their predictions, with many expecting a close game as Milwaukee Panthers bring their impressive one-possession games record into the tournament. The 49ers, on the other hand, aim to turn their fortunes around, with their solid starts not yielding much success in their playing style lately. The Panthers come into the game with a 22-11 record and a 14-6 scorecard in the Horizon League, while the 49ers' record stands at 19-14, winning 9 games in the C-USA conference. As the two teams brace up for a battle in the opening rounds of the CBI tournament, both sides have high hopes and expectations. On paper, BJ Freeman, Kentrell Pullian, and Brice Williams, and Aly Khalifa will be the players to watch out for in the game. With a flurry of exciting plays, the game will surely be an attacking fixture. If you're interested in betting on this matchup, our NBA experts say that there will be plenty of opportunities with interesting odds and spreads. Whether you're rooting for Milwaukee or Charlotte, this game guarantees an exciting showdown on the court.
Charlotte: Offensive Analysis
The Charlotte 49ers have struggled on the offensive end all season long, averaging just 66.6 points per game over their last 10 contests. This is not a team that shoots the ball particularly well, with a field goal percentage of just 46.0% over that same span. They are heavily reliant on Brice Williams, who averages 13.6 points and 5.1 rebounds per game. The 49ers will need him to have a big game if they hope to keep up with the high-scoring Milwaukee Panthers. To make matters worse, the 49ers average 9.8 turnovers per game, which is a concerning number for any team. They must improve their ball security if they hope to have any chance of winning this game. Unfortunately, the Panthers are known for their stingy defense, so it's unlikely that Charlotte will have an easy time taking care of the ball. Overall, the Charlotte offense simply isn't strong enough to compete with the firepower of the Milwaukee Panthers. NBA picks experts and computer programs alike would likely lean heavily in favor of the Panthers in this matchup. Charlotte will need to find a way to generate more offense if they hope to have a chance in this CBI tournament game. Until they do, it's hard to recommend taking them as a serious option for NBA picks and parlays, or any other betting strategy for that matter.
Charlotte: Defensive Analysis
Charlotte will need to rely on their defensive prowess in their matchup against Milwaukee in the College Basketball Invitational. The 49ers must prioritize protecting the paint and contesting shots to limit their opponent's scoring opportunities. One area where Charlotte has excelled defensively is in creating turnovers. They average 9.8 turnovers per game and have a perfect record of 1-0 when winning the turnover battle. They must continue to pressure Milwaukee and force them into mistakes to disrupt their offensive rhythm. Charlotte's defense will also have to focus on defending the perimeter. Milwaukee has shown the ability to shoot from beyond the arc, averaging 36.3% on 3-pointers this season. The 49ers must contest every shot from deep and limit open looks to keep Milwaukee's scoring in check. Furthermore, Charlotte's size advantage can be an asset in protecting the rim. 6'7" forward Brice Williams is averaging 5.1 rebounds per game and can help control the paint. They must also rely on their shot-blockers to alter Milwaukee's shots and prevent them from establishing a consistent offensive flow. In conclusion, Charlotte's defense must be at their best against Milwaukee. A victory depends on their ability to limit Milwaukee's scoring opportunities, force turnovers, contest the perimeter, and protect the paint. Picking Charlotte for this matchup is a smart choice, according to NBA picks experts and NBA picks computers.
Milwaukee: Offense Analysis
When it comes to Milwaukee's offense, they have been inconsistent throughout the season. While they have shown moments of offensive brilliance, their inconsistency is a concern for NBA picks experts and NBA picks computer predictions. Milwaukee's reliance on BJ Freeman is also a major issue. While he has been their top scorer this season, the team's dependence on him could prove to be a liability in their game against Charlotte. NBA today experts predict that Freeman will be heavily guarded, forcing Milwaukee to look for alternate scoring options. Additionally, Milwaukee's turnovers have been a problem all season, averaging 13.3 per game. Against a struggling Charlotte team, Milwaukee should be able to reduce their turnovers, but they will need to be precise with their passes to avoid costly errors. NBA experts picks today suggest that Milwaukee will have to rely on their depth to overcome Charlotte. Kentrell Pullian and Brice Williams will need to step up and make significant contributions on the offensive end. Milwaukee's best chance for success will be to play a fast-paced game, relying on their athleticism to create scoring opportunities. Their pick-and-roll game will be crucial against a Charlotte team that struggles to defend the perimeter. NBA picks and parlay predictions favor Milwaukee to win this matchup, but they will need to be at their best on the offensive end to secure the victory. Look out for Milwaukee's scoring consistency and ability to limit turnovers as keys to their offensive success in this game.
Milwaukee: Defensive Analysis
When it comes to defense, the Milwaukee Panthers have been one of the strongest teams in the Horizon League. They have held opponents to an average of 69.3 points per game, while also averaging 5.5 steals per game. Their defense has been the backbone of their success this season, and they will need it to be strong when they take on the Charlotte 49ers in the CBI Tournament. Milwaukee's defense is led by senior guard DeAndre Abram, who has been a force on both sides of the ball. He averages 12.8 points per game and 6.6 rebounds per game, and has also contributed 1.6 steals per game. His ability to disrupt opposing offenses and create turnovers will be crucial in this matchup. The Panthers also have a strong presence in the paint with senior forward Josh Thomas. He averages 9.0 rebounds per game and 1.3 blocks per game, providing a physical and intimidating presence around the rim. This will be important against a Charlotte team that averages 32.8 points per game in the paint. Milwaukee is also a disciplined team defensively, ranking in the top 50 in the country in fewest fouls per game. This will be important in a game where every possession counts, and the Panthers will need to avoid giving the 49ers any free points at the charity stripe. In summary, the Milwaukee Panthers have a formidable defense that has been a major contributor to their success this season. They have the personnel and discipline to disrupt the Charlotte 49ers' offense and limit their scoring opportunities. Look for Milwaukee to rely on their defense to secure a win in this CBI Tournament matchup.
Injury Report
As of now, there are no significant injuries reported for either the Charlotte 49ers or the Milwaukee Panthers. This is good news for both teams as they head into a crucial CBI Tournament matchup. Having a healthy roster should allow these two teams to rely on their best players and maintain the intensity needed to come away with a win. While injuries aren't a concern heading into this game, both teams should still be cautious to avoid any potential injuries during the game. With so much on the line in this tournament, it's crucial that players are smart and avoid situations that could lead to avoidable injuries. Ultimately, when it comes to injury reports, it appears that both Charlotte and Milwaukee are in good shape for this game. This means that the teams will likely rely on their best players and execute their game plans to the best of their abilities. As NBA picks experts and NBA picks computer experts can attest, having a healthy roster makes a big difference when it comes to predicting the outcome of a game. And that's good news for those looking to make NBA picks, NBA picks and parlays, and the best NBA bets today.
Betting Trends
When it comes to NBA picks and predictions, the betting trends for the Charlotte 49ers and Milwaukee Panthers offer some useful insights for both experts and casual bettors. Starting with the Panthers, their overall record of 22-11 includes a strong 14-6 performance in the Horizon League. They also have a winning record in non-conference games with an 8-5 mark. In terms of spread betting, Milwaukee has a 16-12 record, which indicates they tend to perform well against the spread. Additionally, the Panthers have a 6-1 record in one-possession games, indicating that they have consistently performed well in close matchups. This trend is worth considering when placing bets that involve a close point spread. On the other hand, the Charlotte 49ers have a 19-14 overall record with a 9-11 performance in Conference USA games. They have a less impressive record in non-conference games with a 10-3 mark. This indicates that the 49ers tend to perform better in their own conference rather than against non-conference opponents. Charlotte averages 9.8 turnovers per game and is 1-0 when winning the turnover battle. This trend suggests that limiting turnovers could be critical for the 49ers to succeed in the upcoming matchup. Conversely, betting on the team that forces more turnovers could present an opportunity for savvy bettors. In terms of their performance against the spread, the 49ers have a 16-17 record, which indicates they have been relatively inconsistent. However, they have a 5-2 record against the spread in their last seven games, suggesting they may have picked up their performance. Overall, the betting trends for both Charlotte and Milwaukee suggest the Panthers could have an edge when it comes to close games and coverings spreads, while the 49ers may have improved their performance against the spread recently. These trends are important to consider when making NBA picks, computer predictions, and parlays, especially for those looking to make the best NBA bets today.
Prediction: Milwaukee Panthers Will Beat the Charlotte 49ers
#1

last 30 days winnings
$40,120
Yesterday winnings
($2,040)
#2

last 30 days winnings
$610